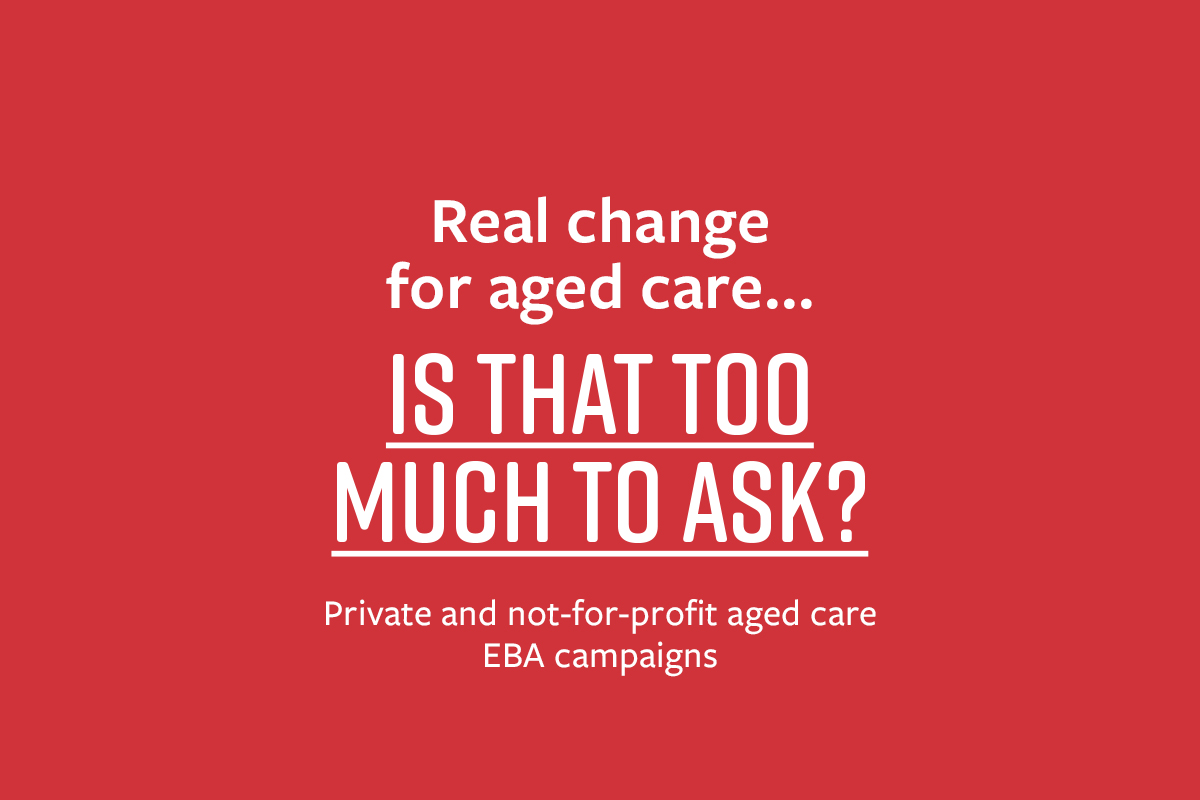 Progress has been made in private aged care bargaining in the first half of 2022, with over a third of the more than 620 facilities in the Victorian private aged care sector now covered by replacement enterprise bargaining agreements (EBA).
In the last month, new EBAs have been approved for large providers such as Arcare, Blue Cross, Estia and Uniting Agewell. These agreements, as well as Calvary (formerly Japara), have average wage increases of 2.75 per cent per year. This leaves the mid-2023 'standard rates' (those applying at Calvary/Estia/Blue Cross) as follows:
RN Grade 2 top rate: $1633 per week
RN Grade 4A Year 2: $1868
RN Grade 5, 51-200 beds: $1990 per week
EN without notation (with medication allowance rolled in): $1295 per week
PCW Cert III top rate: $1060 per week
PCW Cert IV top rate: $1100 per week
Discussions are well progressed with Regis and Baptcare, and are just beginning with Mercy, Villa Maria Catholic Homes and BUPA.
Leave improvements
In about half of the new EBAs, we are winning earlier access to long service leave for members. This improvement is usually phased on over the life of the agreement, like the public sector EBA (so access at nine years of service in 2022, eight years in 2023 etc). It's worth noting however that most EBAs will only allow staff to take half of that accrued leave between seven and ten years of service. Once staff achieve 10 years' service, they then have full access to their accrued entitlement.
In most new agreements there is also an improvement in paid parental leave. The standard for paid parental leave at most large providers is currently six weeks paid leave with a few, like Uniting Agewell, above that.
Challenges remain
Bargaining with smaller networks and stand-alone providers is proving more challenging. However, there is also considerable progress there. Most wage offers are around 2.5 per cent per year on average, but in a number of Agreements there are additional 'catchup' payments to help close the gap between the EBA rates and the 'standard' rates outlined above.
This is particularly relevant in a number of former 'hostels' where the nurse's rates have historically been 'low care' rates – about 15 per cent below the 'high care' rates of former nursing homes. Of course, there is absolutely no difference between the acuity of residents or workload across aged care facilities now, and this old distinction is irrelevant. But,unfortunately, the wage differential based on this old distinction between hostels and nursing homes still persists.
Very few networks now have separate high- and low-care rates. One of the last to do so – Adventcare – recently agreed to abolish the distinction and move all nurses to the high-care rates. However, a number of stand-alone rural and regional facilities still have the low-care rates for nurses.
Work value of aged care
On Wednesday 15 June, the Fair Work Commission (FWC) raised the minimum wage by 5.2 per cent, and the modern award minimum wage by 4.6 per cent. These increases will see the base rate for some aged care workers lift.
The FWC's national minimum wage decision was separate to the current FWC work value case for aged care staff, including nurses, under the Aged Care and Nurses Awards. The ANMF sought a 25 per cent increase for all classifications in both Awards.
This case has wrapped up, and a positive outcome is expected given the agreement in the industry that aged care work now involves far greater skill and responsibility than it did 10 or 20 years ago. But any increases awarded are likely to be phased in.
Nurses' rates under agreements are, in most cases, already more than 25 per cent above the Award rates – so there is little likelihood of major changes to Agreement rates for nurses in the short-to-medium term. However, if the FWC awards a 15 to 25 per cent increase for personal carers this may have a bigger ripple effect for our enterprise bargaining agreements, given Agreement rates are usually only 8 per cent to 14 per cent above the personal carers Award rates.
We will update aged care members further when we have a decision from FWC on the work value application.