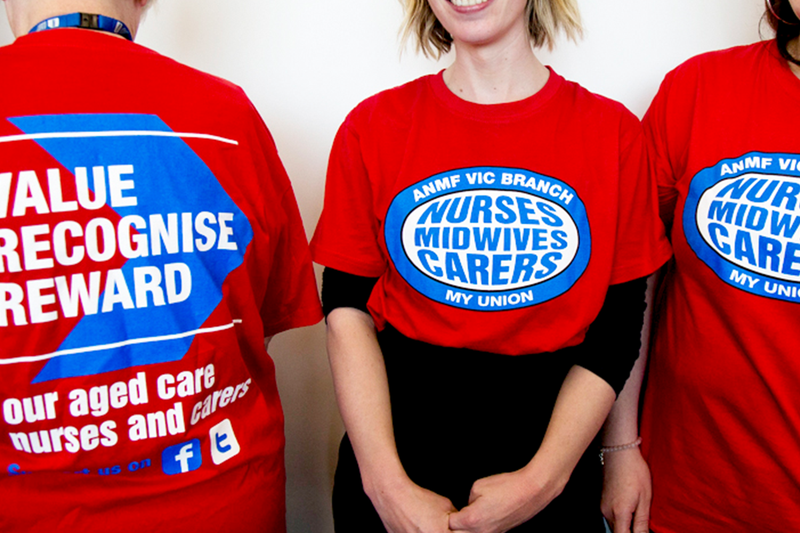 ANMF members working in private aged care had the opportunity to share their concerns with ANMF staff who took to the road in October visiting private aged care.
ANMF staff visited 513 facilities during the month and heard members' concerns related to staffing/workload, unpaid overtime, access to personal leave entitlements and pay. About 70 members signed up to represent their colleagues as Job Reps.
The visits coincided with the aged care royal commission's Melbourne hearings in October which placed a spotlight on workforce issues such as staffing, skill mix, education, wages and excessive workload, particularly in the private sector where there are no ratios.
ANMF staff visiting private aged care highlighted the need for nurses and carers to work together with ANMF to achieve better workplace conditions that would also increase their ability to provide high quality care to residents.
As private and not for profit residential aged care is Federal Government-funded, ANMF members cannot achieve mandated staffing ratios through the Victorian Government. Victorian public sector nursing homes are subject to nurse: resident ratios under the Victorian Safe Patient Care Act 2015.
Victorian Department of Health and Human Services Secretary Kym Peake told the royal commission that legislated ratios applying to public nursing homes were not intended to be a 'ceiling' on staffing. Public nursing homes were able to roster staff above ratios to care for high needs residents.
ANMF (Vic Branch) Assistant Secretary Paul Gilbert gave verbal and written evidence to the aged care royal commission on members' behalf. He told the royal commission that lack of staff was the number one issue that aged care members bring to the ANMF.
'There is no science to the number of staff that employers provide now, in my opinion,' Mr Gilbert told the royal commission.
'Rather it is at best informed by industry comparisons, or at worst, the least that they can survive with, without coming to grief in the media or with the regulator.'
We encourage members working in private aged care to follow the More Staff for Aged Care federal campaign on Facebook and prepare to join in rallies and other events in support of our mandated staffing campaign.
ANMF (Vic Branch) is hoping for strong recommendations from the royal commission, reflecting the evidence given by ANMF, that support staffing and skill mix improvements and address excessive workloads for nurses and carers in the private sector.
There are more than 150 enterprise agreements covering ANMF members working in the private aged care sector in Victoria, with 15 per cent past their expiry date now at various stages of finalisation.