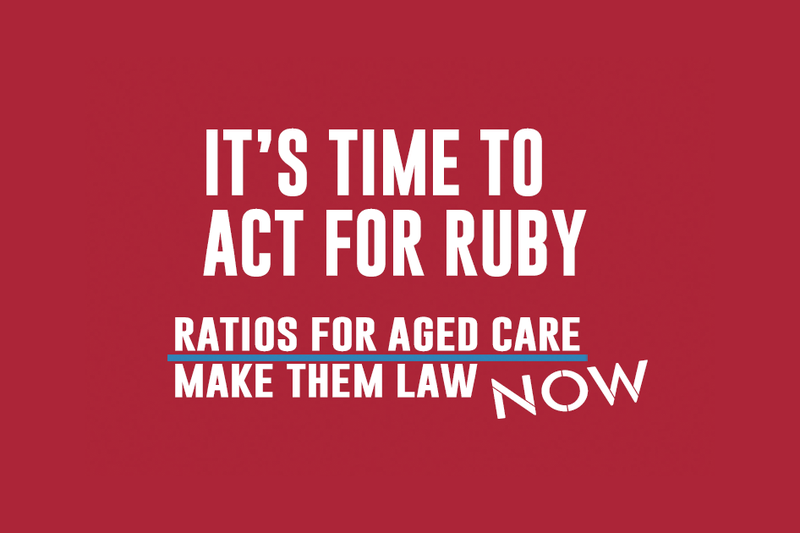 In the lead up to the federal election ANMF has asked Victorian MPs, senators and candidates if they will support aged care ratio law for private-for-profit and not-for-profit nursing homes.
Only the Australian Parliament can introduce this safeguard for residents living in residential aged care.
If the Victorian Andrews Government can legislate ratios in public nursing homes, there is no reason why a federal government can't do the same in the private and not-for-profit sector.
Pledges continue to come in from Victorian politicians. The following politicians and candidates have pledged their support for aged care ratio law:
Senators
Senator for Victoria Derryn Hinch (Justice Party)
Senator for Victoria, Richard Di Natale (Greens)
Senator for Victoria, Janet Rice (Greens)
Senate candidates
Narelle Everard (Australian Workers Party)
Sitting members
Member for Melbourne, Adam Bandt (Greens)
Member for Cooper (formerly Batman), Ged Kearney
Lower House Candidates
Candidate for Aston, Dr Kadira Pethiyagoda (ALP)
Candidate for Casey, Bill Brindle (ALP)
Candidate for Chisholm, Jennifer Yang (ALP)
Candidate for Flinders, Julia Banks (Independent)
Candidate for La Trobe, Simon Curtis (ALP)
Candidate for Gippsland, Dr Antoinette Holm (ALP)
Candidate for Goldstein, Daniel Pollock (ALP)
Candidate for Kooyong Jana Stewart (ALP)
Candidate for Kooyong, Julian Burnside (Greens)
Candidate for Higgins, Jason Ball (Greens)
Candidate for Indi, Helen Haines (Independent)
Candidate for Jagajaga, Kate Thwaites (ALP)
Candidate for MacNamara (formerly Melbourne Ports), Steph Hodgins-May (Greens)
Candidate for Wills, Adam Pulford (Greens)
Is your MP or candidate listed?
Aged care nurses and carers, and their residents, need everyone's support to ensure politicians fix this broken system.
If your local member or candidate is not listed send above send them a letter now. It will take five minutes. If they are inundated they will know this is an important issue to voters.
Send an email from our national ANMF 'Time for Ruby' campaign website
You can also send a thank you email to the senators, MPs and candidates above who have pledged to support ratio law. Let them know their leadership matters.
You can view all of the nation's politicians and candidates who have pledged support on the website links above.
What else is happening and what can I do to secure aged care ratios?
A national ANMF 'make ratios law' advertising campaign started last month to raise awareness in the community about how ratios can address many of the issues in aged care.
last updated 16 May 2019