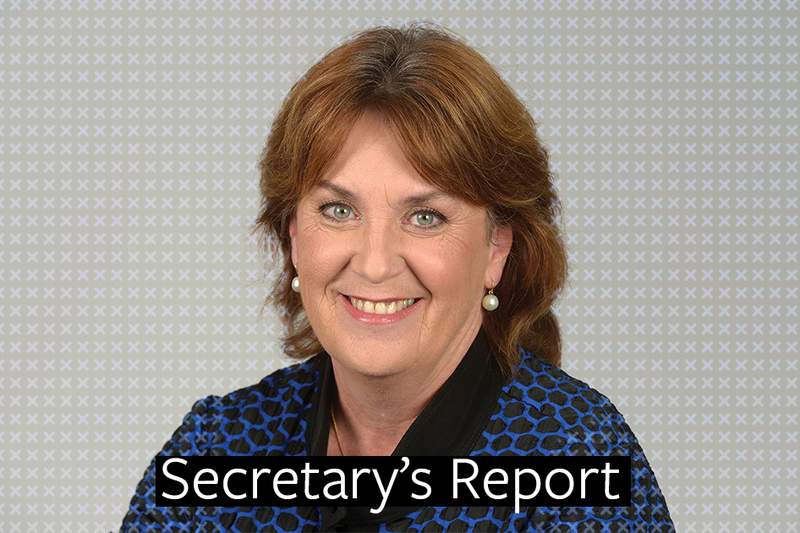 ANMF passed an extraordinary milestone in May with membership passing more than 90,000 nurses, midwives and personal care workers.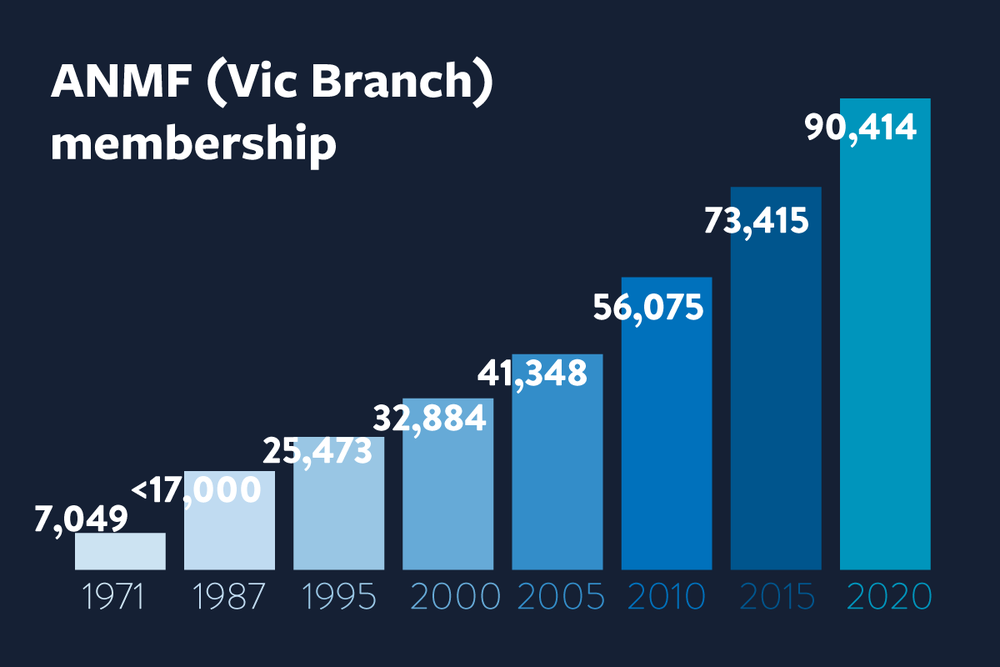 The blueprint for a growing union membership has been almost 40 years in the making.
The seed was planted in the early 1980s at a time when Victorian nurses did not take industrial action.
It was the mindset of the day reinforced by the then Royal Australian Nursing Federation's federal rules which prevented strikes.
So, when the formidable RANF (Vic Branch) Secretary Barbara Carson succeeded in her campaign in the early 1980s to remove the 'no strike clause' it was the birth of the union we have today.
It was an emotional debate, but ultimately members voted across the country to remove the rule in February 1984.
At the time understaffed wards and high unemployment amongst nurses (yes, you read that right) paved the way for Victorian nurses taking action for the first time—banning non-nursing duties on 11 June 1984.
A five-day strike, with nurses leaving behind a skeleton staff, followed in 1985. While the gains were modest, nurses' understanding of their collective industrial power was growing.
This new awareness was fertile ground for the 1986 50-day strike led by the new RANF Secretary Irene Bolger.
Employers had interpreted an Australian Industrial Relations Commission decision as meaning they could put senior and experienced nurses on lower classifications and less pay. So they did.
Under Ms Bolger's resolute leadership RANF members secured pay increases and a new classification structure.
The length of the dispute and loss of wages took a devastating toll on too many.
The strike cemented the connection between collective action and wages, workloads and entitlements.
It was time to rebuild when Belinda Morieson became ANF Secretary in 1989 on a strategic industrial and professional platform.
She implemented an agenda of democratising the union holding the first annual delegates conference in 1993 giving Job Reps the opportunity to influence the direction and policies of the ANF (the Royal was removed in 1988).
At a time when no one was buying Melbourne CBD real estate Ms Morieson purchased 540 Elizabeth Street in 1989 as the union's headquarters. Her sound investment enabled ANMF to build a new headquarters across the road 15 years later.
Nursing when there is a shortage of nurses willing to work in the system is hell. The workload is untenable, and you cannot provide safe patient care. That's what nursing was like in the late 1990s.

The Liberal Kennett government had decimated the health system with years of budget cuts, bed closures and nursing redundancies.
What made it worse in those days was working in an understaffed ward alongside an agency nurse being paid much more. So, the natural incentive was to resign and work for an agency.
Ms Morieson's skilled presentation of the ANF's ratio claims in an arbitration before Commissioner Wayne Blair in 2000 was a key factor in Victoria becoming the second place in the world to secure ratios (California legislated in 1999).
Nurses, midwives and carers well know a bigger bucket of money alone rarely makes any difference.
The union's ratio plan tied funding to staffing levels, shift by shift. The other plan was to improve continuity of care for patients with ANF members across the state supporting limiting agency usage for unplanned personal leave.
Commissioner Blair's ratio decision ultimately led to thousands of nurses and midwives returning to the system.
Since I became Secretary in 2001, nurses and midwives have had to fight to keep those ratios, with ANMF members taking industrial action during EBA campaigns in 2004, 2007 and 2011/12.
In 2015 the Andrews Government enshrined the ratios in legislation, with further improvements and extensions in 2019 and 2020. Under this legislation public sector nurses and midwives will not have to bargain for safer care.
Over the last two decades nursing, midwifery and patient care have changed significantly, particularly the rapid patient turnaround and short stays. Nurses and midwives have adapted to these changes without compromising patient care.
It was also time for nurses and midwives to take care of themselves. ANMF led the establishment of the independent Nurses and Midwives Health Program Victoria along with the Nurses Board of Victoria Chief Executive Officer at the time, Louise Milne-Roche.
The NMHPV continues to provide a way for nurses and midwives to seek support for mental health, alcohol or substance abuse issues and keep their registration and livelihood.
With the introduction of national registration in 2010 and a specific midwifery registration, ANMF (Vic Branch) changed its name from the Australian Nursing Federation to the Australian Nursing and Midwifery Federation in 2013.
Today, ANMF has 165 staff members, across our Melbourne head office and eight regional offices, providing services to more than 90,000 members. Under COVID-19 restrictions we have adapted quickly ourselves to support the most critical pandemic workforces remotely.
Wages, entitlements and working conditions and representing nurses, midwives and personal care workers are our bread and butter. Professional issues remain part of the union's DNA as we continue to develop the education program at our world class Education Centre and nursing simulation labs.
We are building affordable accommodation next door so our rural and regional members can attend conferences and education in Melbourne. In the meantime, COVID-19 has presented us with an opportunity to develop further online member assistance, education, conference and event experiences for all members.
The connection between nurses' and midwives' professional and industrial issues was always there.
We must never forget those members who came before us and courageously argued in the 1980s and '90s for the right to stand up for their professions and their patients.