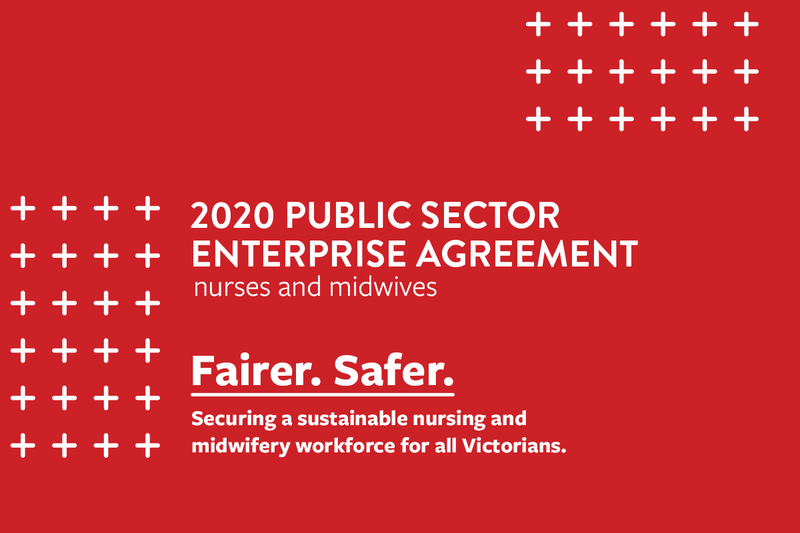 Key issues discussed at January public sector EBA negotiations included the ANMF's claim for hospitals to put in place software to ensure sufficient staffing budget to meet legislated ratios and staff leave, and enable workforce planning at a statewide level.
The software would enable electronic management of rostering and supplementary staffing, and would be an efficiency measure.
At discussions on 20 and 28 January 2020 the ANMF discussed with Victorian Hospitals Industrial Association and the Department of Health and Human Services simplifying long service entitlements in the new EBA, which are complex and currently differ depending on whether a member is an enrolled nurse, a registered nurse or a midwife, casual or permanent, and whether their long service leave is derived from the Victorian Long Service Leave Act 2018 or the EBA.
Other key issues discussed were:
refining the systems in the EBA to manage conduct and performance issues
improved qualifications allowances to recognise the Certificate IV in Training and Assessment and Workplace Health and Safety
adding definitions for 'ward', 'unit' and 'campus', which have never been defined in enterprise agreements.
Negotiations continued on 3 February 2020. ANMF remains committed to making every effort to conclude a new EBA before the expiry of the current agreement on 31 March 2020. Future wage increases for the new EBA are contained in the current EBA and will be transferred across to the new EBA.
Standalone community health centres
The Department of Health and Human Services has sent correspondence to standalone community health centres that will enable them to be included in a single EBA covering the general public sector. Standalone community health centres are those not operated by a public hospital.
Members in the workplaces named below should be issued with a Notice of Employee Representational Rights (a legal obligation on each employer) inviting employees to nominate their bargaining representative. ANMF is the default bargaining representative for members, and members need take no action.
Access Health & Community
Ballarat Community Health Centre
Banyule Community
Bellarine Community Health
Bendigo Community Health Service
Castlemaine District Community Health
Central Bayside Community Health
Cobaw Community Health Service
Cohealth Footscray
Connect Health & Community
Dpv Health
Each Social & Community
Gateway Health
Gippsland Lakes Complete Health
Grampians Community Health
Inspiro
IPC Health
Latrobe Community Health Service
Link Health & Community
Merri Health
Nexus Primary Health
Nillumbik Community Health
Northern District Community Health
Primary Care Connect
Star Health
Sunbury Community Health Centre
Sunraysia Community Health Services
Your Community Health
If you work in a standalone community health centre, and your employer is not named above, please contact us via records@anmfvic.asn.au.