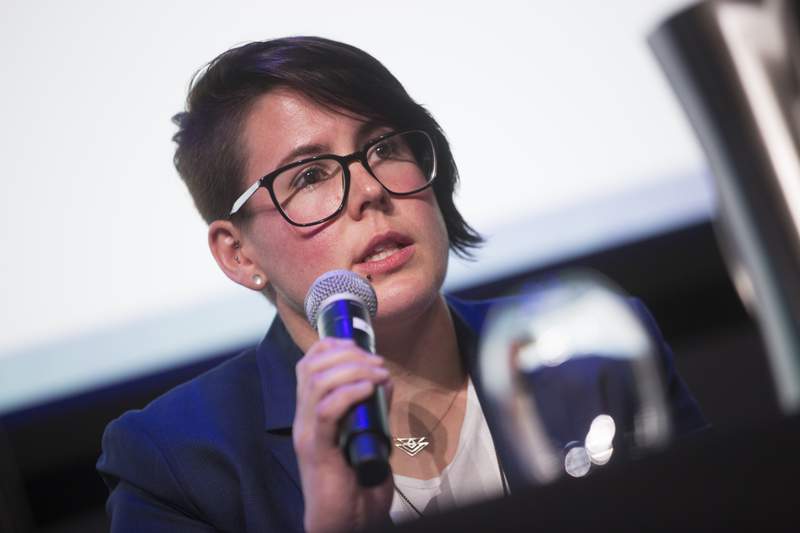 A panel of nurses working in alcohol and other drug settings painted a positive picture of the sector, with opportunities for registered and enrolled nurses, and nurse practitioners.
The nurses presented as a panel at the inaugural Andrews Government-funded AOD Seminar organized by ANMF (Vic Branch) in partnership with Turning Point. They were:
Megan McKechnie – Addictions Clinical Nurse Consultant at Alfred Health.
Formerly at Werribee Mercy emergency department, Ms McKechnie led a pilot project improving responses to patients presenting with alcohol and other drug issues.
Ms McKechnie emphasized the importance of a harm minimization approach to alcohol and other drug use and said 50-80 per cent of people with mental health disorders also use substances.
'People with substance use issues also have a higher rate of hospitalization needing medical treatment and the first thing that happens when they hit hospital is they can't use drugs,' Ms McKechnie said. Many of these clients become aggressive when their withdrawal needs are not met.
The Alfred has expanded the staff members and services available to patients with alcohol and other drug addictions who are hospitalized for medical treatment, she said.
Carol Munro – Nurse unit manager, Drug Health Services, CRWU, Western Health.
Ms Munro is a NUM at a residential withdrawal unit. She said the 11 nurses employed at the unit were ANUMs but there is also a 12 month registered nurse position offered each year and a graduate position on a six month rotation.
Western Health also offers outpatient withdrawal services and employs nurses as part of a team caring for complex clients. The organization employs four AOD nurse practitioners and ANUMs are part of the staff team at a 20-bed dual diagnosis rehabilitation unit in Sunshine.
David Scott – Manager, Rehabilitation Services, Windana Maryknoll Therapeutic Community
'I absolutely love working in the AOD field,' Mr Scott, who trained as a mental health nurse, said of his role at a residential rehabilitation community in Maryknoll, 60 kilometres south-east of Melbourne.
Mr Scott said Windana also offers a therapeutic day program at Moe, residential drug withdrawal at St Kilda, non-residential withdrawal support as well as the 78-bed therapeutic community at Maryknoll and a new 20-bed unit at Ballarat.
Mr Scott said at Windana Maryknoll Therapeutic Community, the community is the primary therapeutic instrument. It operates with a 'Welcome House' model in which clients have scope to transition in and out of a residential setting.
Teddy Sikhali – Service Manager for Turning Point Eastern Treatment Service
Mr Sikhali intended to work in mental health but was drawn to the collaborative, trauma-informed approach of alcohol and other drug nursing. He presented a video about the Turning Point Eastern Treatment Service's Wellington House which showed a welcoming, buoyant atmosphere. Staff spoke of focusing on clients' small gains, as 'from little things big things grow' and the job being about facilitating recovery, not 'fixing' people.
The service has 20 beds, with eight acute withdrawal beds at Box Hill Hospital, four 'step-down' beds at Wellington House and eight beds at the Wellington House residential withdrawal stabilization unit.