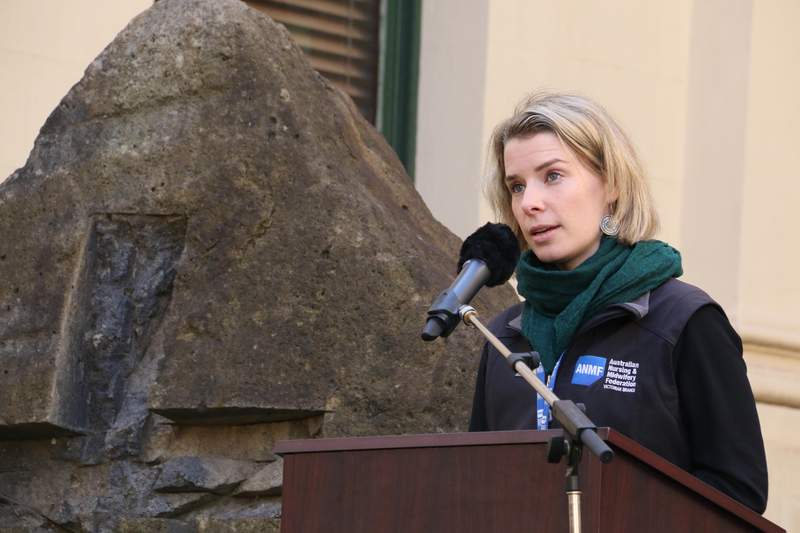 In a moving ceremony on International Workers Memorial Day and World Day for Safety and Health at Work, ANMF (Vic Branch) Assistant Secretary Maddy Harradence paid tribute to the nurses who have died globally as a result of COVID-19 and the Victorian healthcare workers who faced a devastating second wave of the pandemic.
At the Trades Hall annual gathering to honour Victorians who have died of work-related causes, Ms Harradence gave ANMF's condolences to the families of the 48 Victorians who have died of work-related causes in the past year.
Ms Harradence said it was 'a cruel irony' that 2020 was the International Year of the Nurse and the Midwife, given they were on the frontline of a global pandemic. She said 2020 saw a huge increase in ANMF (Vic Branch) members' requests for our legal team's will service.
'Nurses, midwives and carers, like so many other workers in Australia and internationally, were scared. But they were also pragmatic, organised and focused,' Ms Harradence said.
During the Victorian COVID-19 outbreaks, our dedicated members moved into apartments on their own to separate themselves from families and friends, and got pressure injuries from wearing masks, 'they battled, they persevered and they maintained their compassion and commitment to their patients', she said. Yet when ANMF asked members if they were prepared to take on extra shifts to vaccinate the Victorian community, thousands indicated they would help.
The Victorian experience of COVID-19-related deaths in nursing homes and 3561 healthcare workers contracting COVID-19 was devastating but compared to India and Pacific neighbours such as Papua New Guinea, Australia has been fortunate, Ms Harradence said.
Victorian Trades Hall Council Secretary Luke Hilikari, Minister for Workplace Safety Ingrid Stitt, Minister for Industrial Relations Tim Pallas and WorkSafe Victoria CEO Colin Radford also spoke at the International Workers Memorial Day event.
The gathered unionists and families of fallen workers were reminded that International Workers Memorial Day was also about fighting for workers' right to a safe as practicable workplace.
Mr Hilikari said the gathering had been able to occur despite the COVID-19 pandemic because of the collective efforts of the Victorian community, healthcare workers and the Andrews Government's strong leadership.
Ms Stitt said that tragically 14 workers had already died in Victoria in 2021 'and that's unacceptable'. She said that with the Victorian Government's support, WorkSafe was recruiting additional inspectors to undertake more workplace visits to find employers who were not taking their workplace safety obligations seriously. WorkSafe CEO Colin Radford said over the next year WorkSafe Victoria would be targeting workplaces where harm was most likely to occur.
Minister for Industrial Relations Tim Pallas said there was no such thing as an acceptable level of loss of workers.
'We are not cogs in the machine. We are people, with aspirations, with families and hopes and dreams,' he said.
Victorian Trades Hall Council staff placed on plinths shoes and boots representing the 48 workers who have died during the past year as VTHC Assistant Secretary Will Stracke read the workers' names and the circumstances of their deaths. They are gone but never forgotten.