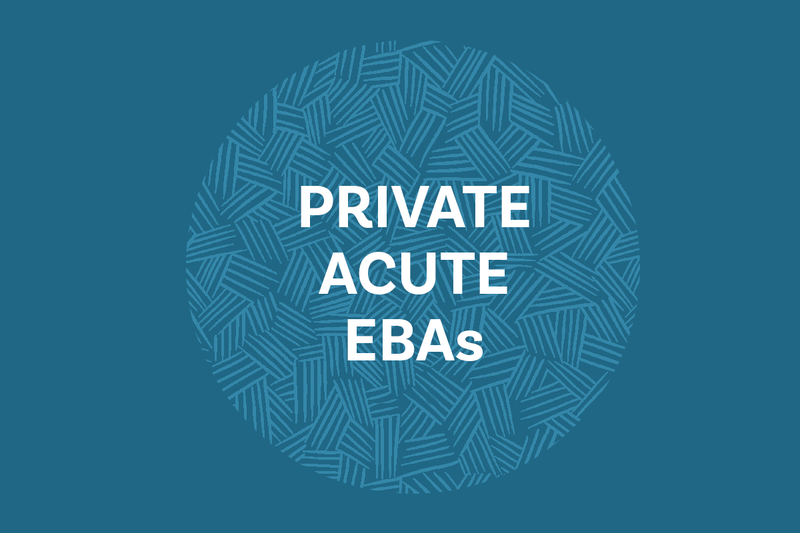 New updates on progress of EBAs for members at St Vincent's Private Hospital Melbourne, Ramsay, Healthscope, Cabrini Health, Healthe Care and Jessie McPherson Private Hospital.
ST VINCENT'S PRIVATE HOSPITALS MELBOURNE
In October, 65 per cent of St Vincent's Private Hospitals Melbourne staff endorsed an improved proposed enterprise agreement with a nine per cent wage rise to be paid between July 2021 and July 2024. The wages offer ensures pay parity with public sector nurses and midwives.
Other proposed improvements include a staged increase of paid parental leave from 11 to 14 weeks over the life of the agreement; an improved annual leave request process; and an improved and enforceable 'nurse and midwife workload' clause.
The agreement is now awaiting approval by the Fair Work Commission. Seven days after the approval, the agreement will come into effect.
RAMSAY
The proposed enterprise agreement providing for a 10 per cent wage increase over four years for most classifications has been voted on by employees, with over 80 per cent voting yes. The agreement will see Ramsay employees achieve public sector pay parity or greater, with pay increases in instalments of 2.5 per cent in September 2021, 20222, 2023 and 2024.
Also included in the proposed agreement is:
an increase of paid partner parental leave from one to two weeks
an increase of professional development leave from two to five days per annum, pro rata
an increase in access to family and domestic violence leave from five days up to 10 days
an increase in allowances by 2.5% per annum for four years, other than overtime meal allowance, which will increase by 25 cents per annum
a new training and education (TAE) qualifications allowance payable at $1.25 per hour
expanded senior nursing staffing provisions, including requirements for NUMs and ANUMs
an expanded demand escalation and workload management clause
the inclusion of an occupational health and safety clause
The agreement was approved by the Fair Work Commission on 1 December.
HEALTHSCOPE
ANMF members have provisionally accepted a proposal from Healthscope management following members' meetings held on 8 and 9 November 2021.
The offer from Healthscope management includes:
a nine per cent increase to wages and allowances over a four-year period from 1 July 2021 until 1 July 2024
phasing in of access to long service leave at seven years from 1 July 2024
an improved and updated nurses and midwives career structure
access to paid parental leave in the event of a still born child
an improved workload management clause
introduction of a RUSON/RUSOM employment model
introduction of a Transition to Retirement Clause
introduction of Ceremonial Leave
introduction of a Relocation Allowance.
ANMF and Healthscope management are working through incorporating the above changes to a full draft replacement EBA that will be the subject of further consideration by ANMF members meetings ideally in December 2021.
CABRINI HEALTH
Following a members' meeting held on 17 November, bargaining to replace the Cabrini Nurses and Midwives Agreement 2016 has now concluded, with Cabrini Health management making a revised offer. At the end of the proposed new agreement, Cabrini rates of pay will continue to maintain close parity with the public sector rates as well as remaining competitive with other private acute hospitals.
Minimum weekly salaries and allowances will increase on the first full pay period on or after the following dates and by the percentages specified during the operation of this agreement:
01 November 2021: 2 per cent
01 November 2022: 2 per cent
01 November 2023: 1.5 per cent
01 November 2024 1.5 per cent
The new agreement now covers mental health nurses working at the Lisa Thurin Women's Health Centre, and introduces RUSONS and RUSOMs.
Members also achieved:
increased paid parental leave to 12 weeks up from 10
earlier access to long service leave commencing in 2024, culminating in access at seven years of service, in October 2027
superannuation payments during paid parental leave
improved transition to retirement entitlements that maintain superannuation contributions at the pre-transition rate as well as the preservation of accrued long service leave when transitioning to retirement.
ANMF Job Reps will also have access to five days unpaid leave (increased from three) for the purposes of training
a two per cent qualification allowance for educators who have the Certificate IV TAE
extended family and domestic violence leave from five to 10 days
ability to substitute public holidays to attend NAIDOC events for employees of Aboriginal or Torres Strait Islander descent.
Cabrini Health will now commence the formal approval process where employees will be given an opportunity to review and vote on the proposed agreement. ANMF recommends members vote YES when casting their vote.
HEALTHE CARE
The proposed agreement for Mulgrave Hospital (Healthe Care) providing a nine per cent wage increase over four years is currently out to employee ballot. The agreement provides a large number of improvements including an increase to primary and secondary paid parental leave to 12 and two weeks respectively; an increase to minimum ANUM numbers and significantly improved workload management provision; access to long service leave at seven years (transitioned over the life of the agreement); and increases to professional development leave.
The Aurora Health agreement, which covers South Eastern and Brunswick Private Hospitals, has been overwhelmingly voted up by employees and will now be lodged with the Fair Work Commission for approval.
ANMF is working with Healthe Care to finalise an in principle agreement to cover Hobson Healthcare day procedure centres (which is currently only covered by the modern award). It is anticipated that this agreement will go to an employee ballot before Christmas.
ANMF's EBA negotiations with Healthe Care will result in four agreements: one to cover the acute side of the business (Mulgrave Hospitals), which has now been sold; one to cover the rehabilitation and mental health business (Aurora Health/ South Eastern and Brunswick Private Hospitals); one to cover the acute hospital at Epping; and one to cover Healthe Care's three-day procedure centres (Hobson Healthcare).
JESSIE MCPHERSON PRIVATE HOSPITAL
As a result of further negotiations, has confirmed a wage increase offer of 7.5 per cent over three years, with a nominal expiry date of 31 March 2024. The increases are to be paid on the first full pay period commencing on or after 1 April each year of the agreement in increments of:
3 per cent in 2021
2.5% per cent in 2022
2% per cent in 2023.
These increases are in addition to the three per cent paid in April 2020, thus providing an overall increase of 10.5 per cent over four years.
The wages offer ensures pay rates remain equal with or above the public sector. There is also an agreement for embedded staffing for nurse/midwife and numbers of patients that is not generally a feature elsewhere in the private sector. The intended application of staffing is provided under the incorporated Heads of Agreement covering Jessie McPherson Private Hospital and will also cover the new Victorian Heart Hospital when this opens.
Other new conditions will include transition to retirement, an improved non-punitive approach to dealing with disciplinary matters, and a lead apron allowance of $8 per shift – all based on the public sector outcome. Also included is a further 10 hours of paid PD leave for nurse practitioners; fatigue rostering principles to support the health and wellbeing of employees; paid time for requisite specific clothing changes that occur during a shift and TOIL to be taken within a six-month period after the overtime is worked.
The ANMF claims not met include no agreement to increase paid parental leave, which remains at 10 and one weeks, or to pay superannuation on the unpaid parental leave period; and, no agreement to pro rata access to long service leave at seven years.
After completion of drafting, we anticipate the proposed agreement will be distributed to employees for access and voting mid to late December.