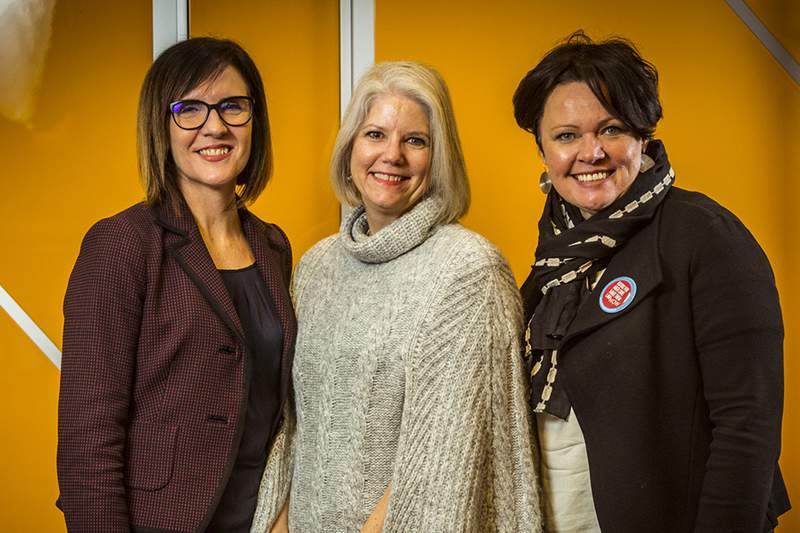 Long-serving Job Representative Terry Swanson has been named 2018 Hannah Sellers Job Representative of the Year, while Sara Jorgensen and Sally Collier-Clarke were jointly awarded 2018 Health and Safety Representative of the Year at the 2018 Annual Delegates Conference on Thursday 28 June.
In her presentation, Federal ANMF Secretary Annie Butler said that Ms Swanson, a Nurse Practitioner working at South West Healthcare, is a role model for all.
'She is a voice for ANMF at her workplace, making representations to management and always conducting herself in a professional manner', said Ms Butler.
Her dedication to the Job Rep role has included leading delegations to local MPs offices, encouraging her colleagues to stand up for their rights, and providing that voice for her colleagues in the workplace and at conferences.
A member for nearly 30 years, Ms Swanson has served on ANMF Branch Council and Executive, including a term as Vice President.
Ms Swanson said she was shocked she was nominated. 'Thank you to my colleagues and friends for nomination and the ANMF committee for making me Job Rep of the year. I'm eternally grateful for the recognition and acknowledgement.'
'Having worked with Hannah Sellers, that honour in her name and what that represents – for dedication over the years – it's quite overwhelming. I'm very humbled and honoured.'
Joint Health and Safety Representative (HSR) of the Year award winners Sara Jorgensen and Sally Collier-Clarke from Bendigo Health were unable to collect their awards in person.
Ms Jorgensen and Ms Collier-Clarke were awarded for increasing staffing levels above the Safe Patient Care Act in the women's ward on night duty.
In order to address concerns about low staffing on day and evening shifts, Bendigo Health proposed to increase staffing for those shifts, but reduce staffing on night shift. While members were satisfied with the increase, they were concerned about the decrease on night shift.
Both HSRs methodically identified the multiple OHS risks, such as fatigue, workload, stress and potential clinical impacts, associated with lower staffing levels, and raised their concerns with Bendigo Health. Unfortunately, no resolution was able to be reached, forcing them to issue a provisional improvement notice (PIN), which proved successful.
Ms Butler said that Ms Jorgensen and Ms Collier-Clarke's positive communication and consultation with their designated work group (DWG) were important factors in their win.
'Sara and Sally, through their effort and pursuit, identified that data collection was critical in support of their claim. Their data collection was undertaken both manually and through VHIMS and their further effort required motivating their DWG to report incidents and risks that they identify.'