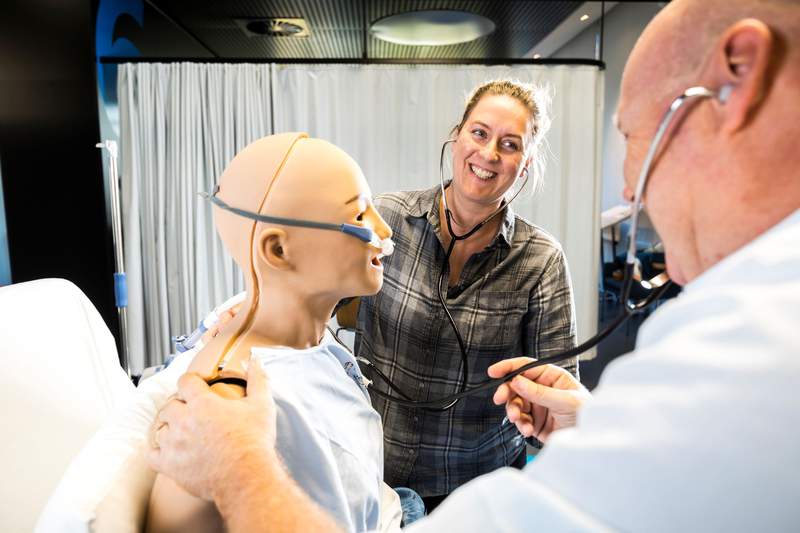 Five days after the introduction of COVID-19 restrictions in March, the first group of nurses was already starting a new ANMF Education Centre workshop to prepare for the pandemic.
Over the next six weeks more than 140 nurses attended the two-day workshop to refresh their acute practice skills and knowledge as part of the COVID-19 surge workforce preparation.
Participants included school nurses, theatre nurses, maternal and child health nurses and aged care nurses who all wanted to help. Some were recently retired, others were near the beginning of their career, and some had been out of the acute setting for a while and were looking to refresh their skills and knowledge.
All participants nominated three hospitals they were prepared to work at if required.
The workshop provided an update on clinical assessment and caring for the deteriorating patient, professional and safety standards, and law and ethics.
ANMF (Vic Branch) Secretary Lisa Fitzpatrick said after watching the distressing scenes of overwhelmed health services overseas the union wanted to assist Victorian nurses and midwives on our own frontline.
The workshop was provided free to participants thanks to generous funding from super funds First State Super and HESTA and the ANMF (Vic Branch).
'It was important that the nurses who were prepared to put themselves at risk on the frontline did not also have to pay to update their education,' Ms Fitzpatrick said.
'First State Super and HESTA's contribution towards funding the workshop was an important sign to nurses that the community understood the value of their work in this pandemic.
Peta, a school nurse with experience in paediatric nursing, said she did the course to strengthen her clinical skills if hospitals needed extra nurses during the pandemic.
The workshop provided 'a great opportunity to do this in a controlled situation before going back out there, being on the ward,' she said.
The 'Reorientation to acute care' was the brainchild of ANMF Education Centre Manager Kim Sykes. It was designed by ANMF Course Development Coordinator Corinne opt Hoog and delivered by nurse educators Pam King and Simon Plapp.
More than 600 nurses registered an expression of interest in the workshop with 100-plus registering within hours of promotion on the ANMF (Vic Branch) Facebook page.
'We'd already seen hundreds of nurses volunteering to help in bushfire affected areas in January,' Ms Fitzpatrick said.
'As soon as the Andrews Government announced the shut-down and social distancing measures, we saw this generous and selfless spirit reignite with nurses calling and emailing asking ANMF how they could help,' she said.
The two-day workshop was provided via Zoom, with some face-to-face classroom and nursing simulation lab sessions. Workshops were limited to eight nurses allowing for social distancing.
The course was suspended in early May in response to Australia significantly flattening the curve and the implementation of state and federal governments' surge workforce plans.
These included a Victorian pandemic surge workforce register which attracted 15,000 expressions of interest, the Registered Undergraduate Student of Nursing employment model, Federal Government-funded intensive care and high dependency education for 20,000 registered nurses and funded refresher programs for registered and enrolled nurses not currently in clinical practice.
The Australian Health Practitioner Regulation Agency and the Nursing and Midwifery Board of Australia also established a new pandemic sub-register to fast-track the return to practice of experienced and qualified nurses and midwives who had become unregistered in the past three years.
The ANMF Education Centre can quickly restart the workshop if required.