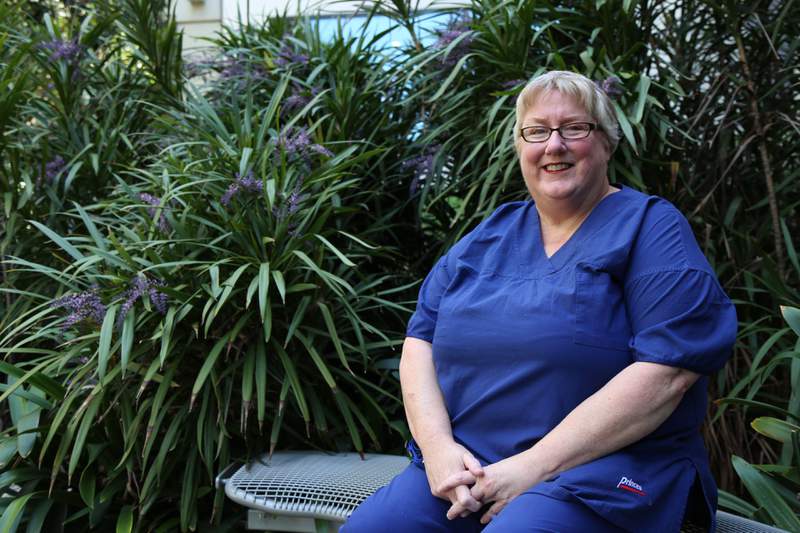 After a career of more than 40 years, Debra Smith may find shiftwork tiring but she's certainly not tired of caring for patients and contributing to surgical teams at the Royal Children's Hospital.
The most recent career highlight for this scrub scout nurse was being part of the Royal Children's Hospital team that separated the Bhutanese conjoined twins, Nima and Dawa. The twins left the hospital on 26 November to continue their recovery after the successful operation.
The separation was a well-planned, coordinated enterprise involving four surgeons and a team of about 18 people. The twins were joined from the lower chest to just above the pelvis and shared a liver, and the operation took about six hours, according to an ABC report.
'It was a real team effort,' Debra said. 'It was a fabulous experience'.
The meticulous planning of the operation and briefing of all staff involved made for a relaxed atmosphere in theatre, she said. 'We all knew our job and we all knew what we had to do.'
While from the outside, working in surgical teams exclusively with patients who are children seems like a difficult job, Debra admits she takes it for granted after so many years. But Debra knows that some family and friends would not be able to do what she does because they tell her so. Her brother, a teacher, would be too squeamish and her best friend tells her that what Debra does every day is 'amazing'.
With more than 30 years passing between the day she stepped through the door of the Royal Children's to now, Debra has seen many staff members and patients come and go. Debra has known Dr Joe Crameri, the leading surgeon behind the separation of the conjoined twins, since he was a registrar. She would not even be able to begin to count how many operations she has seen.
Debra started her career in a hospital in Traralgon, and worked stints at The Alfred and The Royal Women's hospitals before joining the Royal Children's Hospital in the momentous year of 1986. It was the time of the 50-day strike involving en masse walk-outs of ANMF members working in public sector hospitals throughout Victoria. This landmark industrial action prompted Debra to join the union and later, to become a Job Rep.
The strike brought home to Debra the strength of the union; that 'union' means exactly that – members acting as one to stand up for their rights as workers.
'In 1986, nurses had definitely, definitely had enough,' Debra said. 'They stood together and I think it got better over the years. Nurses are now starting to realise we're not going be stood on and treated as second-class citizens in our work, and are starting to be more proactive.
'I'm a little concerned that some of the younger ones who are coming into the profession now and have never fought for the conditions are taking them for granted. I don't want the situation to go backwards.'
As a Job Rep, Debra said she is surprised at the number of nurses and midwives who do not realise what their entitlements are under the enterprise agreement.
'They don't realise what they should be paid for their shifts, what their allowances are, their weekend penalties…I just think, you work hard enough, you're a professional, and you are entitled to these 'extras', so to speak and these good conditions.'
Debra cites as one example a nurse who came to her with a query about the amount she had been paid for working over Easter. The result was that the nurse not only received payment according to her entitlement under the enterprise agreement but all the nursing staff's Easter payments were checked and rectified.
It's important to not become complacent about pay and conditions, Debra said.
'It's not just about us, it's also for the patients. If we have good conditions, the patients have good conditions.'