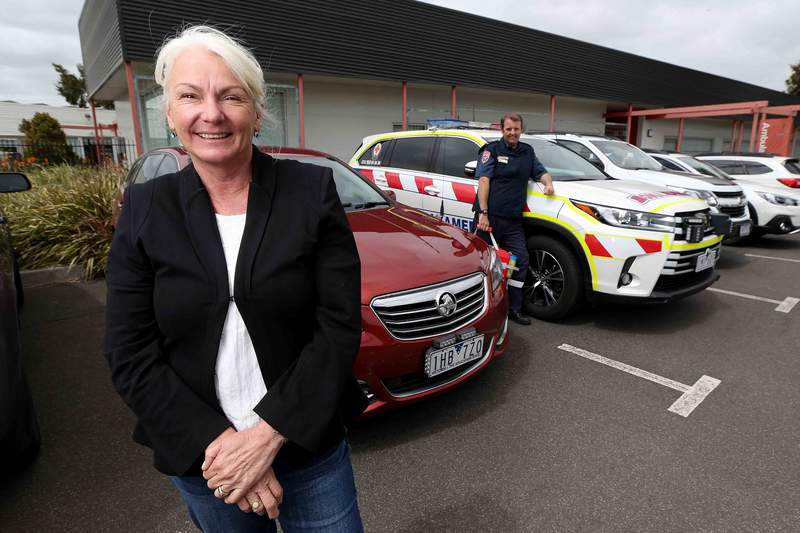 Mental health nurse and ANMF member Karen Bourke-Finn says a new approach to treating patients with low-acuity mental health issues in Geelong is compassionate and pragmatic.
The Prehospital Response of Mental Health and Paramedic Team (PROMPT) program pairs Barwon Health mental health nurses with paramedics in attending low-acuity call-outs, with the pair attending the patients' homes.
A three-month trial of the program, which started in May, was so successful the program has been extended.
Patients are greatly relieved, Karen said, when she arrives with a paramedic and they tell the patient they will do what they can to ensure the patient gets the care they need without going to hospital.
'You can actually see people take a huge sigh and say "Thank heavens for that",' Karen said. 'It's almost like they're so grateful this service is able to respond. The great majority of people don't want to end up in an emergency department, to be fair.'
With mental health nurses attending ambulance call-outs, patients are assessed and triaged sooner than they would be if they ended up in hospital. In the first three months of the trial, PROMPT diverted about 76 per cent of patients away from Geelong's University Hospital to more appropriate mental health services in the community.
Ambulances respond on average 15 times a day to calls involving mental health patients in the Barwon region.
Prior to the PROMPT program, nurses, paramedics or police officers would be attending the patient on their own, with each assessing the situation 'through their own lens', Karen said.
'The biggest benefit (of PROMPT) from what I can see is that it means people don't have to be necessarily disrupted from their own environment and transported to a busy emergency department for the purpose of an assessment unless they absolutely have to be.
'What we're trying to do is a mental health assessment, a risk review. We're seeing people in their own homes, with their families.
'It's a lot more sensitive, it's a lot more considerate and more inclusive – and people are much more comfortable in their own environment.'
The PROMPT team travels to the patient in an unmarked ambulance, providing some discretion in patient care.
Karen, who has worked in mental health for more than 30 years, said the patient assessment is carried out in collaboration with the patient, so the PROMPT model is also working 'in the spirit of the Mental Health Act around liberty, dignity and seeing people in the least restrictive way you can and involving them in treatment decisions'.
'It's a much more compassionate model in terms of the type of delivery of care you can give people. It does make sense. It's really pragmatic.'
The mental health nurses involved in PROMPT also link the patient with their existing support networks and refer them to other services in the community such as the community mental health team. If the assessment indicates a need for treatment in hospital, the pair can transport the patient to hospital and directly admit the patient, if clinically indicated.
Karen started her career in mental health nursing, then worked in general nursing at St John of God, Ballarat, and Ballarat Base Hospital, before deciding to return to the mental health sector.
'I liked the holistic way of treating people and felt there was a lot of inequity in the way people with mental health (issues) were treated,' she said.
'From an early age I felt a strong sense of social justice and I wanted to advocate for people with mental illness.'
Karen now divides her time between clinical work for Barwon Health within the PROMPT trial and working privately as a consultant.