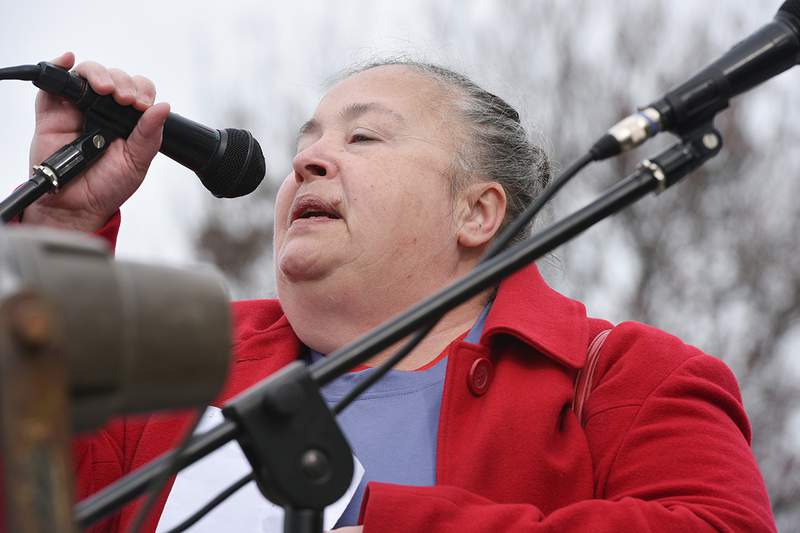 Announced at the 2022 Delegates Conference, Zeta Henderson from University Hospital Geelong is the Hannah Sellers Job Rep of the Year for 2022, while Sarah Ellson has been named Health & Safety Rep (HSR) of the Year.
ANMF (Vic Branch) congratulates both recipients on the well-deserved wins.
Hannah Sellers Job Rep of the Year
Zeta Henderson was nominated by her colleagues for her exceptional contribution as a workplace delegate and to the broader union movement. She has continuously sustained active participation, whether it be as a local media spokesperson, organising rallies, attending solidarity actions with other unions or recruiting new Job Reps.
She has been a diligent Job Rep for many years and is also a member of her Geelong Trades and Labour Council, where she invigorates, inspires and educates other delegates. She is also an active member of the Geelong local Women's Unionist Network.
Zeta organises women's forums against family violence and is a strong campaigner on union and human rights issues such as equal pay, public housing and anti-union laws. She participates in 'We Are Union' activities on stalls, phone banking and letterboxing, and more recently was the instigator and main organiser for the aged care rally in one of the marginal seats.
During the past two years of covid, Zeta mentored and assisted young, vulnerable nursing students attending TAFE by supporting them and helping them navigate their way through this difficult time. She continues to recruit students to join the ANMF while at the same time, being an exceptional role model.
She regularly talks to the local media on relevant union topics and feminist issues. She has been instrumental in recycling PVC tubing at her workplace and continues to be active in the environmental movement. One of her specialty topics is linking feminism with climate change. In 2021 she helped mobilise thousands of people in her local community for the first March 4 Justice protest against sexual violence in parliament.
HSR of the Year
Sarah Ellson has been an HSR since January 2021 and she took on this position at a time when her unit was experiencing increased stress due to understaffing and OVA. After completing her HSR training, she made notable achievements, including:
Following a code black incident that resulted in significant property damage at her hospital, which rushed to reopen the ward, Sarah was instrumental in ensuring that the ward was safe and free of risk prior to reopening, warning management that she would issue a PIN if the risks weren't resolved.
The ASCOM system in the hospital had become outdated, meaning there were significant delays in code responses. Sarah pursued this risk through her NUM, executive, IT and WI-FI personnel and advocated for a change in the system. As a result, the ASCOM system was entirely replaced with upgraded software.
She encouraged members to report incidents of OVA to her hospital and the ANMF. This resulted in the ability to push for the CEO to chair the OVA committee. Now there is greater emphasis on management of OVA, including the development of a 3 OVA strategy.
She has been a vocal member of the OVA committee at her workplace and has continually enquired into RiskMan and incident reports. Her knowledge of the in-patient flow between ED and her ward was instrumental in identifying system gaps in the patient pre-admission and admission risk assessment being appropriately completed and actioned.
Sarah no longer works at the Royal Children's Hospital where she was nominated to receive this award but her passion for OHS has now transferred to her new employment, as an HSR at Headspace.