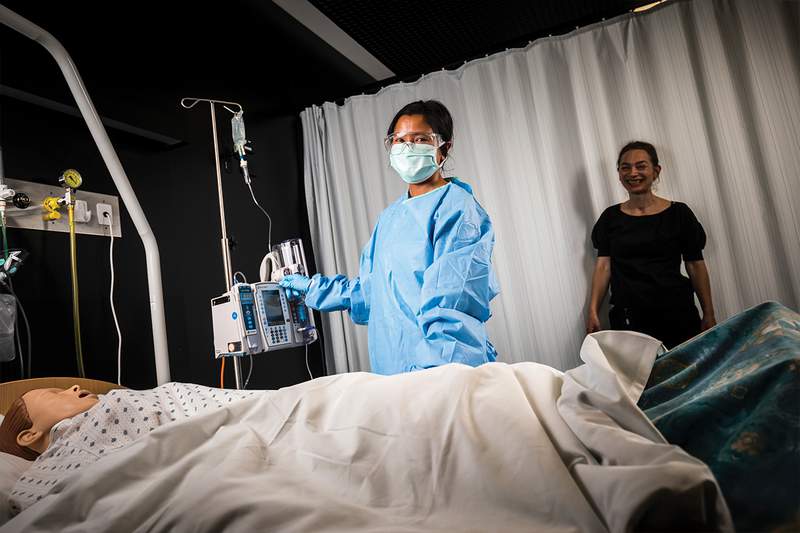 Nursing educators Pam King and Simon Plapp are regular faces at the ANMF (Vic Branch) Education Centre but until COVID-19, you would only have seen their faces in person.
To meet potential increased demand for nurses in acute care due to the COVID-19 pandemic, Pam and Simon stepped up to deliver the ANMF Education Centre's 'Reorientation to acute care' workshop.
Pam and Simon, who are both highly experienced nurses and nursing educators, were quick to adapt their clinical education to an online format when physical distancing requirements were introduced. The course attracted nurses from a wide variety of specialties keen to offer their skills to hospitals in the event that COVID-19 created a surge in demand on the Victorian healthcare system.
'I wasn't expecting the breadth of disciplines,' Pam said. 'There were school nurses, clinic practice nurses, primary care nurses, district nurses, people from the Corrections Department, ENs, surgical, general, and theatre nurses…mental health, drug and alcohol.'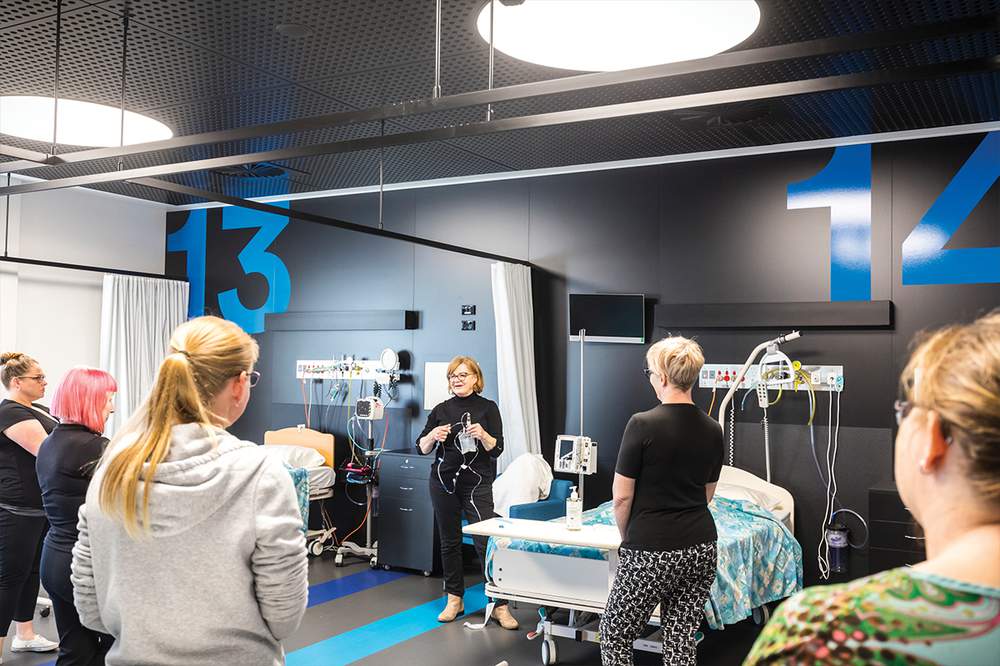 The 'Reorientation to acute care' workshops began on 30 March. For physical distancing reasons, the theory component went online via Zoom from 1 April, with the practical component taught at the ANMF (Vic Branch) Education Centre simulation laboratories.
The workshops had a maximum of eight participants to meet physical distancing requirements in the simulation labs. Twenty-two workshops were held, with 142 nurses completing both the theory and practice components.
The participating nurses were able to practise clinical skills in the simulation labs according to need but the workshop also covered basic techniques of hand-hygiene and 'donning and doffing' of personal protective equipment.
Nurses were refamiliarised with manual handling machines and slide sheets; priming IV lines and pumps; IV antibiotics; and blood pressure and oxygen saturation machines. The workshop also dealt with digital recording of patients' information.
'Some did catheters, some did dry dressings, so we could look at their aseptic non-touch technique and one nurse did blood-taking because she wanted to reinforce that she still knew that skill,' Pam said.
'At the end of the day, being in a simulated hospital environment made them feel comfortable about returning to an acute care environment.'
Simon, who teaches several clinical workshops at the ANMF (Vic Branch) Education Centre, had to adapt other workshop content for the online environment. When physical distancing requirements began, Simon rapidly adapted content for the 'ECG – cardiac rhythm recognition and 12-lead ECG', Advanced 12 lead ECG', 'Recognising and responding to clinical deterioration' and 'Advanced clinical assessment and management of the critically unwell person' courses.
'The major challenge of adapting the clinical courses from face-face to online was overcoming the lack of tactile models, such as a heart model, to explain concepts such as blocked coronary arteries and the area of muscle it affected,' Simon said.
Simon ensured his information on respiratory assessment and management and sepsis included an extensive explanation of COVID-19.
Feedback about the online learning has been 'overwhelmingly positive'.
'The participants, particularly from regional areas, commented that they enjoyed being able to learn from the comfort of their home,' Simon said. Having the Education Centre's simulation lab available to apply theoretical knowledge gained online to bedside care, such as performing ECGs and lung auscultation, was invaluable.
The workshop was provided at no cost to nurses thanks to funding from First State Super, HESTA and ANMF (Vic Branch).
All courses offered by ANMF (Vic Branch) until 1 October are planned for delivery online but could be reintroduced face-to-face if we can provide a safe environment that complies with Victorian Government and Chief Health Officer advice.
The 'Reorientation to acute care' workshops have now ceased. To register for all other courses, visit anmfvic.asn.au/courses