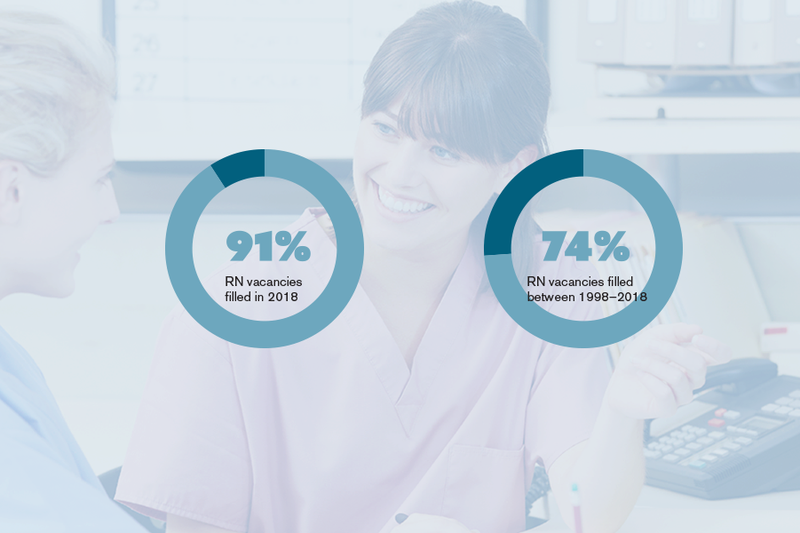 Labour market research shows a promising upswing in registered nurse employment in Victoria, with 91 per cent of registered nurse vacancies filled in 2018, the highest in a decade.
The decade average of registered nurse job vacancies filled was 74 per cent.
Overall, Victorian employers filled 73 per cent of nursing vacancies from an average of 5.2 applicants and 1.8 suitable applicants per vacancy, a Department of Jobs and Small Business survey found.
Nurses had a higher chance of securing employment in regional areas, with regional employers filling 80 per cent of vacancies from four applicants and two suitable applicants, on average per vacancy. In contrast, metropolitan employers filled 71 per cent of vacancies from 5.6 applicants and 1.7 suitable applicants.
There was no enrolled nurse shortage in Victoria but a shortage of midwives in metropolitan Melbourne. Fill rates and suitable applicant numbers for midwives and enrolled nurses were on par with averages over the past decade.
Reasons applicants were unsuitable for advertised jobs included not having the qualifications or experience in the vacancy speciality. Generally, employers did not consider experience transferable across specialties.
The number of registered and practising nurses and midwives – including dual qualified – increased by an annual average of 2.2 per cent in the five years to March 2018. The largest annual increase was midwife registrations, averaging 9.6 per cent over the five years to March 2018.
This is good news for the Andrews Government's amendments to ratios within the Safe Patient Care Act 2015, which will mean an extra 600 nurses and midwives employed in Victorian public hospitals.
Victorian population growth is driving the extra demand for nurses and midwives, with an average population increase of 2.3 per cent over the five years to December 2017. Victorian births increased by an annual average of 1.5 per cent over the five years to December 2017, and 7.6 per cent over the year to December 2017.