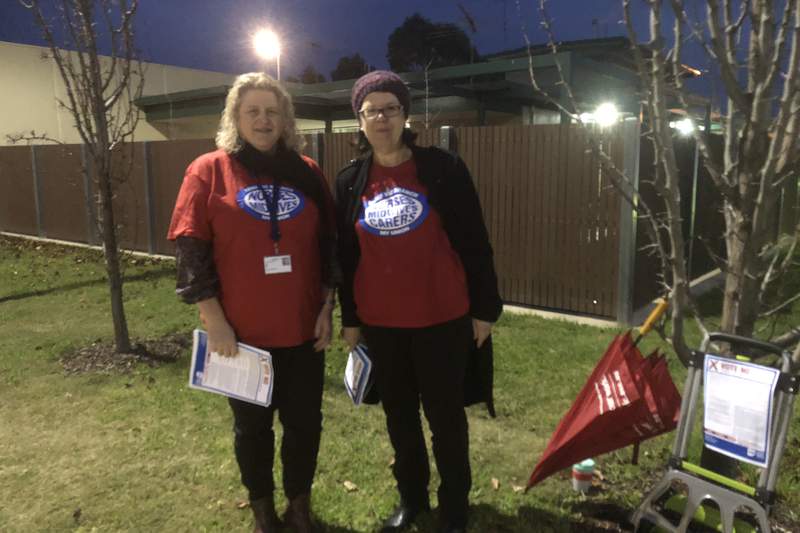 The action will impact 20 maternal and child health centres across the Geelong region.
First stage industrial action will start from Wednesday 27 June 2018 and will include a ban on filling in electronic diaries, a ban on attending work-related meetings (excluding those relating to clinical supervision), and a ban on administrative tasks and updating data.
The long-running dispute has stalled over City of Greater Geelong Council's refusal to include the modern Nurses Local Government Award 2015's minimum working conditions in the new enterprise bargaining agreement. The conditions provide a fifth week of annual leave which is designed to recruit and retain maternal and child health nurses and prevent critical skill shortages.
Negotiations between the Australian Nursing and Midwifery Federation (Victorian Branch) and City of Greater Geelong Council began 17 months ago. A 2.3 per cent per annum wage rise over four years has been agreed.
The maternal and child health nurses rejected the Council's last-minute offer to consider a fifth week of annual leave dependent on the outcome of a review of the service.
ANMF (Vic Branch) Secretary Lisa Fitzpatrick 'Nurses never take action lightly, but they're extremely angry at the council's refusal of basic nursing entitlements and its disingenuous claim that it has "offered" five weeks when all it has done is offered to consider an extra week dependent on the outcome of an undefined service review.
'Parents may be inconvenienced, but the health and safety of their children will not be at risk. Families will benefit from a stable nursing service well into the future if the Council provides the standard basic conditions.
'Maternal and child health nurses reduce and prevent serious and expensive health and social problems by providing parents, babies and their families with support, education and advice. This includes confidential referrals to assist parents and children in a domestic violence situation or exposed to distress caused by financial, disability, mental health or new migrant and language issues," Ms Fitzpatrick said.
'Their employer should respect their valuable work by offering the minimum conditions for nurses instead of taking them for granted.'
Councils who provide the basic award employment conditions include Wyndham, Port Phillip, Nillumbik, Mitchell Shire, Mornington, Horsham, Brimbank, Alpine, West Wimmera, Glenelg and Greater Shepparton.
Update: Council puts proposed unfair agreement out to ballot 4/7/18
The City of Greater Geelong Council is now pushing through a formal ballot of all employees to approve its unfair offer. The agreement does not honour basic Award conditions approved by the Fair Work Commission that many other maternal and child health nurses have in their agreements. ANMF (Vic Branch) is recommending its members VOTE NO.
Take action
ANMF asks that members of the community and fellow council employees stand with the nurses in solidarity at this time to assist us in resolving this important issue in the negotiations. Please send Greater City of Geelong Council decision makers an email via anmfvic.asn.au/ValueGeelongMCHnurses.