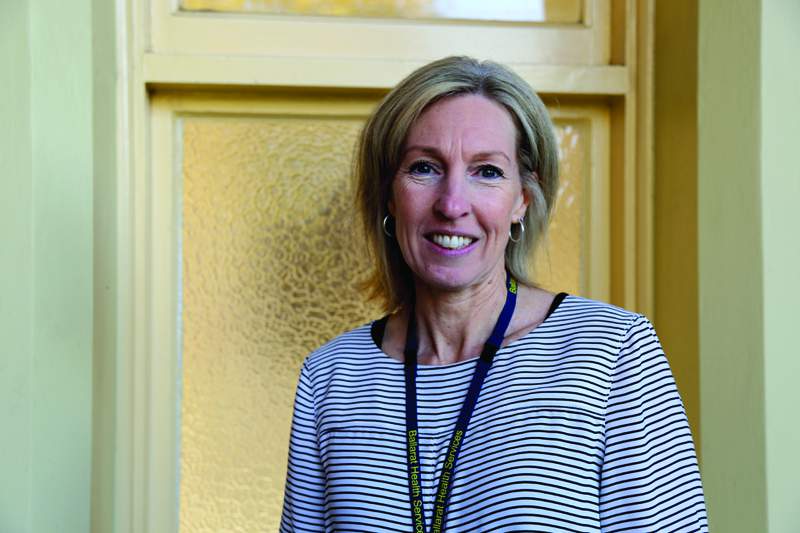 Cheree Cosgriff recalls a patient's story from the 'asylum' days that demonstrates the importance of early intervention for mothers struggling with their mental health.
Ms Cosgriff initially trained as a psychiatric nurse nearly 30 years ago, working at Ararat's Aradale psychiatric hospital, which operated for 126 years until it closed in 1993.
Ms Cosgriff worked with long-term inpatients with chronic mental illnesses – 'These people had been in institutions for a long time and we barely saw families,' she said.
One woman who had lived at Aradale for many years told Ms Cosgriff of the grief of being separated from her children years before, when her children were young.
'She told me the story of remembering seeing the car driving off with her children. She was grasping the handle of the car trying to open it, screaming "Let me have my children, let me have my children".
'In hindsight she probably started with a major mental illness in a mild form, perhaps some depression in the post-natal period and developed schizophrenia down the track and became quite unwell," Ms Cosgriff said.
It was not until Aradale closed down under Victoria's deinstitutionalization policy that the patient had any contact with her children. She was finally reunited with her daughter, who was by then an adult.
After Aradale closed, Ms Cosgriff and her partner (now husband) went travelling and she had her first experience of a mother and baby unit while working in Western Australia. A passion for perinatal mental health was born.
In 1999, having just had her third child, Ms Cosgriff decided to undertake a nursing degree and become a midwife.
'When I came back here (to Ballarat) and started working in midwifery, a lot of my old colleagues from mental health said: "When are you going to come back and work with us?" "When you can find a role that combines my two loves of mental health and mid, I'll come back." And it's just kind of evolved from there.'
Ms Cosgriff is now coordinator of the Families where a Parent has a Mental Illness (FaPMI) program at Ballarat Health Services, having worked for many years in perinatal mental health roles at Ballarat Base Hospital. Her patient's tragic story underlines how mental health screening in pregnancy and support for mothers in the post-natal period can make a huge difference in the lives of women and their families.
In pregnancy and the post-natal period, hormones, lack of sleep, worry about being a new parent and other family factors can all potentially impact a woman's state of mind, making her more vulnerable to depression and anxiety.
'There are a range of mental illnesses that are ongoing, pre-existing before the pregnancy, that perhaps would be exacerbated by the stresses of being a new mum – particularly mood disorders like bipolar affective disorder,' Ms Cosgriff added.
Perinatal Anxiety & Depression Australia (PANDA) says that up to one in 10 women experience antenatal depression and the same number experience antenatal anxiety. More than one in seven new mothers experience postnatal depression each year in Australia.
This is why it can be so helpful if midwives have a comprehensive understanding of mental health issues, and conversely, mental health professionals have a solid perinatal education, Ms Cosgriff said.
For mothers experiencing mild to moderate mental illness in the perinatal period, Ballarat Hospital has a mother and family unit, where mothers can be admitted for treatment, and have their babies with them.
'It's not common, thankfully, that we see mums acutely unwell because when we do in our region, they have to be admitted to the adult acute unit and they have to be separated from their babies…It's one of those things I can't stand seeing happen,' Ms Cosgriff said.
Ms Cosgriff is keen to see more nurses and midwives join as the ranks of perinatal mental health specialists. Below are some options for education in perinatal mental health:
The University of South Australia offers an online Graduate Certificate in Midwifery (Perinatal Mental Health).
The University of Tasmania offers an online postgraduate Perinatal and Infant Mental Health Unit.
The Centre for Perinatal Psychology
COPE offers a free accredited online training program: Basic Skills in Perinatal Mental Health