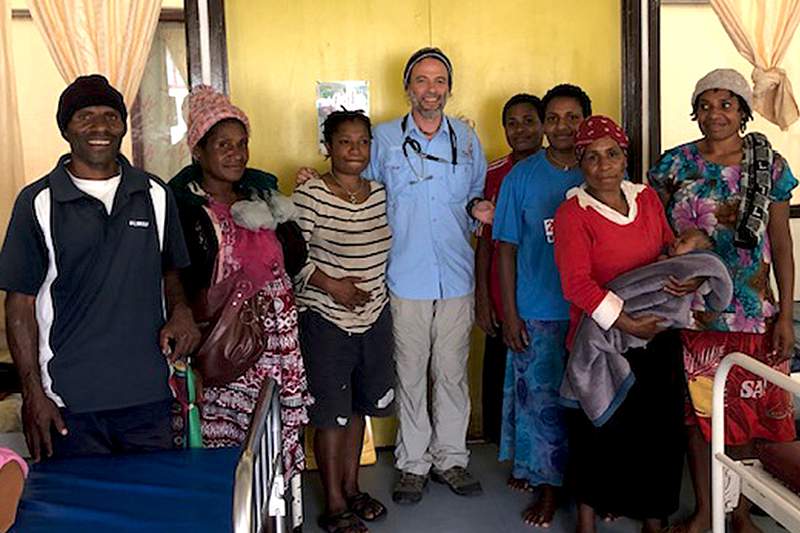 Ask Jason Phieler what the most challenging aspect of his nursing career has been, and you might wait some time. Perhaps that's because so much of his extraordinary nursing career has been a step beyond what others might consider 'challenging'.
Let's start with the basics.
As Nurse Unit Manager in charge of acute care at Lorne Community Hospital, Jason manages much of the healthcare in a surfing town with a big retiree component, a coastal idyll where the population swells from about 1100 in winter to tens of thousands in summer.
He is also a RIPERN (Rural and Isolated Practice Endorsed Registered Nurse), has taught the RIPERN course under licence in Victoria, and strongly encourages the expansion of the RIPERN model being expanded.
He is a member of the AUSMAT and VMAT federal and state-based rapid-response teams for disasters, and has been deployed to the remote and risky Papua New Guinea highlands after a major earthquake.
He is a recipient of one of Australia's highest awards for bravery, the Group Bravery Citation, for his efforts, along with three other men, in rescuing several women and children from a powerful rip at Urquhart Bluff in January 2012. One woman drowned, despite Jason's sustained efforts and a rapid response by emergency services.
He has lived and worked in India and Nepal, where he trained primary healthcare workers in hill villages and established some basic medical, sterilising and delivery services. He has also worked as a Remote Area Nurse in the Cocos Keeling Islands.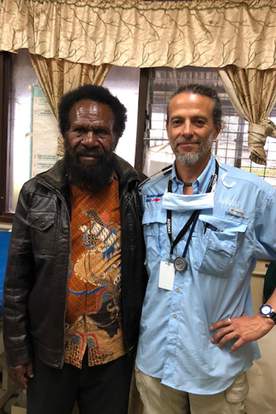 Oh, and he was awarded the 2017 Victorian Hospitals' Industrial Association Excellence in Leadership award for outstanding leadership at the Lorne Community Hospital and for his work in promoting RIPERNs at state and national levels. The award was also for piloting the first nurse-led limited X-ray service in Victorian health service which has now been adopted across the state.
You get the drift. Challenges are Jason Phieler's forte. So what's the best thing about nursing?
'Job satisfaction in terms of helping people,' he says. 'And the opportunities it's given me, because it is such a varied and diverse career – I mean, all the different types of nursing I've done.'
Strongly influenced by observing his grandmother's battle with leukemia, Jason did a nursing degree, completing his graduate year in 1994 at Fairfield Infectious Diseases Hospital during the peak of HIV-AIDS diagnoses. As a young 20-something, it was confronting to witness so many young people dying from a disease that carried so much unnecessary stigma and had so few options for treatment.
'I reckon that was pretty informative for the rest of my life and how it panned out,' Jason says. 'There were great life lessons. It made me question things and put me on a spiritual path as well.'
So Jason and his partner, Yvette, ventured to India and Nepal for eight years, learning yoga and the teachings of Buddhism. They volunteered for Child Welfare Scheme Nepal, a Pokhara-based not-for-profit, and taught healthcare skills in hill villages in Lamjung and Kaski districts, among the Gurung and Tamang people. Their time in Nepal coincided with the outbreak of civil war as government forces battled Maoists insurgents.
In 2002, they returned permanently to Australia and settled on the Surf Coast, where Jason began work as a registered nurse at the Lorne Community Hospital (LCH).
'Oh my god, has it changed?' he says, laughing. 'The whole system has changed. It was a typical small rural hospital, dominated by the doctors and probably a bit chaotic.' LCH, then, had two long-term general practitioners on call, though it was somewhat isolated in professional practice. And there was, Jason says, 'that system of nurses being handmaidens to the doctor'.
Since 2006, the hospital building has been completely re-developed. Today, the town of Lorne has one principal doctor and about three GP registrars doing rural placement and working in the general clinic.
He says the defining moment of change was in 2003, when hospital management shut the clinic after chalking up losses, leaving the hospital without doctors.
'You can imagine the pressure we were under,' Jason says. 'And these were staff that were totally unprepared to do that type of work because they had been the handmaidens for so long.' The sudden change galvanised nursing staff to reconsider processes and capabilities, and extend their education and skills.
'Now, it's the total opposite,' he says. 'Now – and I'm involved in this at a state level – it's about ensuring everyone is A-list trained. It's about ensuring that we have good education, good trauma education, good triaging, all that stuff. It put us on a trajectory of becoming proactive … just not being the handmaiden of the doctors anymore.'
In 2007-08, Jason was part of the original intake of RIPERNs, at Queensland Health's registered training organisation, the Cunningham Centre.
'We (RIPERNs) deal with all the categories four and five, and some of the category three, presentations to urgent care. These are non-urgent presentations – UTI (urinary tract infections), chest infections, wound infections, suturing, tooth abscesses, whatever it might be.'
'We have an extended scope of practice, so you have to do extra study and pharmacology. At the moment, we are medication-endorsed RNs. We use the Primary Clinical Care Manual. That's got all the protocols we refer to, and it's got all the drugs that we require in there.'
'So we can administer somebody with antibiotics and treat that person, with the appropriate discharge information and follow-up if they need it, and not call on those GPs to come in.'
Jason credits as his mentor Christopher Cliffe, Lorne's Director of Nursing in 2002-04, who has worked with the International Red Cross in war and disaster zones and who most recently has been chief executive at CRANAplus, the peak organisation for Remote Area Nurses in Australia.
'There was the experience Chris had, that he had done so much, and the way he encouraged and supported staff,' Jason says. 'The way he gave people responsibility and let people work towards that responsibility. It gives them purpose, it gives them ownership.'
And that certainly sounds like what Jason has done too.