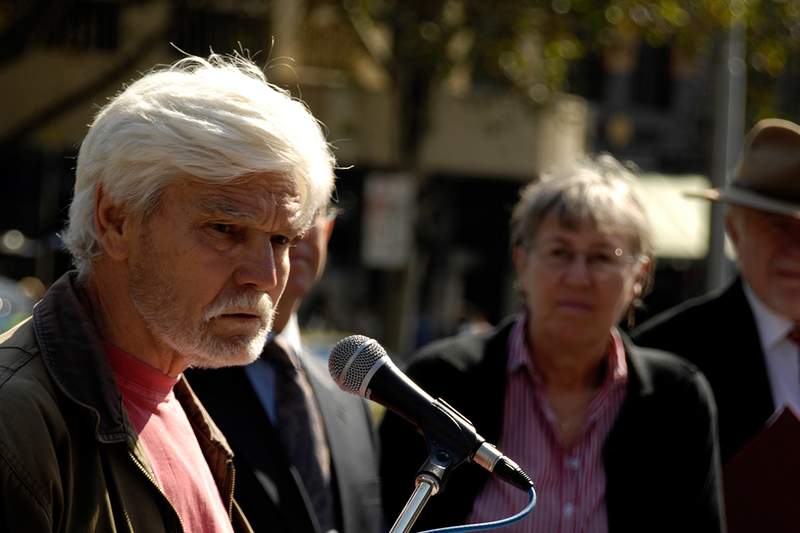 ANMF (Vic Branch) was saddened to learn of the passing in late October of renowned euthanasia campaigner Dr Rodney Syme. He was 86 and died following a stroke.
Dr Syme, who was the 2021 Victorian nominee for Senior Australian of the Year, spent more than four decades advocating for voluntary assisted dying laws – often risking legal prosecution and putting his medical reputation on the line to do so. He saw his life's work achieved on 29 November 2017, when Victoria became the first Australian state to legislate voluntary assisted dying (the Voluntary Assisted Dying Act 2017), with Western Australia, Tasmania, South Australia and Queensland following in 2019 and 2021.
ANMF (Vic Branch) has had a policy supporting voluntary assisted dying since 1995. Over the past two decades we often campaigned with Dr Syme and his organisation, Dying with Dignity Victoria, for respectful and compassionate legal reforms that would give terminally ill people choices over their own death. Dr Syme presented at our 2002 and 2005 Medical Treatment Act Conferences, which explored the need for clarification over the right to refuse medical treatment including artificial nutrition and hydration. ANMF (Vic Branch) Secretary Lisa Fitzpatrick spoke at Dr Syme's annual Steve Guest Day rally on the steps of Victorian Parliament in 2008.
Living with dignity
Rodney Syme was born into a venerated Melbourne family. His father and grandfather were both respected surgeons – the latter having served on a hospital ship at Gallipoli before founding the Royal Australian College of Surgeons – while his great uncles David and Ebenezer established The Age as one of the nation's leading newspapers during the second half of the 19th century; the paper remained in the Syme family hands until bought out by Fairfax in 1983.
Dr Syme's life was changed when he met a cancer patient in 1974, whose pained screaming haunted him. 'I just felt that was the most appalling thing that would happen to anybody … If I'd been in that pain, I didn't have the slightest doubt that I would have ended my own life rather than go on like that,' he said. 'There was nothing we could do to relieve her agony. For the next 20 years, I thought very, very deeply. I studied the medical literature, the bioethical literature. I began to make public statements. As a consequence, complete strangers started to approach me.'
Over the following 40-odd years, he helped thousands of patients through the physical and existential end-of-life process. It nearly cost him his career, and his liberty. As his friend and colleague Andrew Denton wrote, 'I don't know how many people he provided with medication which gave them control over their final weeks and months. I do know that, every time he did it, he was breaking the law. And I also know, from having met some of those people, that his courage, compassion and due care made a profound difference to their lives.'
It is telling, Denton notes, 'that no arrest was ever made. No court case ever held.' The Australian Medical Board did at one point ban Dr Syme from advising terminally ill patients, but he successfully appealed the ban. In 2019, he was made a Member of the Order of Australia for his service to social welfare.
ANMF's thoughts are with Dr Syme's children during this time.