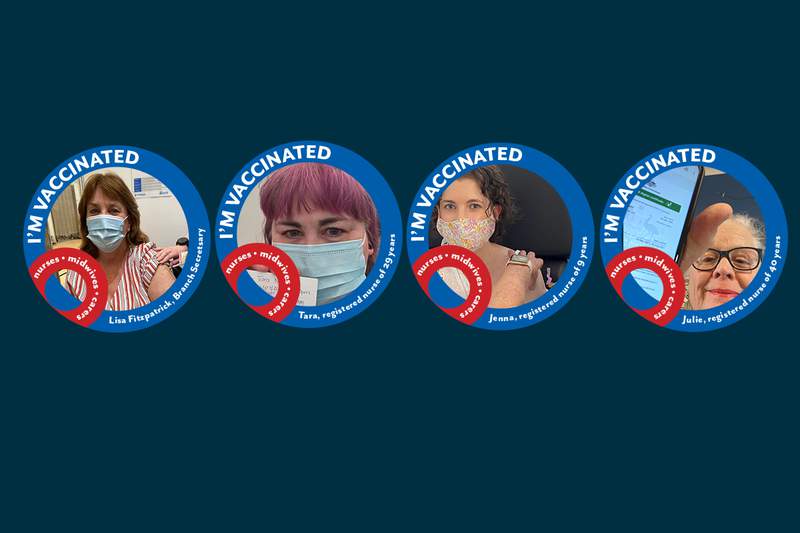 Have you been vaccinated? Nurses, midwives, and carers have an important role to play in the COVID-19 vaccine rollout.
Help spread the word that the COVID-19 vaccination is effective and reduces your chances of hospitalisation, severe illness and death.
The latest UK Government's COVID-19 vaccine surveillance report estimates that the vaccination program has 'directly averted' more than 82,100 hospitalisations.
The COVID-19 vaccine surveillance report: 26 August 2021 says analysis of the vaccination program's 'direct and indirect' impact suggests it has prevented between 23.8 and 24.4 million infections and between 102,500 and 109,500 deaths.
All Victorian nurses, midwives and carers are invited to participate in our campaign by submitting a photograph or video of yourself explaining why you were vaccinated.
By participating you might win one of our weekly prizes – Apple AirPods.
We want to use your photos and videos to share on the ANMF (Vic Branch) social media channels, and our publications, such as The Handover and On the Record.
How to participate
You can either:
Send us your vaccination selfie (e.g. a selfie with your vaccination card, or your MyGov vaccination screen on your phone, if you can) and tell us why you got your COVID-19 vaccination.
Send us a short video of no more than one minute of you talking about how you're a nurse, midwife, or carer and explain why you got vaccinated and how important it is to do so. For example: 'I'm Sam and I've been a midwife for 5 years. I'm vaccinated because I want to be able to be able to see my loved ones regularly'. If you speak other languages, let us know via the online submission form and we'll be in touch.
Video tips
Make sure you are in a well-lit room.
Hold your phone horizontally/landscape (this is important) and if filming handheld, try and keep your phone as steady as possible.
Frame yourself so you're looking directly at the camera straight ahead (not looking down at your phone).
We need about one minute.
Script: I'm [first name] and I've been a [nurse/midwife/carer] for [number] years. I'm vaccinated because [insert reason].
Name your video file with your name, so we know who you are.
How to submit your photo or video
If you're submitting a photo – fill in our online form where you can also upload your photo (please send it at original size if you're sending it from an iPhone)
If you're submitting a video – fill in our online form. You will then receive an email with a Dropbox link to upload your video. We will require you to rename your file to your full name, so we know who you are!
Prizes will be awarded randomly each week until 30 September 2021.
Bonus!
After you've submitted your entry, why not start the conversation on your social media and share your photo or video (if you haven't already done so) and tag us @anmfvic so we can see it (it will need to be public). You can also find tips on countering vaccine hesitancy on our website.