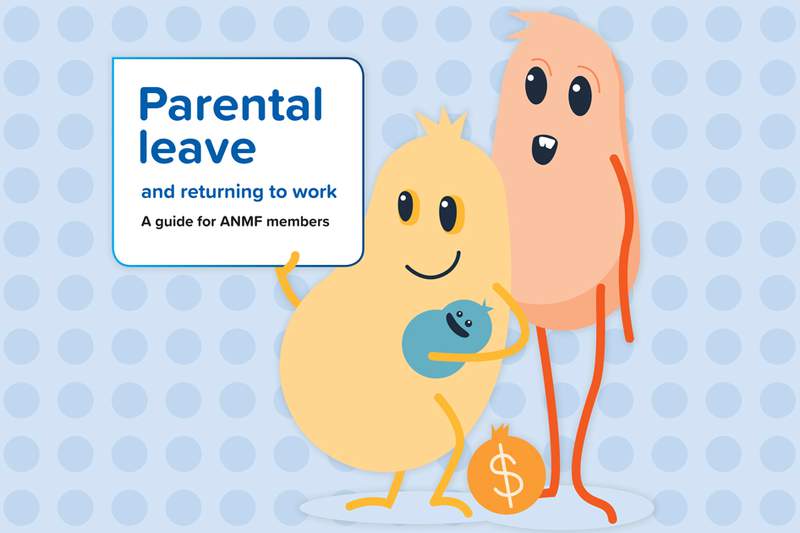 'Parental leave' can refer to maternity leave, paternity leave or adoption leave.
What am I entitled to?
Once you have 12 months continuous service with your employer (which may be in different facilities owned by the same employer or different workplaces in the public sector), you are entitled to 52 weeks of parental leave in connection with the birth or adoption of a child, if you are the primary caregiver.
If you have not completed 12 months service, you should contact ANMF for specific advice before notifying your employer.
Can I access parental leave as a casual employee?
Yes, if you are employed on a regular and systematic basis for a sequence of periods of employment during a period of at least 12 months and, but for the pregnancy or the decision to adopt, demonstrate a reasonable expectation of ongoing employment.
What if it is my partner who will be the primary caregiver?
The 52 weeks may be shared but is available to only one parent at a time. The National Employment Standards allow up to eight weeks unpaid concurrent leave related to birth or placement of an adopted child. In the public sector, and some private EBAs, the non-primary carer is entitled to take one of those weeks as paid leave as well, which can be taken at the same time as the primary carer.
Do I get paid?
Only if an entitlement to paid parental leave is included in your workplace agreement. In the public sector, and some private EBAs, you are entitled to ten weeks paid primary carers' leave. You can also use any accrued paid leave entitlements (annual leave and long service leave) as part of your parental leave, provided the total time off does not exceed 52 weeks.
Taxpayer funded paid parental leave provides the minimum federal wage for up to 18 weeks, subject to eligibility criteria. Your partner may also be eligible for 'Dad and Partner Pay' – the minimum federal wage for up to two weeks.
For further information call Family Assist on 136 150.
What do I have to do to apply for parental leave?
For parental leave, the primary caregiver must notify the employer at least ten weeks prior to the anticipated start of leave. If your leave is birth-related, with your written application you will also need a letter from your treating doctor or midwife confirming your pregnancy and the expected date of starting maternity leave. For adoption-related leave you will need to provide evidence of the expected date of placement and the child's age.
When can I start parental leave?
You can work up to your due date, as long as you and your unborn baby are well. An employer can require a medical certificate in the last six weeks of pregnancy stating you are fit to continue to work normal duties.
Can I work while on parental leave?
The National Employment Standards allow you to work up to 10 'keeping in touch days' while you are on unpaid parental leave.
Can I change the period of leave?
Yes but only once, to reduce the period or extend the period of unpaid parental leave, for a further period of up to 12 months, with at least four weeks' notice.
What about returning to work?
You must confirm with your employer your intention to return to work at least four weeks prior to finishing your leave (six weeks in the public sector mental health EBA). If you wish to return to work on reduced shifts, you may make a 'flexible work request' in writing.
Your employer must formally consider request which can apply while your child is of school age or younger. Check the Fair Work website or contact Information Line for more information.
What happens to my ANMF membership while I am on parental leave as the primary caregiver?
ANMF has a primary carer leave membership with a reduced rate of $10 per month. This means we'll still be there for any work-related issues which arise during your leave.
This membership includes disputes over workplace change or return to work arrangements, requests to extend or vary your leave, or issues that arise from 'keeping in touch' days. It also provides professional indemnity insurance for 'keeping in touch' days.

As you'll still have continuing professional development obligations, you'll be entitled to an $120 credit for modules and case studies on the ANMF CPD Portal.
It's important to remember to update your membership on your return to work so you are fully covered.
Notify ANMF membership of your planned leave dates and your new rate will apply from the start of your leave. We'll also send you our 'Parental leave and returning to work guide for ANMF members'.
If you're planning to go on parental leave contact membership on 03 9275 9313 or records@anmfvic.asn.au