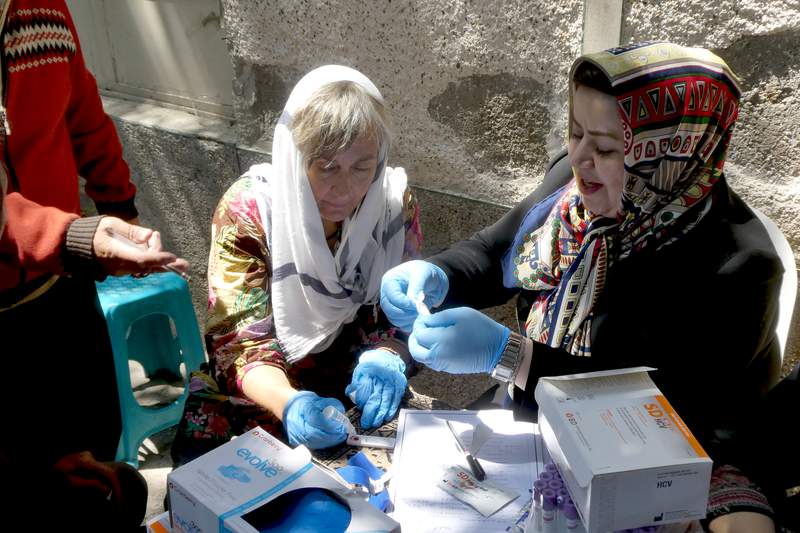 Gabrielle Bennett's vacation in Iran became much more than a journey to the land of spices, captivating architecture and diverse cultures of the Persian Gulf and Silk Road.
It offered a chance to see first-hand the work being done in Tehran by the Enhancing Hepatitis C Linkage to Care (ENHANCE) research project, which focuses on people living with drug use and the hepatitis C virus.
Gabrielle's interest in ENHANCE stems from her work as Victorian Viral Hepatitis Educator, a role she took up six years ago, funded by the Department of Health and Human Services.
A registered nurse and midwife with an extensive background in community nursing, Gabrielle educates Victoria's health professionals about hepatitis B and C, the available treatment options, and the need for long-term management of hepatitis B and C to curb increasing rates of liver cancer and cirrhosis in the community.
Based in St Vincent's Hospital's Gastroenterology Department, Gabrielle also develops educational material, such as pamphlets and booklets in several languages, to convey information about hepatitis: how the viruses are contracted, what practices are safe and what are not, and highlighting that hepatitis C is curable.
For most people, a 12-week course of tablets is enough to eradicate the hepatitis C virus, thereby reducing the risk of developing liver failure or liver cancer. Indeed, a new report by the Kirby Institute found hepatitis C among people who use drugs had decreased by 60 per cent since 2016, when new medications were added to the pharmaceutical benefits scheme.
'We can cure hepatitis C now which is an amazing and incredible achievement,' Gabrielle says. 'But I think we still have a way to go in Australia to remove barriers to treatment and testing.'
Hepatitis C is contracted through direct blood to blood contact, such as by sharing tattoo equipment or body-piercing implements and through sharing injecting drug use equipment. Hepatitis B is contracted through infected blood to blood contact and sexual fluids.
'With hepatitis B, we have a very long way to go,' Gabrielle says. 'About 40 per cent of people with hepatitis B are not even diagnosed … and there is stigma associated with it in some communities.'
As the Department of Health and Human Services funds Gabrielle's role, she can provide education and training 'at no or little cost', she says, at a wide range of health settings.
Gabrielle previously worked in community nursing, focusing on the health of refugees in Melbourne's western suburbs, people who use drugs, and homeless people. She has worked in the Northern Territory and south Gippsland.
In Iran, Maryam Alavi of the Sydney-based Kirby Institute invited Gabrielle to attend a community clinic in Tehran, run by Rebirth Charity Society, where the ENHANCE program is being delivered.
The aim is to increase testing for hepatitis C, and to link people who use drugs and have hepatitis C to effective treatment programs and follow-up care. A recently published report by Dr Alavi and research colleagues indicates that, after on-site testing and linking patients to care, the take-up rate for hepatitis C treatment was 'extremely high'.
Gabrielle notes Iran has a long history of opium use, and intravenous drug use is prevalent. Since the late 1990s, Iran has fostered a network of drug treatment and harm reduction services intended to minimise the transmission risk of blood-borne viruses.
'This network is now used to offer people testing and curative treatment for hepatitis C as well as the more established services such as sterile injecting equipment, opioid substitution therapy, condoms, warm meals, personal hygiene facilities and healthcare,' she says.
'The clients were mainly men ranging in age from 30 to 50 years,' she says. 'Many had fought in the war with Iraq in the 1980s. Many were unable to find stable housing, lived in poverty, experienced malnutrition, were estranged from family and struggled with mental illness and poor health.'
The men have a rapid, finger-prick blood test for hepatitis C antibodies, then have blood collected for hepatitis C and B, HIV, liver function tests and ribonucleic acid (RNA) levels.
Gabrielle says Australia is the only country that provides, for free, all the new direct-acting anti-viral medications for hepatitis C. There are innovative 'nurse-led' models of care.
'Australia has committed to eliminating hepatitis C by 2025,' she says. 'But to achieve this, we have to re-orientate health services, to be creative in our service delivery and reach out with compassion and acceptance to those on the margins.'