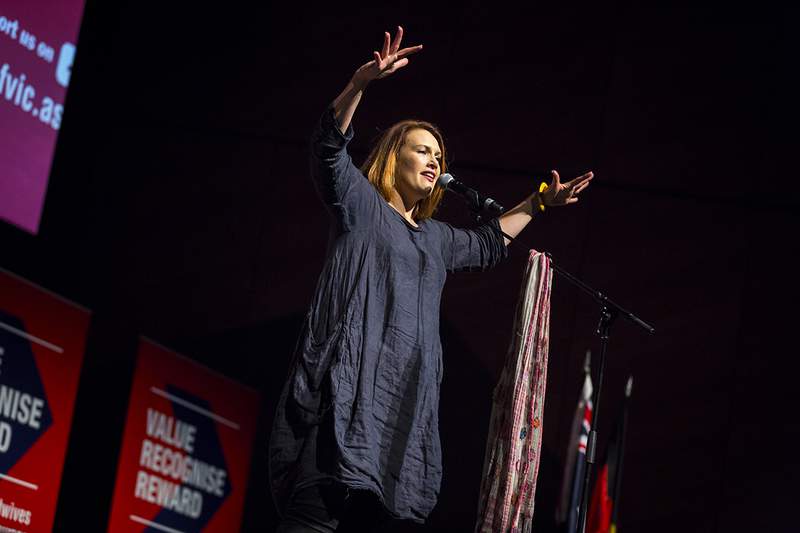 We all know what's good for us, but it helps to be reminded. Does gratitude, mindfulness, eating real food, yoga, music and laughter ring any bells?
A record 1100 nurses and midwives, took a day off from caring for others, to reset how they took care for themselves at last month's Nurses and Midwives Wellness Conference.
The conference is an initiative of the Nursing and Midwifery Health Program Victoria (NMHPV) and the ANMF (Vic Branch).
Master of gratitude for life's simple things Hugh van Cuylenburg recounted tales of the happiest of people he knew – the children and adults living in the slums of far north India – where he spent time teaching English. The founding director of The Resilience Project said he learned the happiest people practiced three things that made it easier to bounce back when life threw a curve ball – gratitude for what they already had; mindfulness or the ability to shut off negative thoughts; and empathy.
Kay Watts, Smiling Mind's development manager, encouraged nurses and midwives to create a mindfulness habit to reduce stress levels. She took the audience through a practical exercise to identify and then release intruding thoughts. The free Smiling Mind app offers programs for children and adults.
Calm descended as yoga teacher Carolyn McDonald, a registered nurse from the NMHPV, conducted possibly Victoria's largest yoga session with 1100 nurses and midwives.
Nutritionist and author Lola Berry shared healthy eating advice focusing on 'paleo-esque inspired' protein-based and nutrient dense foods, such as the simple boiled egg and raw nuts, to provide sustained energy during a busy shift.
Nurses, Sue and Danielle, generously gave an intimate account of not coping and how they overcame their challenges using the services of the NMHPV. Their multiple stresses will be familiar. Danielle described being 'broken' after experiencing bullying in the workplace, the pressure of her graduate year, moving to an unfamiliar clinical area, setting herself high standards, performance anxiety, identifying with being a nurse at the detriment of everything else and dealing with the death of her father. Sue described a perfect storm scenario involving the death of her mother, being a single parent, shift work and trying to keep up with bills and the mortgage. Danielle and Sue encouraged other nurses and midwives facing difficulties to ask for help by calling the NMHPV.
Registered nurse turned writer and performer Zule Khan lightened the mood with a little 'gallows humour' from her show Triage! the Cabaret.
The lights were dimmed and few could resist participating in songwriter and 774 presenter Clare Bowditch's self-care/rock 'singing masterclass'. Ms Bowditch told the room they were 'the people who held my family together' referring to the nurses who cared for her sister Rowena for 22 months in The Royal Children's Hospital's intensive care – 'pre-meerkats'. Rowena died from a rare illness aged seven years. Ms Bowditch was five at the time and she still lives with the 'reality of a complex grief'. She acknowledged the trauma that was a daily reality for the audience and urged them to utilise healthy coping strategies like the joy of singing together.
NMHPV chief executive officer Glenn Taylor urged everyone to look after themselves by taking one or two ideas from the day to create new healthy habits.