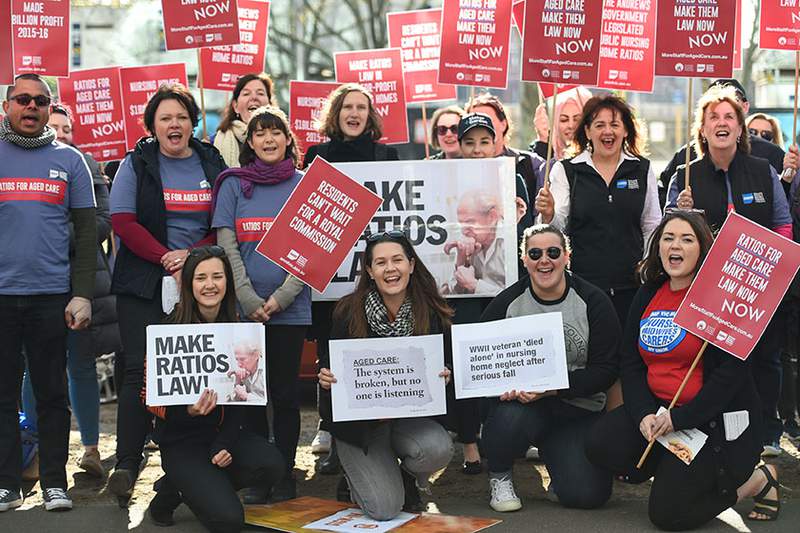 Enough is known about alarming staff shortages in aged care and missed care to demand mandated staffing ratios in aged care now.
ANMF members – like many Australians around the country – have been shocked and upset by the ABC's Four Corners coverage of neglect and mistreatment of our elders in nursing homes. More than 4000 aged care workers and family members responded to the ABC's call to share their experiences of the aged care industry.
With the aged care industry's peak body Leading Age Services Australia (LASA) about to gather for its national congress on 28-30 October, ANMF and the Victorian Trades Hall Council held a snap rally to urge union members and all concerned Australians to keep up the pressure for staffing ratios in aged care.
Please do this one thing – contact your federal MP and ask them to commit to supporting ratios.
Federal ANMF Assistant Secretary Lori-Anne Sharp told the rally: 'Our members have been telling us the horror stories for years now.'
She said the Tasmanian Branch of ANMF's random audit of five aged care facilities revealed that four of the five were providing only 30 to 50 minutes care in an afternoon shift – for care including medication, meals assistance, toileting, pressure area prevention and social interactions.
'It is crucial we have an adequate amount of skilled staff – mandated staff to resident ratios – to meet the needs of residents and give them the respect and dignity they deserve.
'We are seeing increasing profits from our for-profit providers while our members are being refused pay rises, having their hours cut, all while our elderly are being denied incontinence pads and being fed vitamised party pies.'
Kim, a personal care worker, drove from Colac to Melbourne to attend the rally because she was heartbroken to find that without ratios, care was 'a production line'.
'A lot of carers go home crying because we physically can't get to all of our residents in a timely manner'.
While ANMF supports Prime Minister Scott Morrison's announcement of a Royal Commission into aged care we also need immediate action to address the decreasing care hours despite 20 aged care reviews in 20 years.
There is a raft of evidence that our elderly and vulnerable residents in aged care are suffering for lack of staff.
We know that the deaths of 1296 residents of nursing homes between 2000 and 2012 were preventable and referred to the coroner.
We know that 92 per cent of nurses and aged care workers responding to ANMF's national workforce survey say they are being asked to care for the same number of residents with less staff or less rostered care hours.
We know from our National Aged Care Staffing and Skills Mix Project that residents should receive an average of four hours 18 minutes of care per day but are receiving approximately 2.84.
We know from our commissioned report Tax Avoidance by For-Profit Aged Care Companies: Profit Shifting on Public Funds that Australia's top for-profit aged care providers are reaping large profits while receiving $2.17 billion in subsidies from the Australian taxpayer.
We know that the majority of nurses and personal care workers who work in aged care facilities care for residents with professionalism and compassion but simply can't cope due to understaffing.