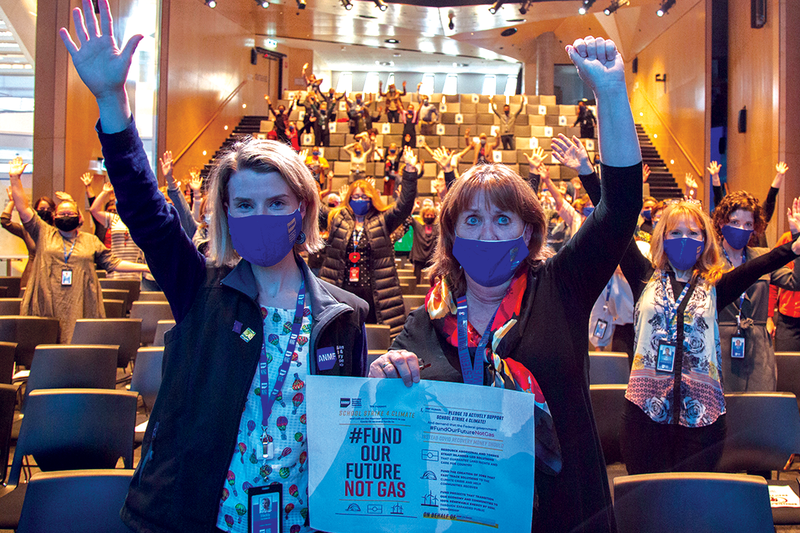 ANMF (Vic Branch) is supporting the School Strike 4 Climate's 'Fund our future, not gas' campaign and urges non-rostered members to join us in marching for a fossil fuel-free future on 21 May.
Look for the ANMF banner at Treasury Gardens at 1pm for a 2pm march. View Facebook event.
ANMF (Vic Branch) has signed a letter to be sent to Prime Minister Scott Morrison urging the Federal Government to stop new gas projects.
In 2020, the ANMF (Vic Branch) Council supported the call from the global school student climate strike movement for no public funds for gas and other environmentally damaging fossil fuel projects.
The Branch Council urged the Federal Government to spend COVID-19 recovery funds on:
resourcing Aboriginal and Torres Strait Islander-led solutions that guarantee land rights and care for country
the creation of jobs that fast-track solutions to the climate crisis and help communities recover
projects that transition our economy and communities to 100 per cent renewable energy by 2030, through expanded public ownership.
In 2019, the ANMF (Vic Branch) joined the School Strike 4 Climate rally and march, and Branch Council endorsed the movement's demands: stop the Adani coal mine, no new coal or gas projects and a just transition to 100 per cent renewable energy by 2030.
ANMF (Vic Branch) is supporting the School Strike 4 Climate demands to say no to new coal and gas projects because of fossil fuels' contribution to the climate change crisis.
With climate change causing higher global temperatures Australia is seeing more extreme weather-related events with major health impacts. In the past 18 months alone, there have been huge storms, flooding and the catastrophic 2019–20 bushfires.
Victoria's health services and nurses and midwives are already seeing the effects of climate change in presentations of asthma and other respiratory illnesses, and heat-related illnesses.
At present, Australia's CO2 emissions per capita are among the world's highest. At the Earth Day global climate summit, as the United States, Japan and Canada ramped up their 2030 climate change action commitments, Prime Minister Scott Morrison refused to strengthen Australia's CO2 emission targets of 26 to 28 per cent cuts of 2005 levels by 2030. Meanwhile US President Joe Biden promised to cut greenhouse gas emissions in half by 2030.
The ANMF (Branch Council) has endorsed an open letter from Better Futures, a coalition of health organisations, calling on Prime Minister Scott Morrison to
Prioritise health in the context of Australia's contribution to the Paris Agreement
Commit to the decarbonisation of the healthcare sector by 2040, and to the establishment of an Australian Sustainable Healthcare Unit
Implement a national strategy on climate, health and wellbeing for Australia
ANMF (Vic Branch) has also signed the Better Futures declaration committing to climate change action.
With the Victorian Trades Hall Council (VTHC), in 2019 ANMF (Vic Branch) called for interim emission reduction targets for Victoria of 40-45 per cent by 2025 and a 67-75 per cent reduction by 2030, consistent with 1.5C warming targets.
VTHC has teamed up with ACTU to launch a new petition calling for Prime Minister Scott Morrison to take effective action on climate change in the lead up to the UN Climate Change Conference (COP 26) in Glasgow in November 2021.