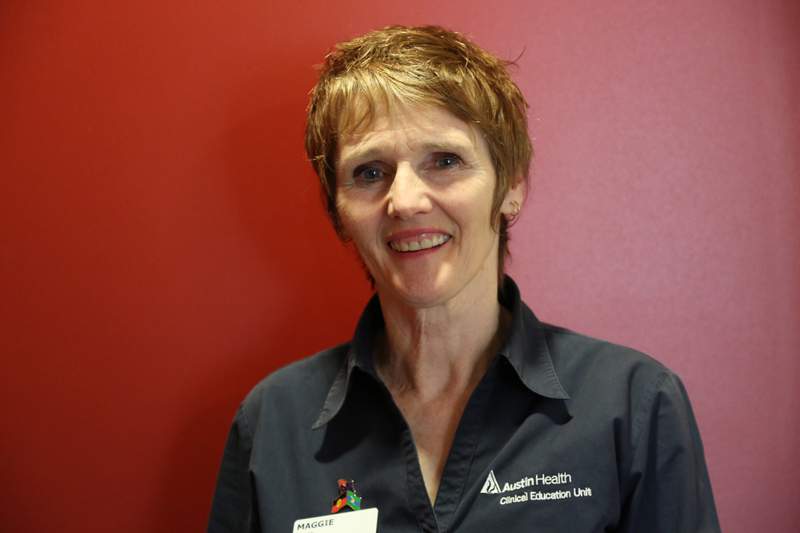 Clinical support nurse Maggie Dovile has plenty to share with nursing graduates from her life before nursing.
Ms Dovile, who is one of six nurses supporting approximately 125 graduate nurses at Austin Hospital, has been at various points of her career a fitness instructor, a food shop owner, insurance consultant and marriage celebrant, before deciding to study nursing in her late 40s.
Ms Dovile still runs a boot camp for friends who are nurses and her continuing passion for exercise has served her in good stead as a way to unwind from caring for patients in oncology and palliative care, and supporting graduates as they adapt to working as nurses in a large hospital.
'I'm a great believer in the power of exercise, I'm a great believer in putting one foot in front of another and I'm a great believer in the sisterhood – having friends and talking and laughing,' she said.
Self-care for nurses is more important than ever, with a combination of broader scope of practice, greater autonomy and higher patient acuity making nursing a demanding profession, Ms Dovile believes.
Asked about her personal meaning of the phrase 'work/life balance', Ms Dovile said it is not only the hours you work that create the balance but switching off at the end of the shift.
'Work/life balance means being able to leave the job at the door, go home and become the person you are when you're not a nurse, ' Ms Dovile said.
'It's very difficult for nurses because essentially we're very kind, caring people but we have to understand that we need to replenish – we can't keep on just giving.
'It's about identifying what recharges you and not just paying lip service to that but going ahead with it and consolidating those things, making them part of your life.'
Ms Dovile has worked for 14 years at the Austin Hospital, eight of them in her current role, in which she supports graduates working in oncology and renal wards. Having completed the Nursing & Midwifery Health Program Champion training, Ms Dovile knows that she can refer graduates to the Victorian program's nurse-to-nurse confidential counselling service if required.
Ms Dovile said graduates' reasons for needing extra support can relate to work issues such as adjusting to shiftwork, struggling with work/life balance or experiencing bullying. Then there are the times when 'life happens to them'.
'It's probably compounded by work but there are things that we have no control over – relationship breakdowns, grief and loss, parents and partners and children being sick; anything at all that life can throw at you can be something that they're bringing to work,' Ms Dovile said.