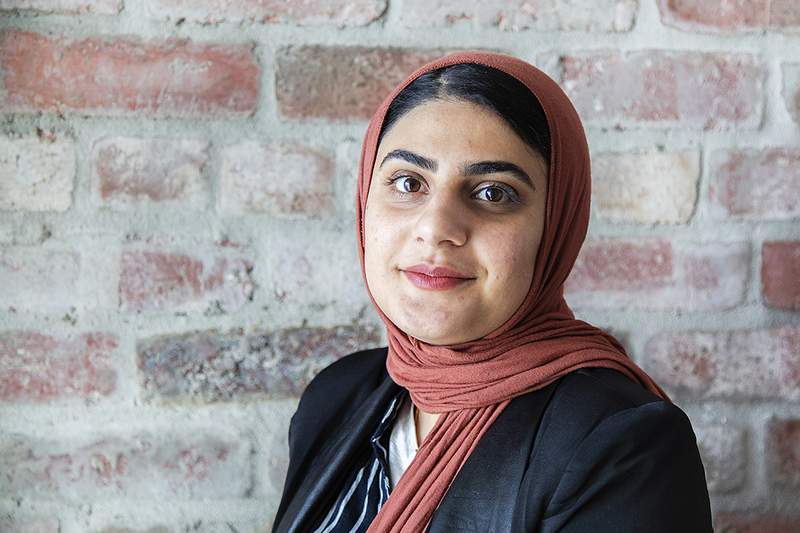 'I love studying basically; I love to work hard and achieve my goals. And to achieve your goals you have to work hard, because dreaming is not enough, you have to work for it.'
To say Ghanieh Daghagheleh is working hard to achieve her goals is an understatement.
A second year bachelor of nursing and midwifery student at Victoria University, Ghanieh volunteers as an ambulance community officer, is a lifeguard, and will begin a paramedic degree later this year, all while working to support her family, and raising a four-year-old as a single mum.
Her idea of fun? Reading anatomy and physiology textbooks because she loves knowing more about the human body.
Oh, and she's also a refugee.
Six years ago, Ghanieh and her family fled their southern Iran home and undertook a perilous journey by boat. After time in Darwin and Christmas Island detention centres, they were granted a bridging visa to come to Melbourne.
She said the first two years in Melbourne were essentially 'jail at home' because their visa type banned working or studying. Money was tight as government benefits were only 50 per cent of what citizens receive.
Being new to the community was also difficult, encountering people vocally disapproving of her presence. '[It was] a very weird and hard feeling for someone who had to leave, who was forced to leave to find somewhere peaceful and safe to live.'
Her approach for dealing with such detractors is to respond calmly with kindness, 'I don't like to answer a bad thing with a bad thing … you never know, that person might change their mind about refugees.'
She said it's the little things that can make newcomer feel welcome, 'saying hello, a small thing, can have such a huge impact on someone's life.'
Arriving by boat influenced her to become a lifeguard: 'Everyone was scared… "I don't know how to swim, what about if we drown?" I was confident [as] I knew how to swim. [I thought] "At least if I'm going to die, I'm not going to die very quickly". In 2016 she completed a lifeguard course with Lifesaving Victoria so she could teach swimming to women and children in her community. It was after she completed her course she found out she was the first Iranian lifeguard in Australia.
It's Ghanieh's strong sense of giving back to the community that motivates her. Nursing was her dream since she was seven years old looking after a grandmother who had diabetes and subsequently died after a stroke because access to healthcare in Iran was difficult.
And she's relishing the opportunity to achieve her dreams.
One piece of advice she has for first year students is to hone their cross-cultural communication skills, 'knowing how to approach people, communicate with people and respect their culture and religion, and how they would like to access care before we even want to promote our clinical care is the first thing.'
Eventually she hopes to work in an emergency department and undertake postgraduate study in resuscitation. As a midwife she'd like to focus on birthing and antenatal clinics, with further midwifery postgraduate study.
Later this year she will add a third degree to her course load, after winning a scholarship to study paramedicine. She will be even busier but is looking forward to the challenge.
'It will be challenging and hard, but good. It's all the working hard and not giving up basically, and the goal is to save lives and give back to the community and just trying my best.'
---
Video: Ghanieh shares her experiences about placement and highlights of her university career
---