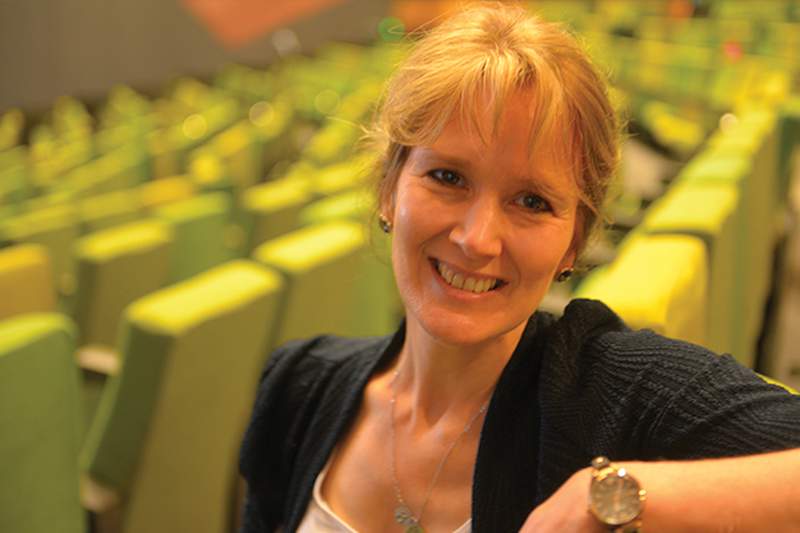 Start where you are, do what you can.
Ros Morgan's life as a sustainability activist started in 2009 with a humble goal – introducing recycling bins at Dandenong Hospital.
Environmental awareness in healthcare was in its infancy then. But it did not take long for nurses and midwives to understand the connection between working in healthcare and sustaining life through environmental stewardship.
In 2012 ANMF Job Reps passed a motion at the delegates conference, asking the union to become active in climate change and environmental health issues and in 2013, the first ANMF (Vic Branch) Health and Environmental Sustainability Conference was held. For Ms Morgan, then a team leader in intensive care, the recycling initiative was a product of the simple observation that if recycling was important at home, it was just as important at work.
'Recycling gives you small wins and through those you can expand. Another thing that it gives you is self-agency. You have those wins and you start to think you can make a difference,' Ms Morgan said.
'It's often recognised that recycling can be a platform for bigger changes and that was very much our story because we got a few other people together who were interested and from that we did an audit of our stocks and began to look at other practices that could be improved.'
Ms Morgan represented nurses on the Monash Health Eco Champions Committee and in March concluded a 15-month secondment as environmental sustainability officer for Monash Health.
Dandenong Hospital's intensive care unit was the first in Monash Health to introduce fully co-mingled, PVC and single use steel instrument recycling. Another major win was the banning of unrecyclable polystyrene cups across Monash Health facilities.
Ms Morgan has recently been appointed environmental health officer at ANMF (Vic Branch) and with Monika Page, environmental sustainability officer at Melbourne Health, is delivering a new continuing professional development (CPD) course 'Nursing for the environment: a practical introduction to environmentally sustainable practices'.
The hands-on seminar debuted in June, with nurses and midwives exploring why environmental sustainability is important to our professions and to health generally, and developing individual resource and action kits for their own workplaces.
Ms Morgan has also shared her campaign success stories with other ANMF members at delegates conferences and this year's Health and Environmental Sustainability Conference.
At the 2014 Delegates Conference, her playful approach to raising environmental awareness saw nurses modelling Kimguard recycled into fashion garments.
As environmental sustainability officer at Monash Health, Ms Morgan oversaw a project in which 20,000 bread bags from the Monash Medical Centre kitchen were diverted from landfill and remodeled into 27 rugs.
Ms Morgan said that although pharmaceuticals and procurement practices are the biggest contributors to a hospital's carbon footprint, recycling is the area where nurses and midwives have most power to make a difference.
'Because recycling is accessible we can have some big wins, we can have a huge impact on that part of our footprint. What I'm always saying to people is start where you are, use what you have, do what you can,' Ms Morgan said. 'I got started in recycling and as I got going, I had more opportunities arise.
'We can still be mindful of the resources we use – not opening up excess packages, being careful what we take to the bedside, not opening packs just in case we might use them,' she added.
On a personal level, there is a plethora of actions that nurses and midwives can take to reduce their environmental footprint, from ceasing to use plastic bags to eating less meat (globally, greenhouse gas emissions from livestock make up almost 15 per cent of emissions and meat consumption worldwide is rising). The Sustainability Victoria website has advice on improving energy efficiency in the home and recycling household items including TVs, batteries and paint.
ANMF, as a founding member, encourages nurses and midwives to make a pledge as part of Sustainability Victoria's Take 2 campaign, an initiative to reach net zero emissions by 2050 and keep the global temperature rise to below two degrees: goo.gl/n3RvaX
And of course, you can also join an environmental action group within your workplace.