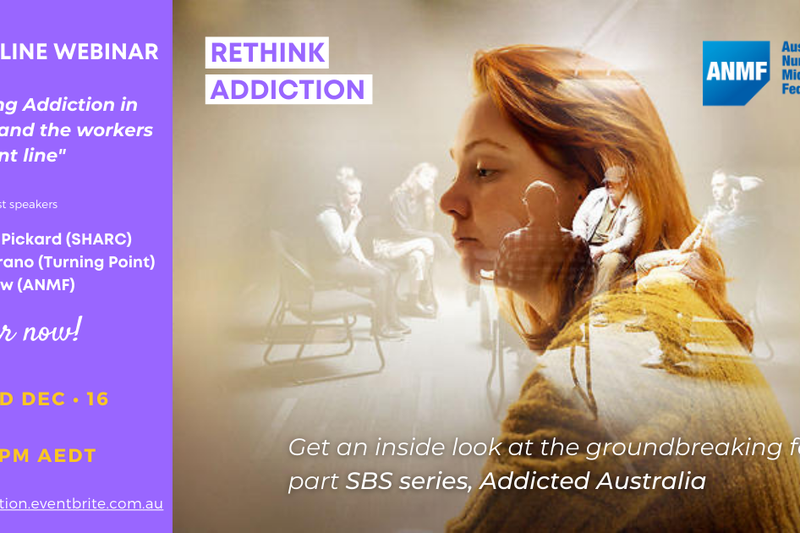 If you watched the recent SBS series Addicted Australia, you would have recognised the issues faced by the 10 Australians who were brave enough to share their stories of struggling with addiction and trying to recover.
The 10 people with addictions to alcohol and other drugs, and to gambling, were engaged in a six-month treatment program run by Turning Point. Ranging in age from 28 to 62, each person had their own life story; including stories of dreams and plans, and relationships with family and friends, impacted by addiction.
The Australian Nursing and Midwifery Federation (Victorian Branch) supports the associated SBS/Turning Point Rethink Addiction campaign, aiming to reframe addiction as a health issue. As nurses, midwives and personal care workers, we know that addiction does not discriminate; it can affect anyone, including us.
ANMF and Turning Point are hosting a free online webinar to discuss issues raised within the Addicted Australia series and the Rethink Addiction campaign.
Wednesday 16 December, 6–7pm
Register online
Speakers are:
Professor Dan Lubman, Executive Clinical Director, Turning Point
Heather Pickard, CEO, Self Help Addiction Resource Centre (SHARC)
Oscar Grano, Turning Point's Peer Support worker featured on Addicted Australia
Pip Carew, Registered Nurse and Assistant Secretary, ANMF (Vic Branch)
This is an unmissable event for anyone involved in the alcohol and other drugs sector, or whose work involves regular contact with people impacted by addiction.