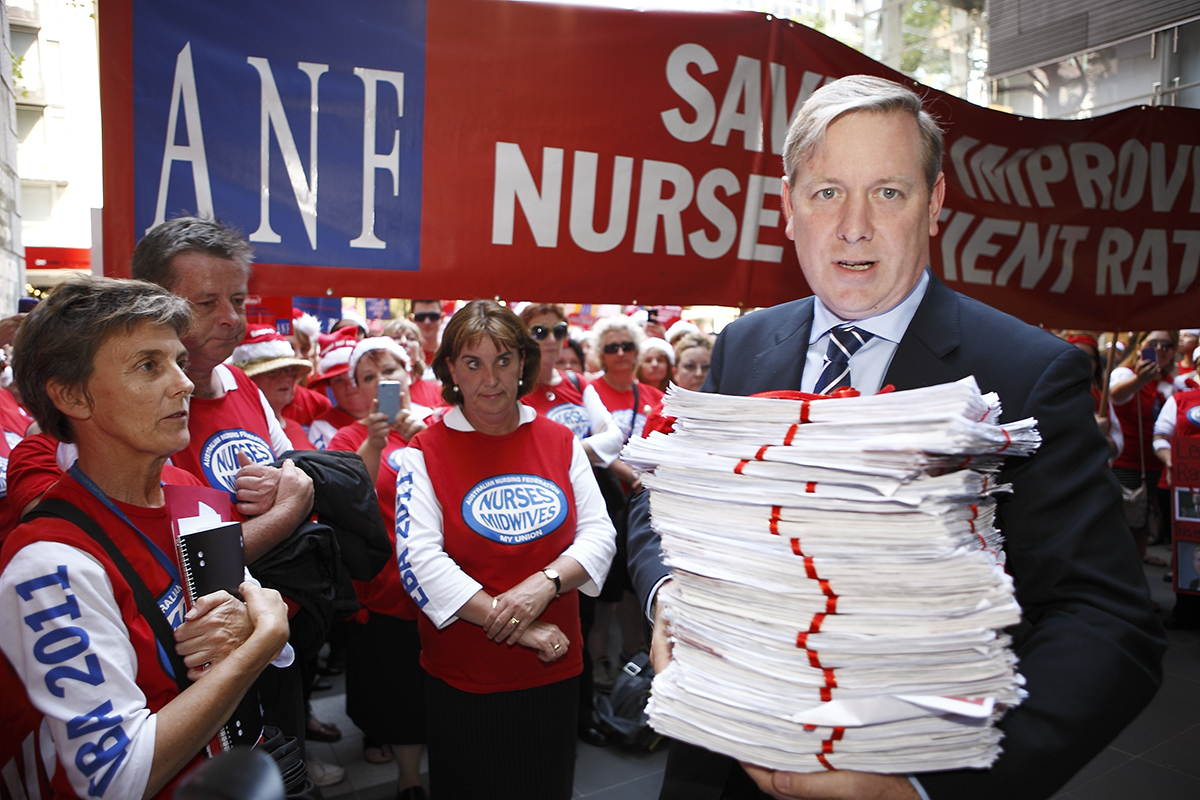 The word 'clicktivism', for online campaigning, didn't exist yet.
It was 16 December 2011 and almost 30,000 nurses, midwives and their supporters had signed the ANMF's first online petition.
The new campaigning technology had been enlisted to save Victoria's nurse and midwife patient ratios.
The online signatures were printed and collated with others that members, armed with clipboards, had collected the old-fashioned way. Someone in the ANMF office had tied the bundle with a red ribbon. Everything was red.
Victorian nurses and midwives were entrenched in the most significant dispute since the 50-day strike in 1986.
They had already taken protected industrial action and closed one in three beds. Federal Court rulings meant if they continued their action they could be forced into arbitration where they would lose ratios.
That's what the then Baillieu government was counting on.
A fortnight earlier The Age newspaper had exposed a secret Baillieu government plan to save $104 million a year by abolishing ratios and replacing nurses with unqualified nursing assistants. Split shifts and unlimited four-hour shifts were also part of the savings strategy.
Now, as the sixth state-wide public sector meeting drew to a close thousands of members decided to march from the (now demolished) Dallas Brooks Hall in East Melbourne to Health Minister David Davis's office to deliver the petitions.
Members were angry. The meeting, less than a couple of weeks before Christmas, had resolved to embark on mass resignations. Ultimately almost 3500 members signed an intention to resign if ratios were not saved. The stakes were high.
Outside the Health Department offices, David Davis accepted the nurses' and midwives' ribbon-wrapped petition delivery, but not the message.
The Liberal Government was hungry for the savings, theirs for the taking if they could just get rid of those pesky mandated ratios.
Members would endure another grueling 17 weeks campaigning including community rallies and ultimately nurse walk-outs, with Royal Melbourne Hospital leading the way. The 2011-12 'Respect our work' enterprise campaign was a bittersweet victory. That's how it feels when you win something you already have.