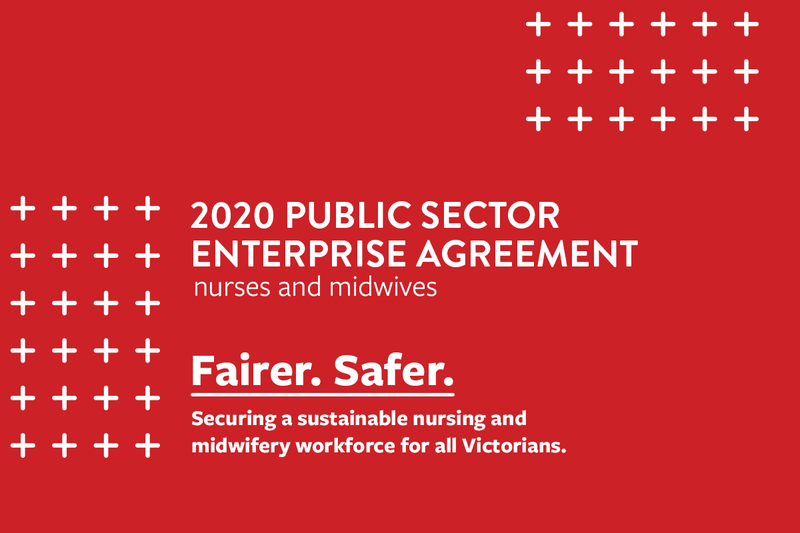 Discussions between the ANMF (Vic Branch) and employers over the next public sector general enterprise agreement have begun.
Public sector health employers are sending notices of employee representation rights (NERR) to nurses and midwives covered by the agreement – a requirement for formal bargaining to start.
This is a formality and members do not need to take any action, as ANMF is your default bargaining representative.
The 2016–20 enterprise agreement expires on 31 March 2020.
Wage increases within the 2020–24 agreement were negotiated during bargaining for the 2016–20 enterprise agreement and are, from the first full pay period on or after the date below:
1 December 2020 – 3 per cent
1 December 2021 – a further 3 per cent
1 December 2022 – a further 3 per cent.
On 13 September, ANMF provided the Victorian Hospitals' Industrial Association and the Department of Health and Human Services with a comprehensive suite of amendments to the current agreement that we are seeking on behalf of members.
These amendments were presented and discussed with Job Reps at the 2019 Annual Delegates Conference before being endorsed by the ANMF (Victorian Branch) Council.
The improvements proposed include:
adding 'midwife' and 'midwifery' where appropriate
clarifying what constitutes a ward or a campus of a health service
easier resolutions of classification disputes
objective criteria for the three-level nurse unit manager structure
further steps to address occupational violence and aggression.
Addressing gender equity:
superannuation contributions while on parental leave
parental leave counting as service for long service leave
improved paid parental leave
ensuring annual leave entitlements are comparable for full-time and part-time employees.
Provisions to encourage good rostering practices:
including higher overtime rates for excessive continuous hours, higher overtime rates when not on-call, fatigue friendly roster options, reductions in short shifts, 8:8:10 rosters as the default shift lengths for all employees and clarification of when a meal break is payable.
reducing reliance on agency and casual staff through improvements to penalty rates for weekends and public holidays and employing enough staff to cover foreseeable leave
improved access to professional development leave, and specific allowances for those holding a Certificate IV in Training and Assessment or Certificate IV in Work Health and Safety.
Public sector EBA updates can be viewed at the campaign page of our website.