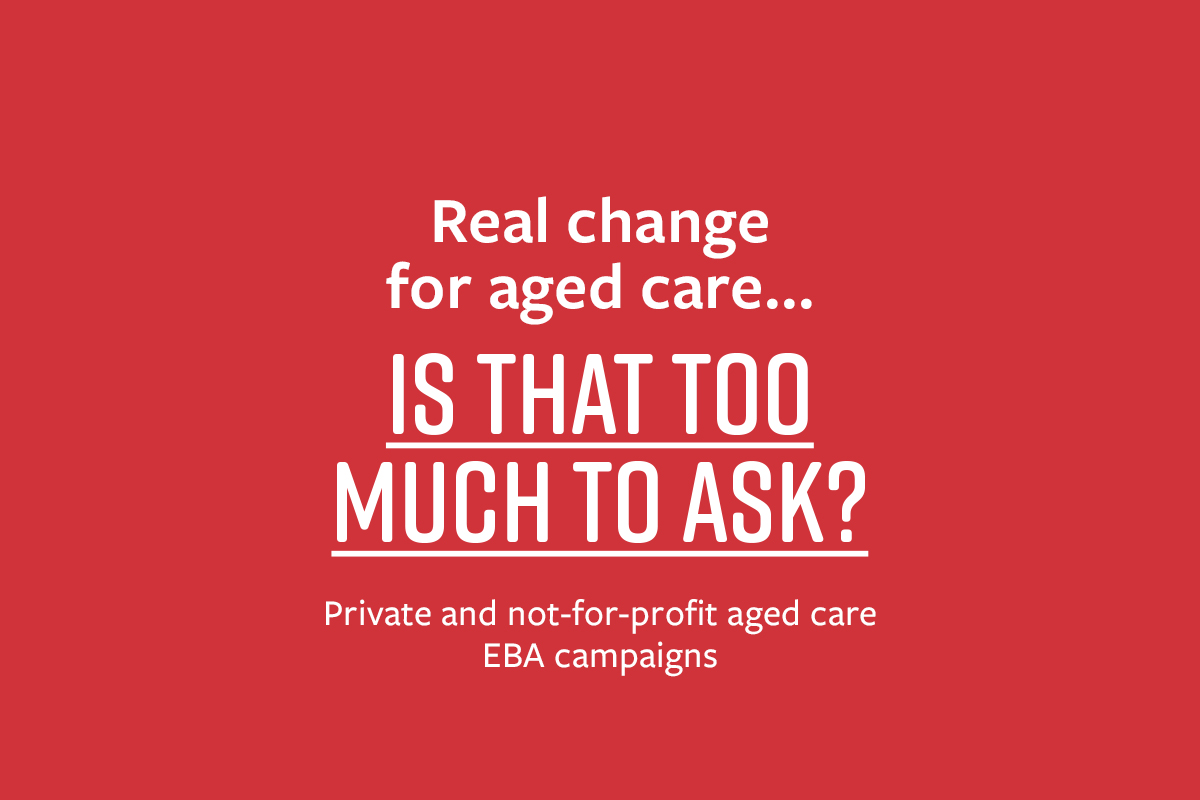 Good progress continues to be made in private aged care bargaining in the second half of 2022, with over half of the more than 620 facilities in the Victorian private aged care sector now covered by replacement enterprise bargaining agreements (EBAs) or in-principle agreements that will soon be balloted.
In the last few months, new EBAs have been negotiated for providers such as Allity/Bolton Clarke, Martin Luther Homes, Meracare, St Basils and Baptcare. These agreements have average wage increases of 2.25 to 2.75 per cent per year.
The proposed EAs at Mercy Aged Care (2.6 per cent and 2.5 per cent), Bupa (2.75 per cent and 2.5 per cent nurses; and 3 per cent and 3 per cent for carers), Regis and St Vincent Care Services will go to ballot before Christmas.
We are relatively close to in-principle agreement at Fronditha and mecwacare. Fronditha have offered increases of 3.25 per cent, 2.5 per cent and 2.25 percent plus other improvements. Respect Aged Care (a Tasmania-based not-for-profit who has bought about eight small stand-alone regional facilities in Victoria) has offered 4 per cent, 3 per cent and 3 per cent, although based on lower wage rates overall than other providers.
Bargaining has commenced with Jewish Care, Menarock, Mckenzie Care, VM-Catholic Homes and Brotherhood of St Laurence. TLC (last pay increase October 2022) will commence bargaining in February.
Leave improvements
As reported earlier in the year, in about half of the new EBAs we are winning earlier access to long service leave for members. This improvement is usually phased in over the life of the agreement, like the public sector EBA (so access at nine years of service in 2022, eight years in 2023 etc). It's worth noting however that most EBAs will only allow staff to take half of that accrued leave between seven and ten years of service. Once staff achieve 10 years' service, they then have full access to their accrued entitlement.
In most new agreements there is also an improvement in paid parental leave. The standard for paid parental leave at most large providers is currently six weeks paid leave with a few, like Uniting Agewell, above that. For example, Bupa has just agreed to 12 weeks of paid leave in their EBA (replacing a top-up system where they would only pay the difference between the usual base pay and the Commonwealth paid parental leave). Fronditha, which had no paid parental leave, is inserting six weeks and most stand-alone providers who had no paid leave will now provide at least three weeks.
The recently legislated 10 days of paid Family Violence Leave (now part of the National Employment Standards and applicable regardless of whether it is in your EBA) is also being reflected in new Agreements.
Continuing challenges
Bargaining with several other providers is proving more challenging with the new funding system, mandated staffing levels and the work value case continuing to create uncertainty.
For example, Churches of Christ (two facilities) have stalled negotiations and ANMF have lodged an application for a Majority Support Determination with the Fair Work Commission to make the employer bargain. Well done to ANMF members who collected over 160 signatures on the petition demanding that they negotiate a new Agreement.
Opal Aged Care has refused to bargain this year and has paid a three per cent administrative wage increase in November.
Benetas has offered a 2.25 per cent pay increase for all staff but little else for one year.
15 per cent work value increase to apply to Award rates
Late on Friday 4 November, the Fair Work Commission (FWC) awarded an interim increase of 15 per cent on award rates (not enterprise agreement rates) for all direct care workers under the Nurses and Aged Care awards.
An interim increase leaves open the possibility for further increases, which ANMF welcomes. Our application to the FWC asked for a 25 percent increase.
The increases will see the base rate for some aged care workers lift significantly. It is important to note, however, that many members are on EBAs, not the Award, which means that their rates are, in most cases, already more than 15 per cent above the award rates.
You will receive the Award rates in the event these overtake the rates in your EBA. This is most likely to happen for carers in 2025-2026 and very unlikely to occur for nurses at all, because nurses' rates in most EBAs are more than 25 per cent above the Award rates.
However, an increase in the Award rates will have a ripple effect for our enterprise bargaining agreements in areas like Sunday penalties, casual rates and overtime rates.
The FWC will hold another hearing to decide on the timing of the 15 per cent interim increase and we should know those implementation dates by April next year. A further hearing later in 2023 will look at classification structures and any further wage increase justified on work value reasons for direct care workers.
For aged care nurses and carers it is always better to have an up-to-date and enforceable enterprise agreement. The Award rates are unlikely to overtake your EBA rates in the near future and, even if they did, you are guaranteed to receive those Award rates. If the ANMF negotiates a new enterprise agreement for your workplace, please vote YES to approve it when we recommend that you do so.