The Branch's popular Health & Environmental Sustainability Conference returns in May as an in-person event.
Offering nurses, midwives and carers the opportunity to learn about and be inspired by exciting environmental initiatives within the healthcare community – as well as seven hours of CPD – the conference will feature a variety of informative and passionate speakers. Among them is Jo Algie, a 2021 Premier's Sustainability Award winner (in the waste reduction and circular economy category).
Jo is an Advanced Life Support (ALS) Paramedic and Team Manager with Ambulance Victoria (AV) and, with her beloved peer support dog Lexi, is a long-time member of AV's peer support team, where she has promoted the importance of wellbeing and supported paramedics and first responders at times of distress. But it's her work initiating AV's clothing recycling program that won her the Sustainability Award.
'There's no reason it should be going in the ground. It's good quality stuff, and we've saved so many articles of clothing from going into landfill.'
About two and a half years ago, she noticed a bunch of unclaimed uniforms lying around an AV branch and decided something needed to be done – more to address the mess and wastage initially. 'I was the worst recycler before this started,' she says with a laugh. 'I was shocking. But it's just been an eye opener.'
Starting out with a small storeroom, which Jo and her colleagues filled in four days, they've since relocated to a much bigger storage area, and over the past two years have re-homed about 23 tonnes of uniforms. 'That's a lot of pairs of cargo pants!'
Initially the idea was to extend the life of these items – good quality cargo pants, dress pants, short- and long-sleeved shirts, jumpers and raincoats, primarily – while helping out others in need, in Australia or overseas. One of the first groups to receive ex-AV items was a local paramedic service in Krabi, Thailand. A colleague of Jo's personally took over a handful of fluro vests with the word paramedic on them.
'They didn't have anything else on them, so they were de-identified,' Jo explains, 'and they went to a little ambulance service in Krabi that had nothing. I think they were volunteer paramedics, in a little clapped-out van, and they were just so excited when they received these vests. On their first job, they got out of their van with their fluro paramedic vests on and they were so proud.'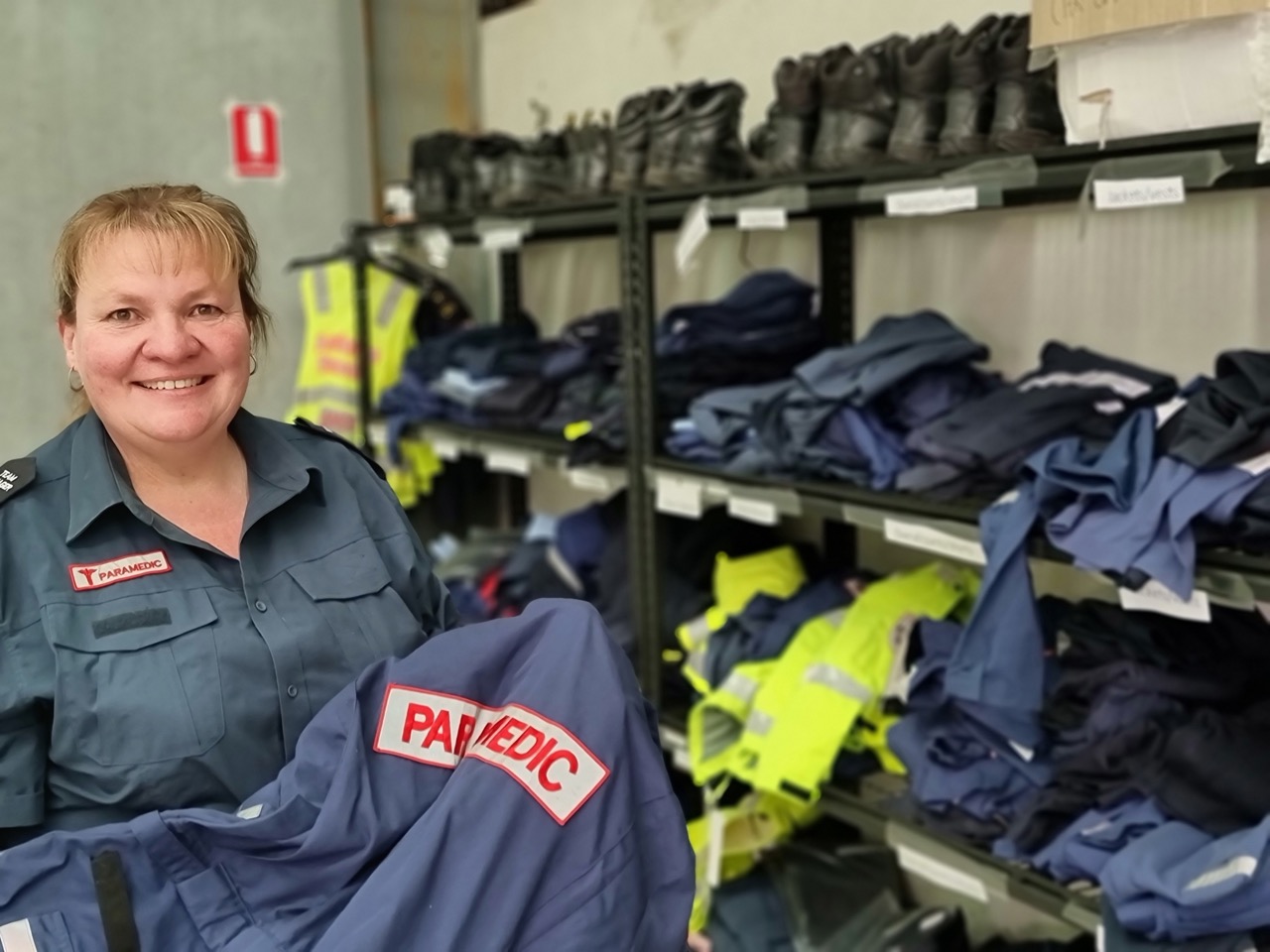 Other recipients have included Syrian refugee camps, an Indigenous school just out of Alice Springs, the Scout Association's first aid trainers, and Chisholm TAFE's apprentice tradies. 'My son is an apprentice tradie,' Jo says. 'They're on terrible money so the last thing they need to do is go to these workwear shops and spend $110 on a pair of pants. If we can help them out, why not? Little things like that make a massive difference to a kid.'
Jo and her colleagues have complete control over where they send all clothing, often working with local community groups such as Lions and Rotary clubs. And for the most part it has cost them very little, or even made money via clothing on-sold though AV auxiliary op shops. 'They de-badge them, sell them to the local tradies and the money is returned back into donations of equipment to the branches.'
The primary cost is delivery but Jo suspects that if it were weighed against all the uniforms that AV hasn't had to reorder, it probably comes out even. This is because AV paramedics are among their priority recipients. 'We've got so many paramedics now that will come to us and say, "Hey, before I go to order a new whatever, do you have one of these?"
'I just want the items to go somewhere and be used.'
The program has proved especially useful for AV's COVID-19 surge workforce. These external volunteers – from Life Saving Victoria (LSV), St John Ambulance and similar organisations – needed uniforms but with no one knowing how many shifts they might be called on to work, buying new uniforms could have been a costly exercise. This is where Jo and her team stepped in, and within days had provided hundreds of articles of uniform to the volunteers.
They've also sent clothing to homeless charities, but Jo doesn't view the service as charity, and she's not looking for acknowledgment for the work – which made it slightly awkward to receive such a public acknowledgement for her work as the Premier's Sustainability Award.
'I have no idea how it fits into the whole big environmental picture,' Jo says. 'All I know is that there's no reason it should be going in the ground. It's good quality stuff, and we've saved so many articles of clothing from going into landfill. But we've also helped someone out, whether it be a paramedic getting another shirt or an Indigenous student having new school shirts. I just want the items to go somewhere and be used. I don't care where, so long as they can be used.'
Heatlh & Environmental Sustainability Conference
Among those joining Jo Algie in presenting at the ANMF (Vic Branch) Health & Environmental Sustainability Conference (HESC) will be:
Food icon, author and television presenter Maggie Beer AM, discussing her work to improve health and wellbeing in aged care
Dr Jorja Collins, a foodservice dietitian and Monash University lecturer and researcher, discussing food waste
Clinical presenters sharing the way they are improving environmental sustainability at work, including the bottle top project for sustainable theatres and community sustainability projects in palliative care and oncology
Lucinda Gibson, an ecologist turned RN discussing strength in diversity
A panel on the upcoming single use plastic ban, and what it means for healthcare
The ANMF (Vic Branch) Health & Environmental Sustainability Conference runs from 8.30am–3.45pm on Friday 13 May 2022, at the Melbourne Convention and Exhibition Centre. It counts for seven hours of CPD and conference registration may be tax deductible (please seek independent financial advice). Register now.