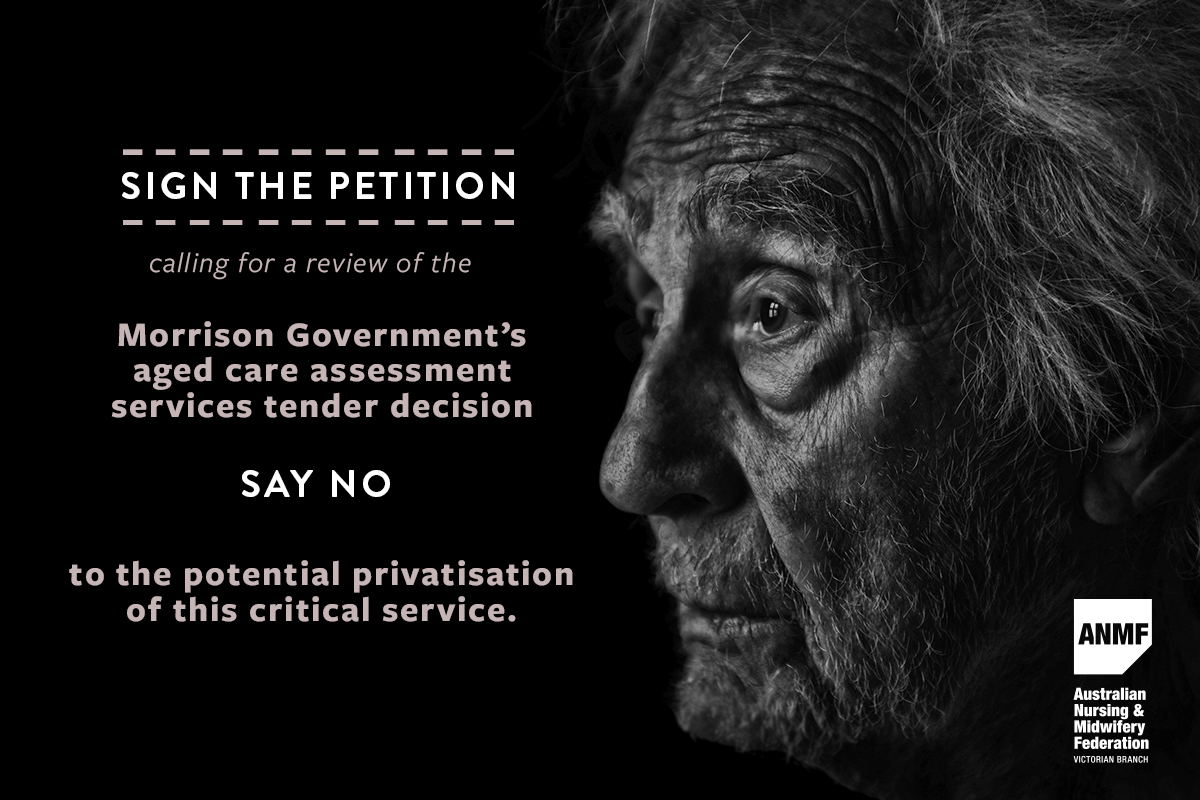 ANMF has lodged a petition in Federal Parliament calling for a review of the Morrison Government's decision to tender for the provision of aged care assessment services.
Members and the community, who want to stop the effective privatisation of these services in Victoria, are encouraged to sign the petition which will close on 11 March.
Aged Care Assessment Teams (ACAT) and Regional Assessment Services (RAS) employ nurses, allied health workers and geriatricians, and assess the level of care required by elderly Australians.
This work is funded by the Federal Government and provided in Victoria by the State Government which sub contracts under the scheme.
The Morrison Government announced its surprise tender decision on 30 December 2019. The tender will take place this year and the successful providers will take over the 'streamlined assessment service' from April 2021.
The announcement has created uncertainty with some existing Victorian providers advising ANMF they will cease operating as the new requirements include operating across multiple regions and sometimes state boundaries.
It also prompted Royal Commission into Aged Care Quality and Safety Chair Tony Pagone to issue a statement to address public concerns that the Aged Care Minister Richard Colbeck had indicated the commission supported the privatisation of the aged care assessment teams in its interim report.
'I take this opportunity to make clear that the Interim Report did not endorse the Government's stated position,' Mr Pagone said.
The Victorian Department of Health and Human Services has advised public health services it will not tender to provide services under the new model. The department will assume a system-wide 'stewardship and advocacy' role as the Morrison Government is seeking multiple providers in each service area.
ANMF is not opposed to the streamlining of RAS and ACAT into a single assessment service, but it does believe the amalgamation can proceed without the potential privatisation of this critical service.
ANMF's petition states 'This decision will disturb existing assessment services expertly delivered by Victorian public health services through a skilled workforce of registered nurses, social workers and others, jeopardizing the jobs of many hundreds of skilled Victorian practitioners.
'Expertise built up over decades will be lost.'
ANMF is also gravely concerned that elderly consumers in need of support will potentially be directed to a for-profit provider who is not independent of the care provider.
ANMF (Vic Branch) Assistant Secretary Paul Gilbert, who is named as the principal petitioner, said 'We need our politicians to take a much closer look at the implications of the government's tender decision and whether it is in the best interests of elderly Australians.
'The assessment system needs to be improved, but fragmenting providers and the possibility of introducing a profit motive won't address the ludicrous delays people are experiencing to access a home care package.
'Experienced nurses and other health professionals doing this work will lose their jobs and we will all those their wealth of important experience.'