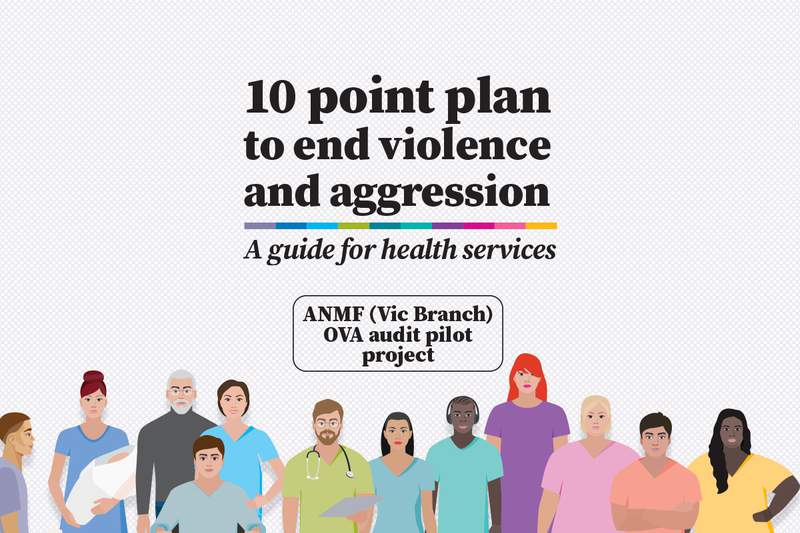 By the end of 2021, Health & Safety Reps and Job Reps will finalise an occupational violence and aggression (OVA) action pilot campaign that has been designed to measure the implementation of the 10-point plan to end violence and aggression in workplaces
Whilst significant improvements in reporting violence and aggression have been achieved for workers' safety over the years, healthcare employers have been slow to implement the practical and cultural changes needed to make nurses, midwives and carers safer at work.
The ANMF (Vic Branch) created the 10-point plan to end violence and aggression: a guide for health services to provide healthcare employers with a practical plan to ensure their nurses, midwives and carers go home safely at the end of every shift. The plan was included in the public sector nurses and midwives and mental health enterprise agreements in 2016.
Since August 2021 the Branch has been engaged in a pulse check of sorts – an OVA action pilot campaign that has involved Health & Safety Reps and Job Reps at selected public sector hospitals auditing their organisation's progress in on-the-floor implementation of the plan.
Each month during the campaign, the Reps have been auditing compliance with two of the ten OVA reduction themes. Using an auditing app developed by the Australian Council of Trade Unions, they have been providing a green, amber or red rating of their employers' progress measured against the requirements detailed in the plan. The audit campaign timeline has covered:
August: Security + Identify risk
September: Include family + Report, investigate act
October: Safe design + Educate and train
November: Integrate policies and procedures + Provide support
December: Same approach for all + Expect a safe workplace.
At time of writing, critical data has been flowing in from active Job Reps and HSRs, from which reports can be extracted and themes identified – areas in which employers are doing well, and areas that clearly need greater commitment. The Branch will report to Council and members in January 2022 with a view to a mid-2022 roll out of the campaign in all organisations across the state where ANMF members are employed, including private acute hospitals and private aged care facilities.
The four goals of the wider campaign will be:
moving from awareness to action in preventing OVA
achieving measurable improvement in the 10-point plan's implementation
improving awareness and ownership by ANMF members of their 10-point plan
collecting real-time data to better inform discussions with employers and government.
Coinciding with the pilot campaign, the Branch released a refreshed version of the 10-point plan to end violence and aggression with a new introduction by Health Minister Martin Foley and Workplace Safety Minister Ingrid Stitt.