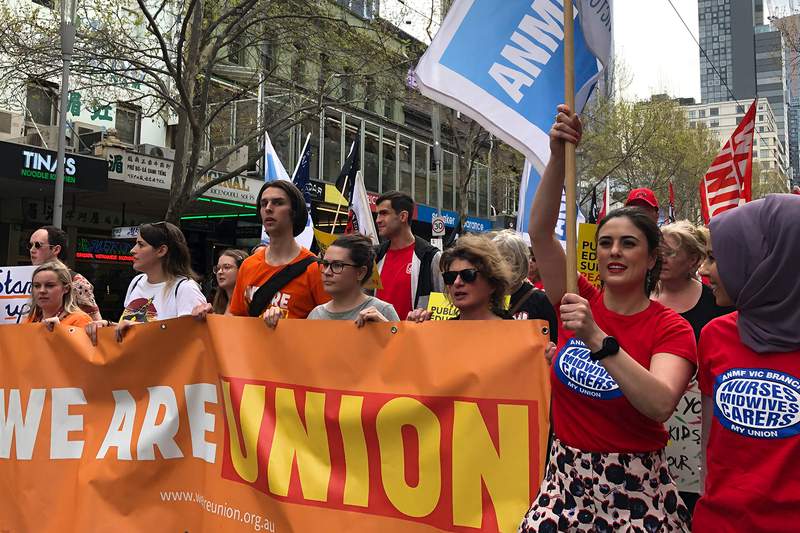 The ANMF banner was at the forefront of the union contingent supporting student climate strikers, as nurses, midwives and carers joined an estimated 100,000 people calling for urgent climate action at Melbourne's Global Climate Strike.
A huge cheer erupted from students on the lawns of the State Library and many joined in the chants of Victorian union members as we walked from Trades Hall to Treasury Gardens, the meeting point for the Melbourne strike and part of the global event organised by school students.
Union chants calling for 'green jobs' were aligned with the student group School Strike 4 Climate's demands for a just transition and job creations for fossil fuel workers and communities. School Strike 4 Climate organised the Australian climate strikes which attracted an estimated 400,000 students and adults.
Global 'heating', caused largely by the burning of fossil fuels, is having a detrimental impact on people's physical and mental health, through increased heatwaves, air pollution, extreme weather events, and climate-related disasters, such as bushfires. ANMF endorses urgent action to stem the dramatic impact on people's health, including the patients for whom our members are providing care.
World-wide, an estimated four million people took to the streets on 20 September to call for urgent climate action ahead of the UN Climate Action Summit on 23 September 2019.
Sixteen-year-old Swedish climate activist Greta Thunberg sat alone outside the Swedish Parliament on strike from school in August 2018. Her example started a world-wide movement, culminating in the 20 September Global Climate Strike.
The ANMF's climate change policy calls for urgent government and community action to reduce and limit the release of carbon dioxide emissions from fossil fuels, implement non-fossil fuel sources of energy and prepare the health sector to deal with existing and future health effects of climate change.