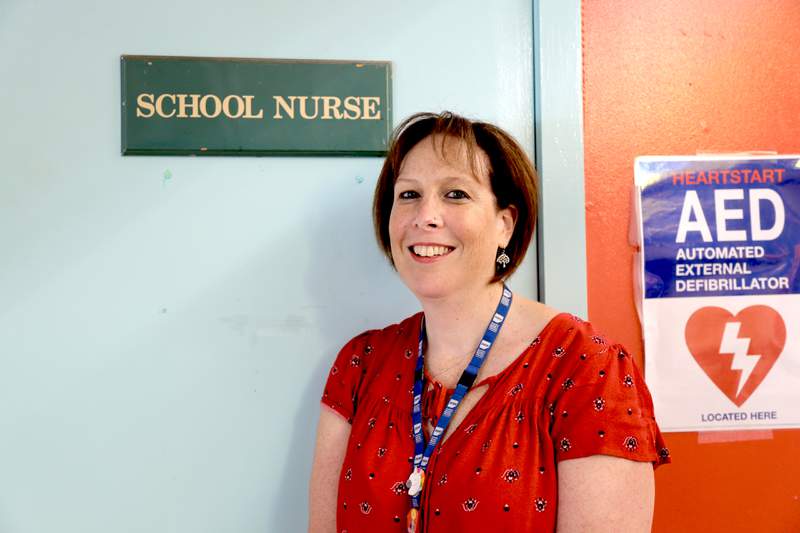 One of the best things about being a school nurse, Lisa Delahunty says, is seeing your patients year after year, from the day you meet them as a shy Year 9 student until their final year at school.
Ms Delahunty is the nurse at Melbourne High School, a selective entry boys' public school with 1370 students. Ms Delahunty's 'health centre' – the term she prefers to 'sick bay' – is located through a maze of corridors in the stately South Yarra building known as the 'Castle on the Hill', home to the oldest state school in Victoria.
One wall is covered with pouches containing EpiPens, each labelled with a student's name and photo. Another wall holds a general EpiPen pouch and asthma management information. Then there's a wall devoted to clippings about Ms Delahunty's football team, the Western Bulldogs…
'School nurse' to 1370 students is a busy role. The previous day, before 11am Ms Delahunty saw 15 students and 22 in total, treating ailments including headaches, stomach aches, a calf tear and nausea. One student had fallen off his bike and had abrasions on his leg; another was struck by a hockey ball.
Ms Delahunty sees between 15 and 30 patients per day, with May and September the busiest months due to colds and hayfever. While many students visit because they are sick or injured, some just want a chat, duct tape to mend a broken shoe, or need to borrow one of Ms Delahunty's cache of blazers, which the boys are required to wear in the school's memorial hall out of respect to the war veterans it honours.
Previously a clinical educator at Victoria University, Ms Delahunty has also worked as a nurse in a hospital and in aged care. But her current job is definitely her favourite nursing role.
'I find working here a lot less stressful than working in a hospital environment,' she said. 'The students are so respectful; they are so grateful for the care you provide for them.
'I was just seeing the ads on TV about the violence at Royal Melbourne Hospital and I know that it's at every hospital that happens, and you don't have that here. It upsets me greatly that my colleagues have to go through that.'
Since beginning work at the school in 2011, Ms Delahunty has liaised with the Department of Education to develop a new medication administration policy so she is able to provide a broader range of medications for common ailments, beyond paracetamol.
'I was constantly ringing parents to ask if it was OK for me to give certain medications,' Ms Delahunty said.
Now, an expanded list of basic medications, including anti-histamine and Nurofen, goes home to parents at the beginning of the school year, with parents selecting which medications Ms Delahunty is able to administer to their children if needed.
As the school is not a zoned school and students come from far afield as Castlemaine and Mornington Peninsula, it is preferable if students' ailments are able to be treated so they can remain at school, she said.
'At the same time, it's written into the policy that I have a right to withhold medication if I feel it's going to mask the symptoms for a diagnosis if I'm going to refer them on to a GP.'
Ms Delahunty believes that having two children who were teenagers at the time she applied for her role helped her to secure the position. She would also ask her son, who is now 19, to translate the terminology of adolescents: 'I'd come home and ask him "What does this word mean?"and he'd say 'Oh Mum!'
But learning how to 'speak teenager' is essential in the school nurse role.
'You have to be a good communicator in this role, you have to listen…The boys are notorious for coming in and saying "I'm sick" and you really have to draw out from them how they're sick and why they're sick, and pick up the cues of what they're saying to you,' Ms Delahunty said.
'I'm not saying I'm perfect at my job but I know the boys really well and know how to ask the questions.
'I tend to joke around with them a little bit because if it's the first time they've come in here, they can be a bit frightened because they don't know me, they don't know who I am.'