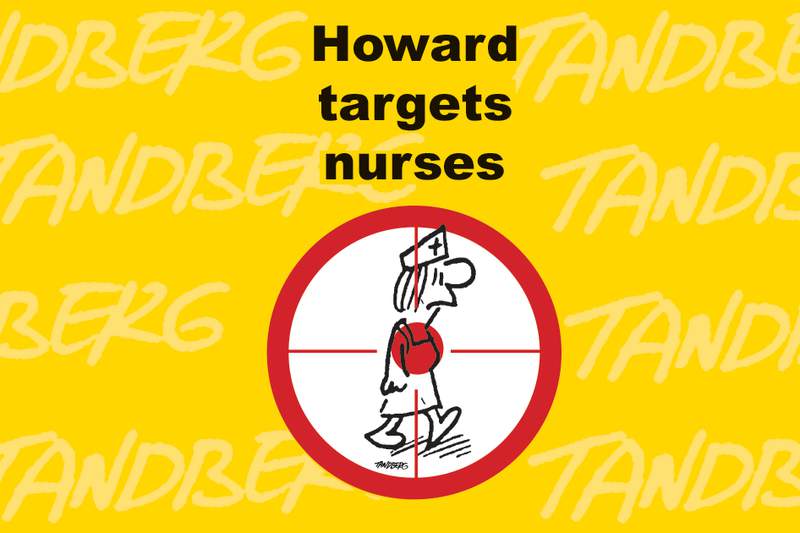 Our poster to mark these days pays tribute to the work of the late Fairfax cartoonist and Walkley Award winner, Ron Tandberg, who died of cancer in January.
In his 45-year career, Tandberg produced many cartoons which championed the nursing profession and supported members of the ANMF (Vic Branch) in their enterprise agreement claims.
By distilling the essence of our industrial relations campaigns in cartoons published in The Age, Tandberg amplified the voices of Victorian nurses and midwives against those who were always demanding we do more with less.
In 2012 The Age photographer Justin McManus snapped Marshall Baillieu, cousin to then-Premier Ted Baillieu, 'flipping the bird' to protesting nurses who were trying to keep their ratios.
Tandberg's cartoon depicted a reporter asking Marshall Baillieu: 'Are you reflecting your view of nurses, the family's view, the government's view, or all of the above'? (see 'Disrespect all round as Premier's cousin weighs in' – By Julia Medew, The Age 7 March 2012, 3:00am).
Whether the issue of the day was penalty rates, ratios or long service leave, Tandberg's cartoons always recognised the value of nurses' and midwives' work to the Victorian community.
On International Nurses Day, Saturday, 12 May, we are calling on all members to attend a community rally in support of staffing ratios in private aged care. Despite a 30 per cent increase in resident places Australia-wide and the higher acuity of aged care residents, there are fewer nurses in the sector. Between 2003 and 2016, the number of registered nurses in residential aged care decreased by more than 1700 nurses.