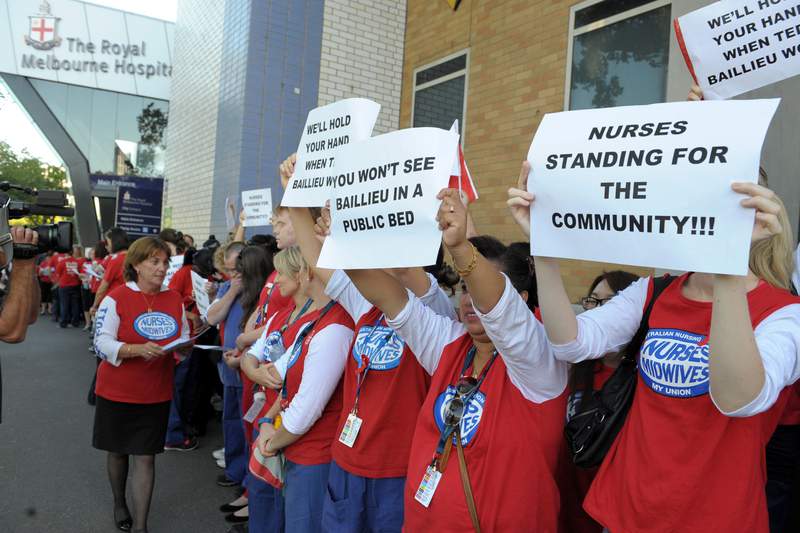 Victorian nurses and midwives and their union would 'fall foul' of the Morrison Government's proposed anti-union law if it was applied to the 2011-12 EBA campaign, ANMF (Vic Branch) Secretary Lisa Fitzpatrick has told a senate inquiry.
Ms Fitzpatrick gave evidence on 20 September to the Senate Education and Employment Committee inquiry into the Fair Work (Registered Organisations) Amendment (Ensuring Integrity) Bill. The bill passed the lower house in July.
Federal ANMF has also made a written submission to the inquiry arguing the bill 'would seriously diminish the ability of unions to represent and act for members.'
Ms Fitzpatrick told the senate committee that ANMF (Vic Branch) members had taken unprotected industrial action on multiple occasions to save minimum nurse/midwife patient ratios and their ability to provide safe patient care.
Such action could see the use of clauses in the bill particularly — section 28E, 28F, 28G and 28P — which would 'see our organisation and our members severely disadvantaged,' Ms Fitzpatrick said.
The clauses lead to harsh penalties on unions and union members including: de-registration of the union; removing eligibility of union membership to office holders; disqualification of elected officials including unpaid Branch Councillors; and a requirement that ANMF members resign from their union in order to receive their enterprise agreement entitlements.
'This bill is a union busting bill, it is anti-democratic,' Ms Fitzpatrick told the senate inquiry, 'Victorian nurses and midwives take unprotected industrial action not for wages, not for themselves.
'Nurses and midwives get job satisfaction from being able to care for the community, people like yourselves, every day and every shift.
'And for that privilege to care for you they have to take unprotected industrial action or they lose their nurse patient ratios which provides the minimum safety standard in order for them to be able to care for the Victorian community in the public sector safety,' she said.
Under the proposed bill the nurses and midwives who took unprotected action to save nurse patient ratios would not be covered by the enterprise agreement, they fought so hard for, if they remained a member, she said.
Ms Fitzpatrick told the senate committee that it was critical they understood the history of Victorian ANMF members' 'Respect our Work' campaign and why nurses and midwives took unprotected or unlawful industrial action to save ratios and protect their patients.
In 2010 the then Baillieu Coalition opposition gave ANMF (Vic Branch) members an election commitment to 'maintaining nurse patient ratios in their current format as supported in current agreements'.
Negotiations for a new agreement between ANMF, the government and the hospital employers, began in May 2011. Shortly after it became clear ratios, the mechanism that secures safe, minimum staffing levels, were under threat.
'The Age' newspaper reported on 6 November 2011 that the Baillieu government had a secret plan to force ANMF into arbitration to gain 'flexibility' in ratios (unlimited split shifts and short shifts) and the ability to substitute nurses with health assistants. The article 'Revealed: secret plan to cut nurses' included a link to the Baillieu government's 'cabinet in confidence' document which detailed the plan. The document, signed on May 5 2011, by the then health minister David Davis, stated the nurse-cutting measures would save $473.7 million over five years.
Ms Fitzpatrick gave every committee senator a highlighted copy of the 'cabinet-in-confidence' document.
Under the Fair Work Act taking protected industrial action could lead to arbitration, but unprotected or unlawful action could not.
The Baillieu Government and the ANMF were both aware at the time that a 1994 High Court of Australia case 'Re Australian Education Union ex parte Victoria' meant the arbitration process could not determine staffing levels and ratios would be lost.
Ms Fitzpatrick told the committee the only way to avoid arbitration and keep safe minimum nursing and midwifery was for ANMF members to ignore Fair Work Commission orders and a Federal Court injunction to cease industrial action.
Ratios were saved because the dispute did not end up in arbitration. Ratios were enshrined in law by the Andrews Labor Government three years later.
The senate education and employment committee is due to report to Parliament on 25 October.