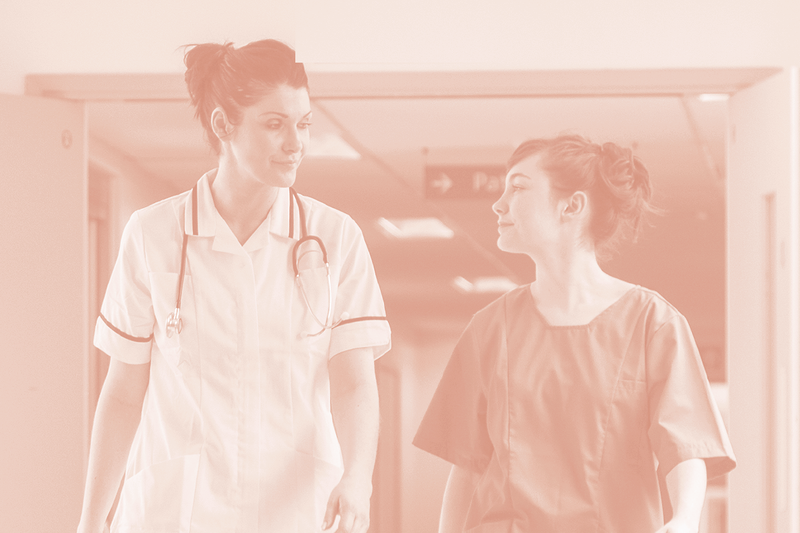 Transitioning from under-graduate student to registered nurse or midwife can be an exciting, but daunting time for new graduates.
That's why it's important to ensure graduates experience a safe, positive and supported program.
In 2017, the Department of Health and Human Services undertook a review of transition to practice (known as 'grad year') programs. ANMF and other nursing and midwifery educators, leaders and new graduates contributed to the development of the 'Transition to practice guidelines', replacing the 2009 'Early graduate nurse guidelines'.
These new guidelines 'aim to provide guidance in the delivery of consistent and high-quality transition to practice programs for a sustainable health system that values the quality and competence of its workforce' (p.3). They set the benchmark for quality transition to practice with six essential elements:
an organisational culture that values learning
best practice clinical practice
a positive learning environment
an effective health service-education provider relationship
effective communication processes
appropriate resources and facilities.
It is the responsibility of health services to have systems and processes in place to ensure their grad programs are implemented with the new guidelines. For example, the guidelines identify the critical role of nurse educators, preceptors, clinical support nurses and, indeed, every registered nurse and midwife in supporting new graduates. The guidelines recommend that organisations consider mirror-rostering of preceptors and graduates, and that preceptors and graduates are clearly identified to each other.
It is also recommending that organisations consider, and provide, adequate resources for graduates throughout their programs, included personalised access to a mentor/preceptor and contact with a secondary preceptor as necessary.
What can you do to support graduates?
How you support your graduate colleagues will make a world of difference to their graduate year.
Remember, you were new once! It's an opportunity to be a role model in terms of best practice as a nurse or midwife.
The recent review of programs identified that graduates do well when:
they feel safe to ask questions and report errors, and that their errors and those of their colleagues are treated as an opportunity for learning and addressed with a non-punitive systems-based approach
all registered nurses and midwives have realistic expectations of the scope of practice of the individual graduate nurse.
One graduate who contributed to the review remarked: 'They started watching everything I did and documenting my mistakes. When I was being watched I felt nervous and started shaking. … If I were the preceptor, I would have sat down and asked exactly what was going on with someone like me and provided as much help as I could have – put a plan in place.' [Case Study 1, p.30]
In a ANMF Facebook page discussion about the nurses and midwives that inspired members, Chloe B wrote 'One of the clinical educators has 20+ years' experience and explains things in a way we can understand. This nurse makes us feel good. If we've done something wrong, she'll tell us in a way [that] we don't feel stupid. She doesn't yell, and that makes us feel good.'
Another nurse, Shell, posted: 'Mine was the nurse that showed me who I never want to be. She was dismissive, mean, bullied other staff, unhelpful, and just plain horrible. She showed me the nurse I never wanted to become, and I'm glad to say I haven't. Just last week, I had a student who came to me after a shift that turned and said she was so very thankful that even though I was very busy, I always took the time to explain things and taught her so much in one eight-hour shift. That made my week.'
If you see a graduate struggling, suggest they raise issues in the first instance with their preceptor, grad coordinator or nurse/midwife unit manager. If they don't get support, tell them to contact our Final Year and Graduate Officer, Jess Mengel (gradofficer@anmfvic.asn.au).
If you think someone isn't coping you can refer them to the Nursing and Midwifery Health Program Victoria, which provides a free and confidential support service for nurses and midwives by nurses who understand the demands of the professions.
To read the guidelines visit www2.health.vic.gov.au