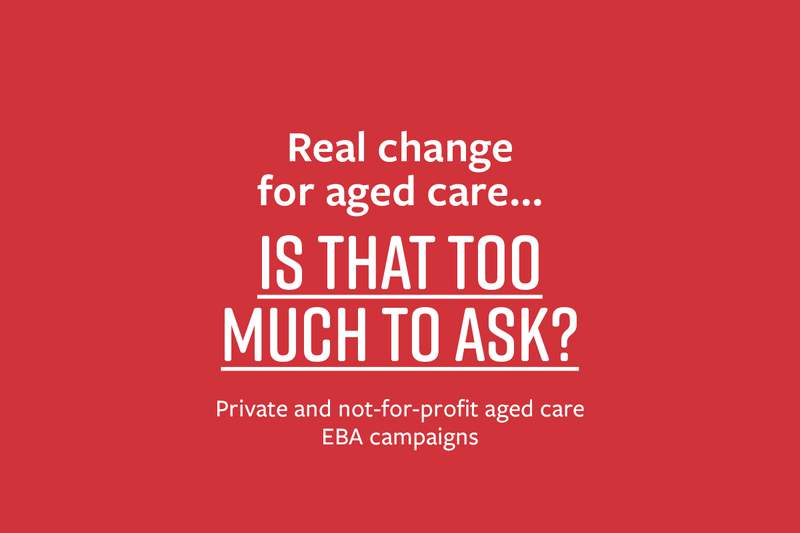 ANMF will start negotiating improved wages, staffing levels and working conditions for about 11,000 Victorian aged care members in the final quarter of 2021.
These members work at major aged care networks across 160 residential aged care facilities and another 100 small networks and stand-alone facilities.
The major aged care networks include Japara, Homestyle Aged Care, Mayflower, Bupa Aged Care, Estia Health, Allity, BlueCross, Fronditha Care, CraigCare, Menarock Life, Adventcare, Shepparton Villages, Royal Freemasons and Uniting AgeWell.
Negotiations will start in the first half of 2022 for TLC Aged Care, Mercy Health Residential Aged Care, Doutta Galla Aged Care Services, Mecwacare, Opal HealthCare, Villa Maria Catholic Homes, Benetas, Australian Unity and Hope Aged Care. This represents a further 4500 members.
ANMF (Vic Branch) Secretary Lisa Fitzpatrick said 'We've had the aged care royal commission recommendations since March, but the Morrison Government continues to go slow on the real changes nurses and personal care workers and their residents need.
'The government needs to act with urgency to increase the number of registered nurses, enrolled nurses and carers each shift to meet the royal commission's recommended care minutes.
'While we campaign for the government to urgently fix aged care, the enterprise bargaining process gives union members another opportunity to improve wages and staffing levels,' Ms Fitzpatrick said.
ANMF has developed a general log of claims, endorsed by Branch Council, to address the systemic aged care workforce issues identified by the Royal Commission into Aged Care Safety recommendations.
These include:
1. Time to care – minimum mandated staffing to deliver quality care by nurses and carers
This includes a registered nurse on duty on all shifts and a minimum 200 care minutes per resident per day (40 minutes with a registered nurse with direct clinical responsibility, 60 minutes delivered by enrolled nurses and 100 minutes by personal care workers).
2. Respect our work – remuneration reflective of the responsibility and skill of nurses and carers Better wages and classification structures.
3. Security of work for meaningful careers for nurses and carers – better redundancy provisions, less casual and more secure work and better consultation plus better paid parental leave, improved annual and long service leave.
4. Skills to care – professional development entitlements to support the provision of quality evidence-based care. Improved development leave to develop knowledge and skills.
5. Safety of nurses, carers and residents guaranteed – measures to reduce and prevent workplace violence and aggression, equivalent full time infection control lead position and implementation of fit testing and fit checking of N95 respirator masks.
Get involved
The log of claims will be adapted for each employer depending on the current enterprise agreement. Members will have an opportunity to contribute to their log of claims via our 'virtual' meetings. Members will be notified about meetings via text message and email.
Members with an urgent workplace issue or ideas for claims can email ANMF via records@anmfvic.asn.au clearly identifying your employer and workplace.
ANMF encourages private aged care members to take an active role in their enterprise bargaining campaigns.