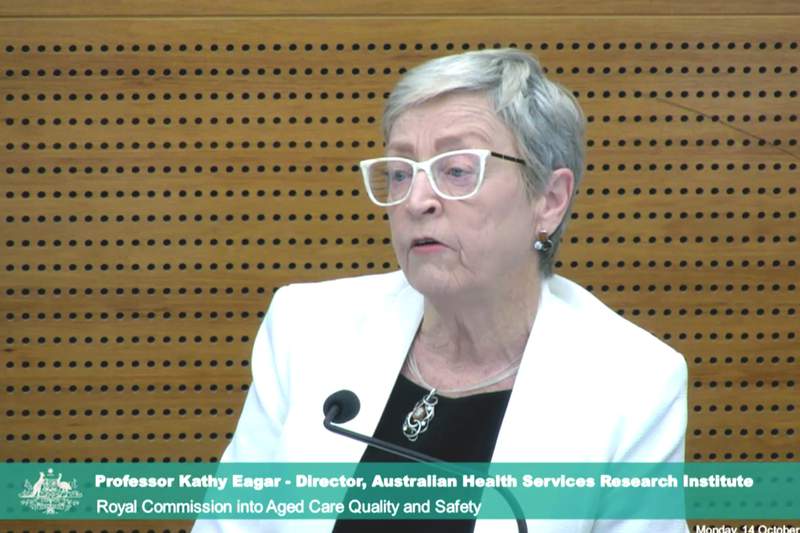 A report produced for the aged care royal commission has found more than half of all Australian aged care residents are in homes with staffing levels that would be rated one or two stars in the United States' five star rating system.
The research was conducted by the University of Wollongong's Australian Health Services Research Institute for the royal commission to analyse staffing of Australian nursing homes compared with that of other countries.
In the US system, each aged care home is rated on a five star scale, with one to two stars representing a 'below average' rating. The ratings are based on the amount of nurse and personal carer time per resident, adjusted for differences in residents' care needs, so homes can be compared against each other.
The report's authors consider that one or two stars represent unacceptable levels of staffing, with 57.6 of all Australian aged care residents living in homes that would attract these ratings in the US system.
Among Australian aged care residents, 27 per cent are in three star homes, while 14.1 per cent receive four stars and just 1.3 per cent are in 'best practice' homes with five stars.
For all Australian aged care homes to rate at least three stars, staffing would need to increase by an average of 37.3 per cent in the homes that would currently attract a one or two star rating – an increase of 20 per cent in total residential aged care staffing across Australia.
The University of Wollongong report examines staffing benchmarks used in the United States, British Columbia in Canada, Germany, Victoria and Queensland. The report concludes the United States has the best benchmarking system available to evaluate staffing levels.
ANMF (Vic Branch) believes that a similar public-reported rating system could be useful in Australia to inform members of the public about the staffing levels and skill mixes of nursing homes. However, mandated minimum staffing and skills mix ratios are necessary to ensure there are the right kind of staff available at any one time to provide best-practice care, respond to unforeseen needs, ensure residents' and families' face-to-face time with staff and improve attraction and retention of staff.
The research paper How Australian residential aged care staffing levels compare with international and national benchmarks is available at the aged care royal commission website.