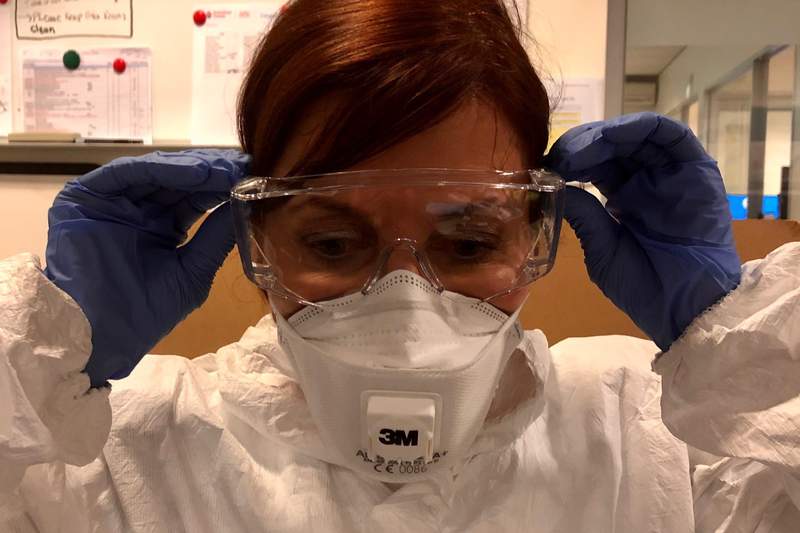 Registered nurse Sharyn Gregoor was on the coronavirus frontline early, helping Australian passengers who were stuck in quarantine in Japan after a COVID-19 outbreak on the cruise ship Diamond Princess.
Sharyn usually works at the emergency department of Footscray Hospital, which she says is busier since the spread of COVID-19 in Victoria. Like many other healthcare facilities in metropolitan and regional Victoria, Western Health has established a coronavirus assessment centre, where patients with COVID-19 symptoms can be assessed and triaged.
Sharyn is also employed at Adult Retrieval Victoria, a unit of Ambulance Victoria, which coordinates the care of critically unwell patients in regional and rural areas who need to be transported to receive the care they need. Patients may travel via plane, helicopter or in a specialised retrieval ambulance set up as a mobile intensive care unit.
But it was in her role as a nurse with an Australian medical assistance team (AUSMAT) that Sharyn was deployed to the Diamond Princess in Japan. AUSMATs are multi-disciplinary emergency medical teams that swing into action in disaster situations.
The AUSMAT team was one of the international medical teams that boarded the Diamond Princess after it was forced to remain docked in Yokohama in early February, with staff and passengers in quarantine for a fortnight.
There were 10 COVID-19 cases on the Diamond Princess on 3 February. By 20 February, when the quarantine period in Yokohama ended, 619 of the 3700 passengers and crew were infected.
The task for Sharyn's AUSMAT team was to get the 164 Australian passengers who were not known to be infected onto a Qantas charter flight to Darwin, where they would remain in quarantine for another 14 days. Thirty-six Australians who had already tested positive were treated in Japan.
'What we saw when we arrived was lots and lots of international media, a huge cruise ship and it was very professionally set up for the international teams to come on board,' Sharyn said.
'We put on our PPE (personal protection equipment) and a team of two went and knocked on the (Australian) passengers' doors and asked them if they still wished to come on this charter flight and we asked them some health questions and measured their temperature.
'We monitored their health during the flight and during the two-week quarantine period and anyone who became unwell was tested. If they tested positive they were repatriated back to their home state.'
Eight people tested positive during the Northern Territory quarantine period.
To the AUSMAT role, Sharyn brings familiarity with logistics and resourcefulness in caring for remote patients from her current role with Adult Retrieval Victoria and from working for the Royal Flying Doctor Service for six years.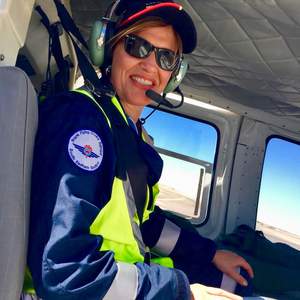 Award-winning emergency nurse
Having been awarded, in 2016, the College of Emergency Nursing Australasia's Emergency Nurse of the Year, Sharyn is obviously a useful person to have on a team when disaster strikes.
Receiving her award, Sharyn paid tribute to all working mothers with a story of doing CPR on a patient when she overheard that her son was on the phone with an 'emergency'. Sharyn continued chest compressions, ignoring her mounting dread, until she could be replaced at the two minute mark. Her son's emergency was that he couldn't find his soccer socks.
The Diamond Princess deployment was Sharyn's second experience working with an AUSMAT team. In December 2019 Sharyn went to Samoa for two weeks to care for patients who had contracted measles during an epidemic that killed 83 people – mostly children – and infected more than 5600.
The Australian group was one of several international teams helping to support the Samoan healthcare professionals.
'As a healthcare worker I've never faced anything like that previously. The Samoan healthcare workers and the Samoan people are incredibly strong, resilient people,' Sharyn said.
'The healthcare workers were working 12-hour shifts, many of them hadn't had a day off in more than a month and yet they turned up to work every day with a positive attitude and they welcomed us with open arms.'
In those kinds of situations, it is all-important to take opportunities to debrief and use self-care resources available, Sharyn advised.
Sharyn's self-care tips for dealing with a crisis
Sharyn's tips for staying mentally and physical well while nursing during a crisis?
maintain an exercise routine.
take the time after a shift to debrief with colleagues and talk about what went well and what could be improved, so managers can put strategies in place where necessary
access your employee assistance program or the Nursing & Midwifery Health Program Victoria if you need to talk with someone.
Sharyn is also grateful for the support of a 'wonderful husband, who every day asks "How was your day?" and he's genuinely interested in knowing how it was and he listens to me'.
'At the end of it he generally helps me to put things in perspective so I can declutter my mind; my brain is freed up for the good things that we have in our life.
'A lot of people say "How are you going?" and they wouldn't understand, so I choose very carefully who I debrief with because I don't want to burden people with my issues and at the end of it, I want to feel better, not worse.'