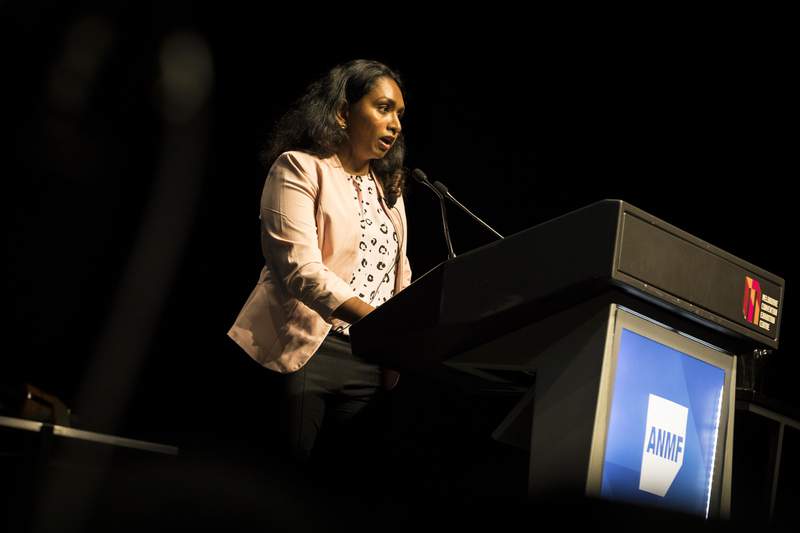 Inspired by attending an ANMF health and environmental sustainability conference, Dru Dissanayake thought there must be a sustainable future for aluminium suture packets.
After all, aluminium suture packets are small, clean and light-weight, widely used and 100 per cent recyclable.
Dru's persistence and teamwork in establishing a recycling program for the packets at the Alfred Hospital has saved 45 to 60kg of pure aluminium from disposal into landfill via free collection bins and hospital pick-ups.
Her effort was recognised when Dru was selected as a finalist in the Premier's Sustainability Awards.
'It was a real privilege to be recognised for doing something that is challenging the status quo really because I think that's one of the struggles that many people face with sustainability,' Dru said.
In her former role as clinical nurse specialist in orthopaedics and leader of the Green Team at the Alfred Hospital, Dru collaborated with the Alfred's nursing management team, the hospital's environment sustainability officer, the clinical materials resource manager and Odin E-Waste, to establish the program.
In January 2018, Dru contacted the ANMF (Vic Branch) Green Nurses & Midwives Facebook group asking for advice on companies that collect aluminium for recycling. As she had been leading the Green Team for two years, Dru had already built up networks and goodwill across the hospital.
'That's really important, actually, to create the engagement,' Dru said. 'It's a change of mindset, it's not just about recycling; to think about what you do in the bigger scheme of things.'
It took about six months to establish the recycling program and by May 2019 Dru was presenting at our health and environmental sustainability conference on the process.
Dru was selected as a finalist in the 2019 Premier's Sustainability Awards in the health category. Other health category finalists were Western Health, Donations in Kind Rotary International Inc, which established a program finding second homes for allied healthcare equipment. Melbourne Health won the award for its collaboration with OzHarvest in reducing hunger and food waste by providing surplus patient meals for delivery to community members in need.