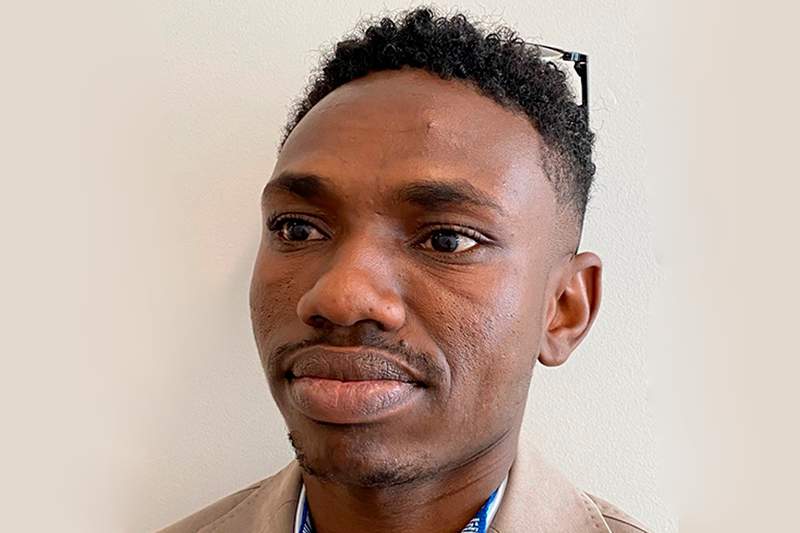 Despite being in lockdown with the rest of Melbourne, Khalid Nimir is feeling grateful for his freedom.
Until January 2021, Khalid, who now works at ANMF (Vic Branch) as a records administration assistant, was in immigration detention for eight years.
For six and a half years, Khalid, a refugee from North Sudan, was in offshore detention on Manus Island before being transferred to Australia for medical treatment under the Medevac law. In Australia, Khalid was detained for another year and a half at Melbourne Immigration Transit Accommodation (MITA).
(The Medevac legislation passed in February 2019 against the Morrison Government's wishes, giving doctors more power to bring asylum seekers from offshore detention to Australia for medical treatment. The government repealed the legislation in December 2019.)
It was while watching YouTube clips of refugee protests while in detention at MITA that Khalid noticed ANMF's presence at the rallies.
Khalid, who aspires to become a nurse, became curious about the ANMF flags and footage of representatives like former Assistant Secretary Pip Carew who spoke at a Free the Refugees rally organised by the Refugee Advocacy Network in December 2020.
Pip told the rally that the negative mental and physical health impacts of Australia's indefinite detention regime for asylum seekers were well-documented by health professionals. Under ANMF's policy, we state that people seeking asylum in Australia should receive treatment which is consistent and humane, regardless of how they entered Australia or their country of origin.
ANMF does not support offshore detention and believes Australia should develop and adhere to a set of benchmarks for timely, equitable and transparent processing of refugee claims.
Khalid researched the ANMF online and sent us an email. To his surprise, just two weeks later, he was invited to the ANMF (Vic Branch) headquarters to meet Branch Secretary Lisa Fitzpatrick.
'She told me she would do anything she could to help me and she would give me a job,' Khalid said. Khalid has been working at the ANMF (Vic Branch) since April 2021.
'Working here is very nice; everyone's kind and helpful. It's a beautiful workplace and I am starting to forget about the things that have happened to me, the detention and the suffering,' Khalid said.
Khalid was one of 192 refugees who were brought to Australia for medical treatment from Manus and Nauru islands. Like many of the 'Medevac refugees', Khalid remained in detention until being mysteriously released early in 2021.
Khalid and the other 'Medevac refugees' who were detained at MITA, and the Mantra and Park hotels, have been granted six-month bridging visas. Their visa conditions enable them to work and have Medicare access but they are unable to study. Until he can study nursing, Khalid will undertake the necessary preparation, such as an English language test.
Refugee Week 2021 is 20-26 June. We support the #TimeForAHome campaign to end the eight year detention of refugees like Khalid by World Refugee Day, 21 June, 2021. We call upon the Morrison Government to release and resettle into the community detained refugees and expedite remaining asylum seeker assessments.