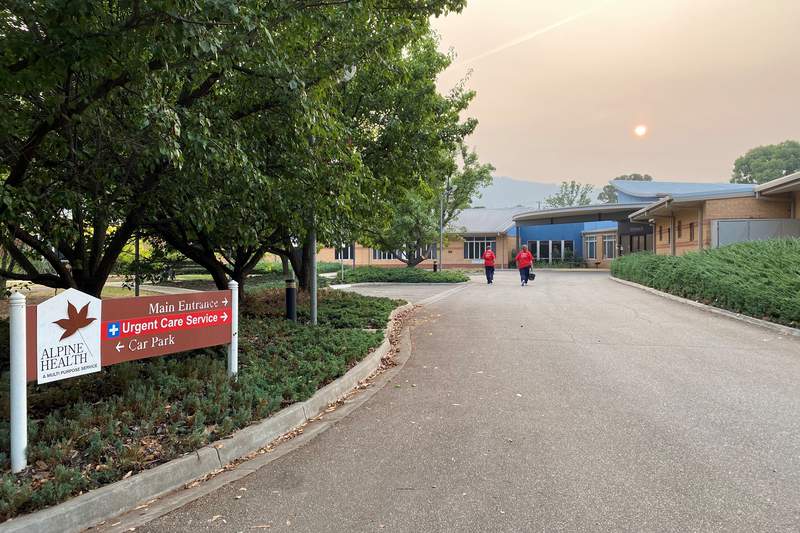 Nurses and midwives demonstrated their extraordinary generosity during the December/January bushfire disaster, with hundreds of ANMF (Vic Branch) members offering to volunteer at fire-affected health services.
A list of more than 900 members who registered with ANMF (Vic Branch) to volunteer has been provided to the Rural Workforce Agency Victoria, established by the Andrews Government to manage staffing for bushfire disaster relief.
More than 20 members responded within minutes of the Branch posting a call-out on Saturday 4 January for volunteers to relieve nurses and midwives at Corryong on the NSW border in north-east Victoria.
Castlemaine Health education manager and emergency department nurse practitioner Jen Oxley was one of seven ANMF members who volunteered at Corryong.
The volunteers drove to Tallangatta in the early hours of Sunday 5 January and joined a convoy to Corryong. The volunteer nurses were replacing nursing staff who had been at the hospital for five days since bushfire closed in on the town on New Year's Eve.
'We got there on the Sunday and most of the (hospital) staff had been there since the Tuesday,' Jen said. 'They cried. They were really grateful when we turned up. They needed a break.'
Some had lost properties and had partners who were fighting fires. Mobile phone coverage was patchy, and the Corryong nurses needed to get home to check in with families and friends, and rest.
As residents and hospital patients had been evacuated, the hospital was quiet. The volunteer nurses stayed for five days to provide any urgent care required and give staff a break.
ANMF (Vic Branch) Secretary Lisa Fitzpatrick and Assistant Secretary Pip Carew, and four staff member registered nurses and a midwife, travelled to Myrtleford and Bright in Victoria's north-east on Monday 6 January to volunteer at Alpine Health facilities.
The ANMF (Vic Branch) contingent worked at Bright Hospital's urgent care centre, Myrtleford Hospital acute and Barwidgee Lodge public aged care unit for two to three days, to support Alpine Health nurses and midwives looking after families and property impacted by the Abbeyard fire.
ANMF (Vic Branch) has contacted more than 1400 members in fire-affected areas offering assistance to those who sustained property loss or damage, and has donated $25,000 to the Victorian Bushfire Appeal.