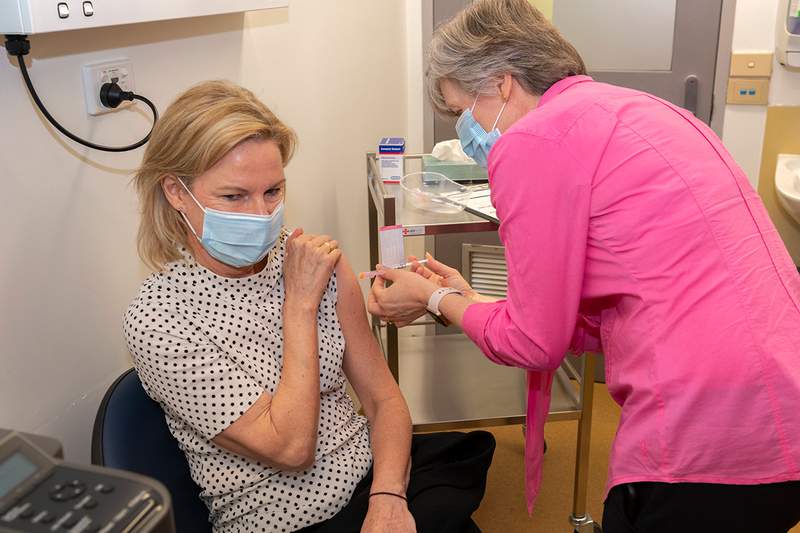 Victorian vaccination hubs are on track to roll out the Federal Government's national COVID-19 vaccination strategy.
More than 142,000 doses of the Pfizer vaccine arrived in Sydney from Europe on 16 February, the same day that the Therapeutic Goods Administration (TGA) announced its provisional approval of the AstraZeneca vaccine. The TGA granted provisional approval to the Pfizer vaccine on 25 January.
Which healthcare workers will be offered the COVID-19 vaccine first?
The vaccines will be available in phases, as defined by the Federal Government's schedule which prioritises groups based on expert medical and public health advice.
The first healthcare workers to be offered the free vaccine as part of 'Phase 1a' are:
hospital staff working in emergency departments, intensive care units, respiratory clinics, COVID and suspected COVID wards. This includes all staff physically associated with these clinical areas, whether they are clinicians or support staff, or students on clinical placements in those areas.
residential aged care and disability workers and residents
staff involved in vaccination including practice nurses
COVID-19 testing and vaccination program staff.
Some of the Phase1a workforce will receive the Pfizer vaccine, with priority given to workers at hotel quarantine and port of entry sites. These vaccinations commenced on Monday 22 February.
Due to Pfizer supply issues and the Federal Government allocation of supply being split between state governments and private aged care facilities throughout Australia, it is now more than likely that a majority of Phase1a workers will receive the AstraZeneca vaccine, most of which is being manufactured locally by CSL. The AstraZeneca vaccination rollout is expected to commence in March.
The vaccine is administered in two doses at least three weeks apart. ANMF has been advised there needs to be a gap of at least two weeks between either of the COVID-19 vaccinations and the flu vaccination. The Federal Government is responsible for the vaccination of staff working in private aged care, And residents
The vaccination hubs are at the following health services:
Western Health, Austin Health, Monash Health, Bendigo Health, Ballarat Health, Latrobe Regional Hospital, Barwon Health, Goulburn Valley Health and Albury Wodonga Health. We understand that Alfred Health will work in partnership with Monash Health to vaccinate workers in the hotel quarantine system. Initial operating hubs will be Barwon, Western, Austin and Monash.
Neither the Victorian nor Federal governments have made vaccination mandatory but both governments have encouraged healthcare and aged care workers to get vaccinated.
ANMF's position on vaccination
Read the federal ANMF Vaccination and immunisation policy.
Nursing and Midwifery Board of Australia position on vaccination
Read the NMBA position statement on nurses, midwives and vaccination.