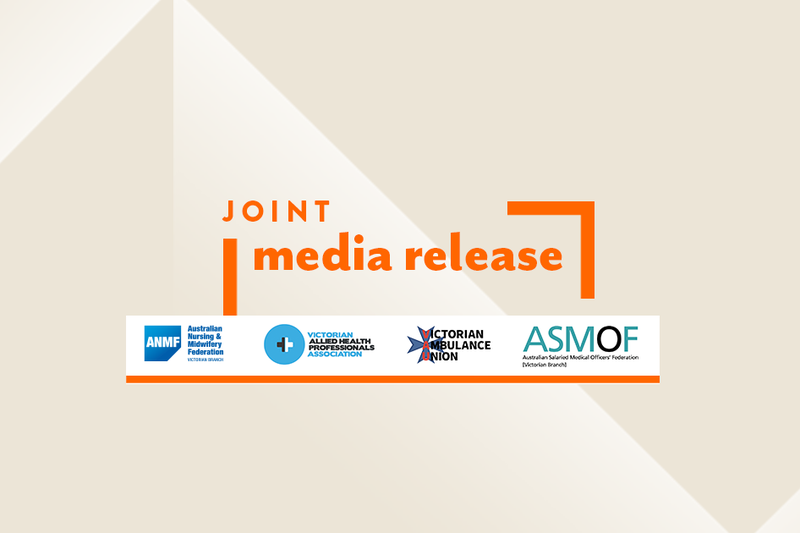 Unions representing nurses, midwives, doctors, paramedics and patient transport staff are calling on Victorian politicians to remember 'it's about health' in their last-minute pandemic bill negotiations.
The Australian Nursing and Midwifery Federation (Victorian Branch), the Australian Medical Association Victoria, the Australian Salaried Medical Officers' Federation and the Victorian Ambulance Union, together representing almost 110,000 members, want everyone to remember the pandemic bill is about keeping the community safe and healthy and saving lives.
The bill's purpose is also to ensure the health system and the health workforce have the capacity to care for COVID and non-COVID patients.
The ANMF (Vic Branch), the AMA Victoria, the ASMOF and the VAU are confident the bill provides the equivalent powers as the legislation of other Australian states. It also addresses concerns in Victoria raised over the last 18 months that too much power lies in the hands of an unelected official.
It provides the Health Minister with the critical ability to receive expert health advice and to respond quickly and decisively. These decisions cannot be made via a committee and must be entrusted to the elected position rather than a committee. The health unions also believe the bill provides appropriate transparency and accountability.
Without the new pandemic laws the Victorian Government will not be able to:
respond to a sharp increase in hospitalisations by pausing or re-introducing some restrictions
require aged care, healthcare workers and others to have the COVID-19 booster
require COVID-19 positive people to isolate until they no longer pose a risk. It would also be difficult to contain an outbreak in a small town with no mechanism to isolate the population
implement different levels of isolation according to vaccination status
require masks on public transport or in high-risk transmission settings
require people to comply with QR code check in.
Quotes attributable to Australian Nursing and Midwifery Federation (Victorian Branch) Secretary Lisa Fitzpatrick
The debate pendulum has swung into at times toxic political territory focusing on personalities and revenge rather than on protecting Victorians and our health workforce.
Meanwhile beyond exhausted nurses and midwives feel taken for granted while the critics pretend the pandemic is over. We are furious at this self-indulgence.
We need our politicians and the community to care for nurses and midwives so they can care for them.
Quotes attributable to Australian Medical Association Victoria President and Australian Salaried Medical Officers' Federation Federal Assistant Secretary Dr Roderick McRae
In the setting of a pandemic, there is no luxury of consideration or re-consideration. It's about imperative action that must occur instantly, with no second chance months down the road. It's understood there is a suppression of rights, but this is imperative in a war-like emergency, and never undertaken lightly. It's for the greater good of the majority in the community.
We can watch the rights-based plays in the northern hemisphere right now. We have missed other public health opportunities over the last 18 months related to smoking cessation and obesity management. Care will be provided in the public health system as long as resources are available. Overwhelm them, and great harm will occur to many. Now is not the time for an idealistic, preferable legal argument. A pandemic with R0 above 1 will not wait for quaint legal argument.
Quotes attributable to Victorian Ambulance Union General Secretary Danny Hill
Exhausted Paramedics and Patient Transport Ambos are treating patients in tents set up in front of hospitals. Yet the health system seems to have been left out of the discussion.
Crossbenchers are either sulking that they were not properly consulted or focusing on getting revenge on political opponents. Get over it. Politicians need to put vulnerable patients, health workers and the health system before their own bruised egos.
Ends