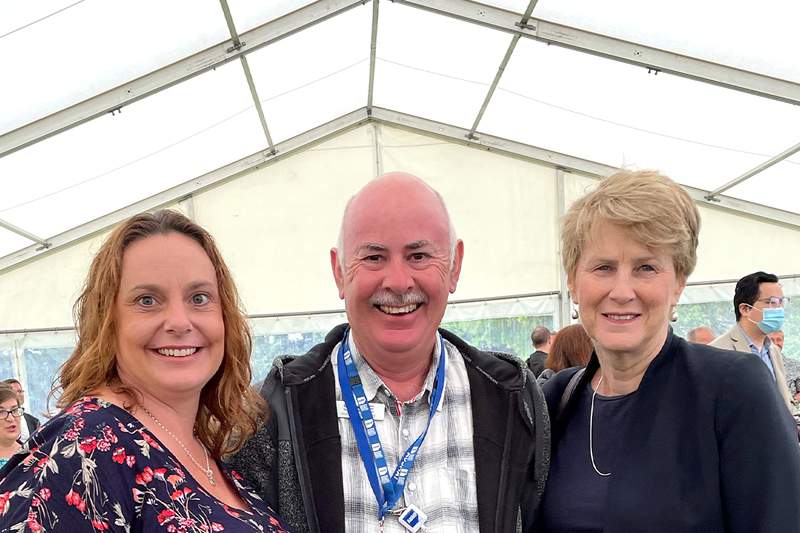 ANMF (Vic Branch) members were among frontline workers invited to Government House on Australia Day to acknowledge their efforts on behalf of Victorians during the COVID-19 pandemic.
ANMF (Vic Branch) President, Maree Burgess, a maternal and child health nurse, and Branch Council members, Steve McKenzie, an ANUM at Ballarat Base Hospital's emergency department, and Catherine Williams, a clinical nurse specialist at the Royal Children's Hospital, were among the frontline workers hosted by the Victorian Governor Linda Dessau.
Western Health research nurse manager Samantha Bates, who has been closely involved in trials of new ventilation hoods in intensive care units to protect healthcare workers from COVID-19, was also present.
In her event speech marking Australia Day, Ms Dessau said the challenges of 2020 had people reaching for words to describe the Australian spirit, embodied by frontline workers and others. The words they had found were kindness, courage and resilience.
But it was people's actions that ultimately spoke of character, she said. For the first time, many Australians would be singing the changed words of the national anthem, replacing 'young and free' with 'one and free', to acknowledge the thousands of years that Aboriginal and Torres Strait Islander people lived on this land prior to Europeans' arrival.
'We know that, as we sing of Australians being one, without our commitment to do what it takes to achieve the respectful recognition of Indigenous Australians, and to truly welcome and support every newcomer to our shores, the words of our anthem would be empty,' Ms Dessau said.
In her welcome to country, Wurundjeri elder Aunty Joy Murphy called for the date of Australia Day to be changed, in light of British occupation marking the beginning of atrocities against Aboriginal and Torres Strait Islander people.