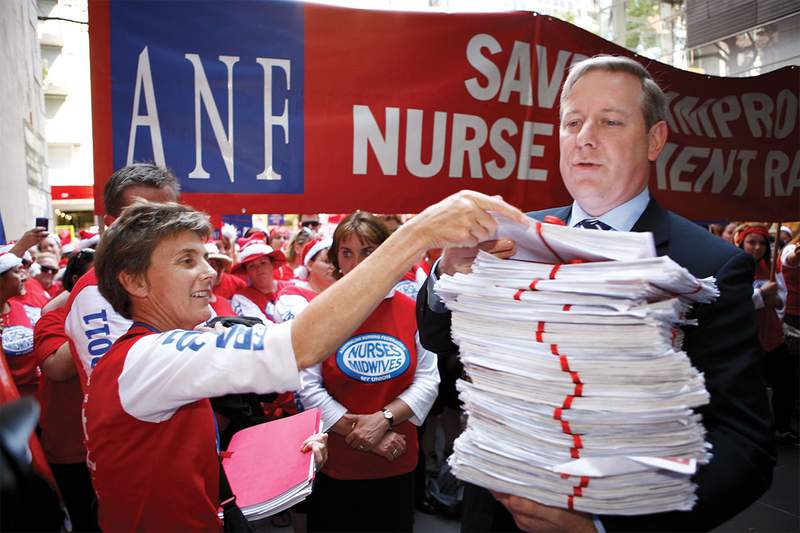 After nearly 20 years of diligent, passionate advocacy for ANMF members, ANMF (Vic Branch) Assistant Secretary Pip Carew is retiring.
A registered nurse, Pip's experience working at a 30-bed nursing home in the 1990s consolidated her commitment to improving the rights, entitlements and working conditions of nurses, midwives and carers so they could provide safe care to patients and residents.
Concerned about inadequate and inappropriate care that she observed in her role as the aged care facility's after-hours co-ordinator, with the assistance of her ANMF organiser Pip raised the issues with the nursing home management and also wrote complaints to the authorities. These complaints contributed to materials that led to sanctions against the nursing home and a federal police investigation into the proprietor for fraud relating to Commonwealth funding.
Prior to joining the ANMF in 2001, Pip worked in public and private hospitals, day surgery, pre- and post-op neurosurgery, community health and family planning and aged care.
Pip became a Job Rep in 1999 and was appointed to Branch Council in 2000. She joined the ANMF (Vic Branch) as an information officer before becoming an organiser later in 2001.
As an organiser, some of Pip's work involved supporting members through the 2004 and 2007 public sector general and mental health enterprise bargaining disputes, the Austin Health and the Southern Health public aged care (now Monash Health) redevelopments and the Queen Elizabeth Centre mothercraft nurses' dispute.
'When I came into the role of organiser I think it gave me the opportunity to see the breadth of work nurses and midwives did and I was so often struck by how professional and committed they were to the work they did, whether it was in-patient, community, aged care…,' Pip said.
'One of the achievements of ANMF is being able to tell the story about what our members do… and making sure they're properly recognised for what they do.'
Pip was elected Assistant Secretary in 2010 and has represented members in three public mental health enterprise agreement negotiations, including the current 2020–24 EBA campaign. She was also closely involved in campaigns against the Baillieu/Napthine governments' sell-off of public psychiatric aged care facilities.
But it was the protracted 2011–12 general public sector enterprise agreement campaign, in which ANMF fought back against the Coalition Government's attempts to substitute nurses and midwives with unregulated workers, that will remain most deeply etched in Pip's memory.
'Seeing nurses taking industrial action is so emotional,' Pip said. 'During the 2011-2012 campaign when Lisa (Fitzpatrick) stood up at Dallas Brookes Hall and asked members to give their intention to resign… Members were coming forward and these are people who are breadwinners and have a hell of a lot to lose. They're not just doing it for themselves, they're doing it for the profession and their patients.
'If there's one thing we ought to be really proud of it's being able to hang on to our ratios, in the face of adversity, and in our last (2016–20) agreement being able to properly compensate nurses and midwives, and lift wages.'
With strong backing from ANMF (Vic Branch) Secretary Lisa Fitzpatrick, Pip amplified the link between environment and health during her tenure as Assistant Secretary and was instrumental in establishing the annual Health and Environmental Sustainability Conference.
Pip has been an environmental and social justice activist since the mid-80s. Nurses who trained in the 1970s, she said, saw the shift from cleaning and reusing materials to using 'disposable' materials, in the name of infection control. Her generation of nurses and midwives has also seen the horrifying impact of global warming emerge.
At the time she was elected Assistant Secretary 'climate change was on the political agenda and we were hearing stories about how our members were dealing with floods and fires and the impact of natural disasters'. Now there is an environmental health officer role within ANMF (Vic Branch), with ANMF (Vic Branch) playing the lead role pushing for and achieving climate change action and environmental sustainability in healthcare.
On behalf of all ANMF members and staff, we thank Pip for her enormous contribution and wish her well for her retirement.
Madeleine Harradence assumes Assistant Secretary role
Pip's successor is Madeleine Harradence, who acted as Assistant Secretary from June to September 2019. Madeleine is a registered nurse who came to ANMF as an industrial organiser in 2017 from St Vincent's Emergency Department. As an organiser, Madeleine covered the Sunraysia area and south-eastern metro region, including Monash Health.
A committed Job Rep since 2012, Madeleine was strongly involved in the 2011–12 EBA campaign and was awarded the Hannah Sellars Job Rep of the Year Award in 2015.
She was a member of the Branch Council from October 2013 to 2017, and again as acting Assistant Secretary in 2019.
Madeleine is passionate about environmental sustainability and social justice, and as Acting Assistant Secretary addressed the 'Close the camps. Bring them here' rally to end asylum seeker detention in July 2019.